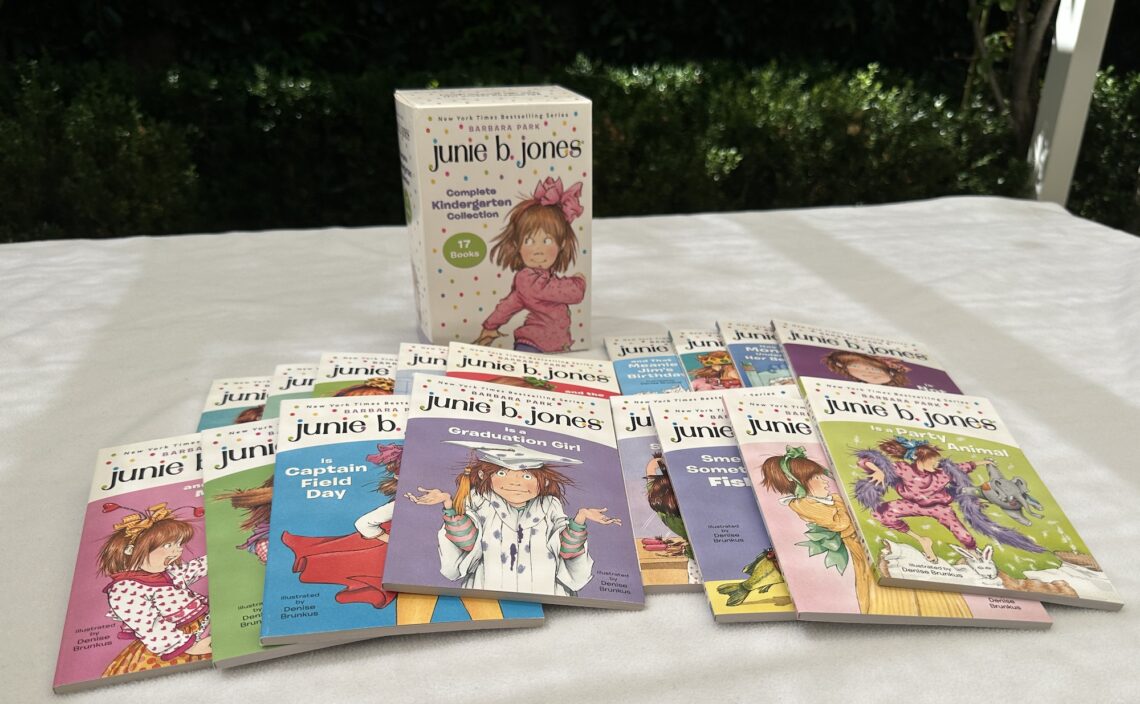 Junie B. Jones Complete Kindergarten Collection
This blog post may include affiliate links that may earn me a small commission at no cost to my readers. I am an Amazon Affiliate Partner and use Amazon product links throughout which may earn me a small commission on qualifying reader purchases. All opinions on my blog are my own and honest, I want my blog to provide information and help my readers become informed consumers, parents and caregivers.
This 17-book collection of Junie B. Jones adventures is perfect to read throughout the kindergarten year!
This set includes stories about some of the milestones that happen in early childhood including riding the school bus, navigating conflict with other kindergarteners, first crushes, field day, and graduation.
Where to Buy…
We are avid (children's book) readers. So we are always cycling through Oliver's collection. He JUST graduated kindergarten (wow where does the time go?!) so we are selling this entire box set on all your favorite re-sale websites. Hope someone can give these amazing books a second home.
About the Author: Barbara Park
Barbara Park (maiden name Tidswell) was born in New Jersey in 1947 where she and her brother grew up. Later, she graduated from the University of Alabama with a Bachelor of Science in 1969.
That year she married Richard A. Park. The couple settled and had 2 sons and 2 grandchildren in Arizona. Her most successful work is the Junie B. Jones collection which sold over 60 million copies (as of 2023) in North America.
Other popular books by Barbara Park include The Kid in the Red Jacket, Skinnybones, Ma! There's Nothing to Do Here, Mick Harte Was Here, The Graduation of Jake Moon.
Park won 7 Children's Choice Awards and 4 Parents' Choice Awards. Her books continue to be parent, teacher, and kid favorites. She died in 2013 from ovarian cancer.
The set comes in a cardboard jacket that houses all the books in one organized spot. The books are all numbered 1 through 17. The titles can be seen on the spine so your favorite one can be found quickly and easily. The book is written from the point of view of Junie B. Jones, a 5-year-old little girl. Her train of thought is exactly like a Kindergartener's with a huge imagination, and an innocent understanding of the world, and sometimes her vocabulary isn't quite right. It's all funny and charming.
The covers are colorful with beautiful illustrations by Denise Brunkus. Additionally, inside the books are black and white illustrations to help keep young readers interested.
There is also a cute, informative, and interactive Junie B. Jones website!
Now, let's go through a quick overview, book by book.
Why These Books are Classics for Early Childhood
The Junie B. books are groundbreaking because they are told from the point of view of a 5-year-old who is a bit goofy and a bit imperfect. The narration WILL remind you of things your kindergartener says (and does). This allows for sincere acceptance of the character of Junie B. into your child's life. When Junie B. makes mistakes it opens freedom for your little one to laugh at her and themselves when they make goofy mistakes. When Junie B. is learning a lesson your child will relate because early childhood lessons learned are pretty universal. Even though it is not relatable to mom and dad, the stories will strike a chord with 5-year-olds.
So put your judgment and criticism aside relax and try to relate to it as if you were in Kindergarten.
In Conclusion, Some Honest Thoughts…
Ok, ok, it wasn't quite as easy to absorb the stories as a 5 year old. Mostly because the grammar and vocabulary are written from a little kid's POV. That was one of the things that was hard for me but my 5-year-old son LOVED the books. Sometimes, to be honest, I hated reading them to him because some of the words were NOT REAL WORDS! ARGH! If you can get past that then the stories are really great reliable and super funny.
Other Books to Check Out
Once your child starts 1st grade check out the Junie B. Jones Complete First Grade Collection (Books 18-28). Also, you can buy the ENTIRE Junie B. Jones Book Collection (Books 1-28).
Because kids at that age really enjoy books and stories. Sooner or later you will find yourself in need of more books for Kindergarten age children. Don't miss out on some of these titles that are similar to Junie B. Jones. Funny, heartwarming, and with life lessons.
Dragons Love Tacos and Dragons Love Tacos 2
Elephant and Piggie Books by Mo Willems
On Strike Box Set, Books 1-8: Pencils on Strike, Swings on Strike, Chairs on Strike, Glues On Strike, Crayons on Strike, Scissors on Strike, Erasers on Strike, Rulers on Strike
Last but not least, McToad Mows Tiny Island
Looking for reviews and information on Kids' Subscription Boxes, Activities, Toys, and Gear? Additionally, check out the other sections of my blog and feel free to leave a comment or contact me on social media under @MalibuKarina everywhere including Instagram, Threads, Facebook, Pinterest, and LinkedIn (I'm everywhere).
Bonus tip: Undoubtedly, Install RAKUTEN on your browser to get cash back on your purchases! It's FREE and easy to sign up for. For example, I purchased some of the books mentioned here on Barnes & Noble's website, I was able to get 2% cashback. Rakuten costs you nothing and you'll get a "big fat check" once every few months with all the cash back you accrue.
Lastly, some of the great resources that keep this blog running, profitable, and beautiful:
Wodpress.com – Undoubtedly, the most popular blogging platform in the world, anyone can launch a blog.
WordPress.org – A little more complicated but definitely recommended for more advanced bloggers.
GoDaddy.com – The immediately recognizable name even if you're not a blogger. Affordable web hosting for beginning bloggers using WordPress.org.
Squarespace – Finally a website/blog builder that will get you up and running FAST. Squarespace is the place.
Canva – Unbeatable, FREE graphic design website for all social media from blogs to Pinterest to Instagram.
Teachable – I have taken many blogging, Pinterest, web graphics, and business courses through Teachable. I highly recommend this site to get you a head start on your blogging journey.
LegalZoom – This is really a great resource for beginners to make their business legit. I used LegalZoom for this blog as well as a successful clothing store I ran for 8 years! They've got you covered – Legally!
Hulu – Okay this one doesn't technically keep the blog running but it does provide me entertainment as I write the blog posts.