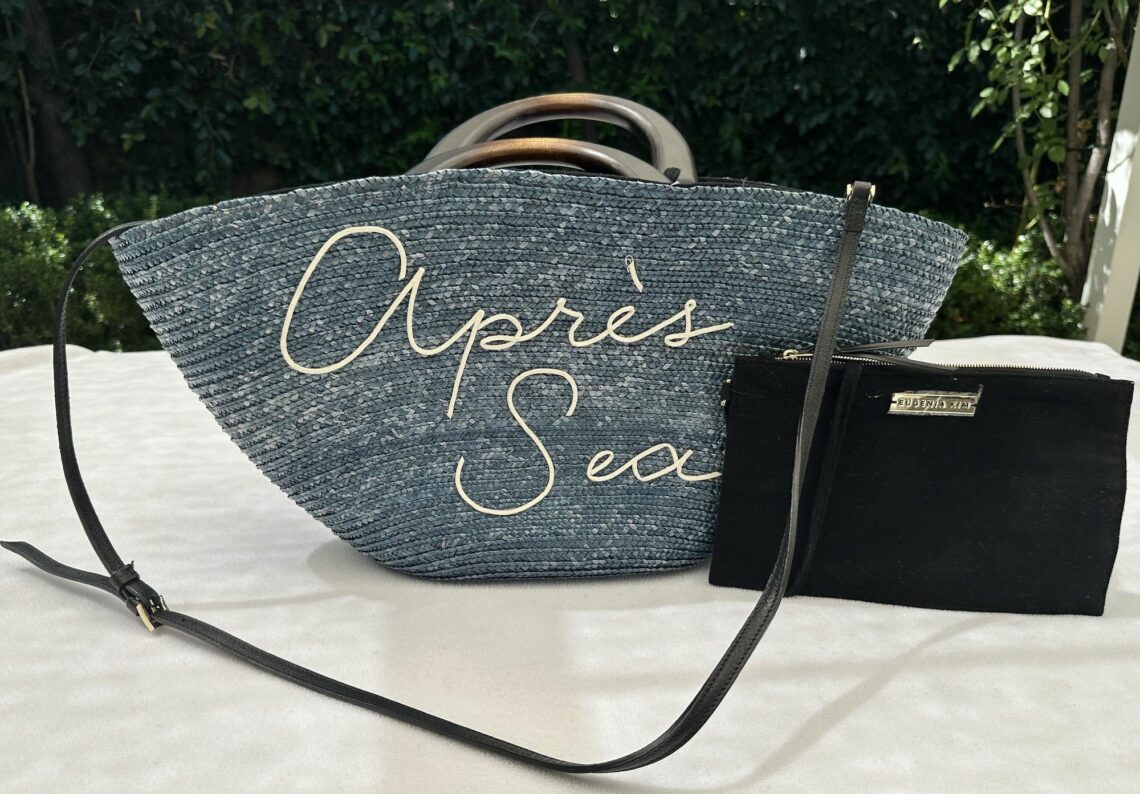 Timeless Elegance of the Straw Tote Bag
This blog post may include affiliate links that may earn me a small commission at no cost to my readers. I am an Amazon Affiliate Partner and use Amazon product links throughout which may earn me a small commission on qualifying reader purchases. All opinions on my blog are my own and honest, I want my blog to provide information and help my readers become informed consumers, parents and caregivers.
Woven straw containers, baskets, and bags have been around for centuries. Today woven straw bags are still going strong and have a resurgence every summer and spring.
It is one of the handbags in your collection that can be a splurge because it's a style that is perpetually classic. Whether taking it to the beach, pairing it with a beautiful floral dress for brunch, or running to the farmers market – straw tote bags are the epitome of timeless elegance.
Mid-Range Luxury Straw Bags Under $500
Want a slightly elevated straw bag that will last for a long time but don't want to spend thousands of dollars on designers such as Chanel, Fendi, Gucci, YSL, or Louis Vuitton?
Here are some mid-range designers that have beautiful, high-quality straw totes for under $500: Eugenia Kim, Pamela Munson, Ulla Johnson, Jacquemus, and Ba&sh.
Eugenia Kim Carlotta Tote: Favorite Straw Bag for Under $500
I've had many straw bags and this one is the one I am most impressed with. Not only it is under $500, it is handmade in Italy.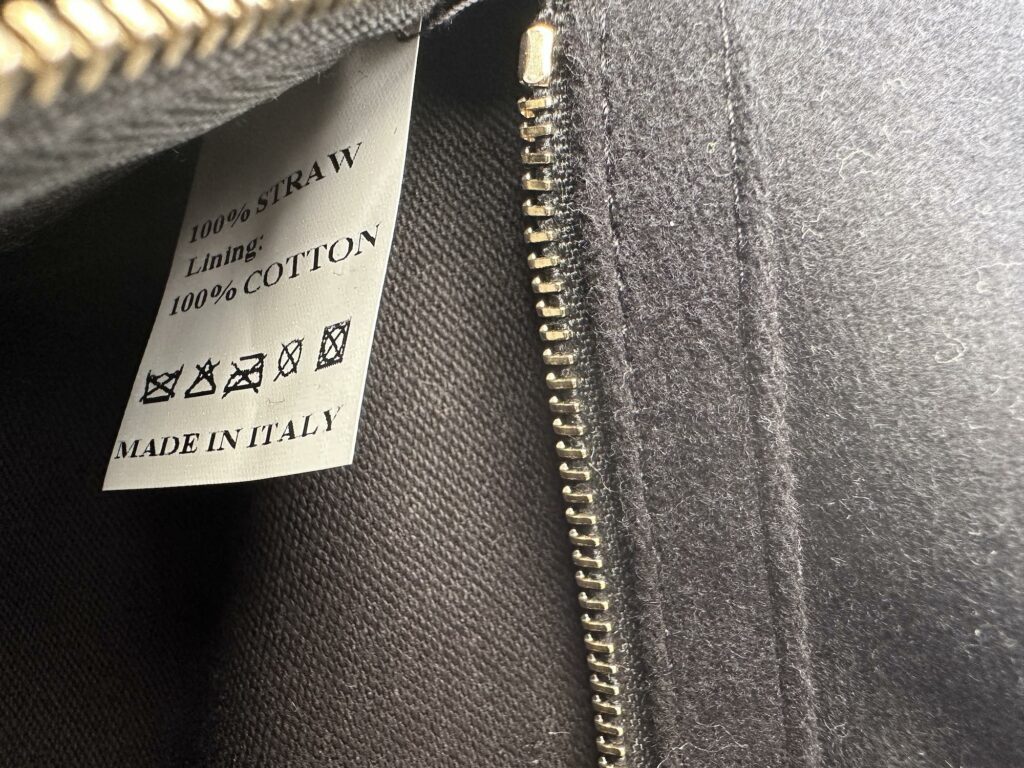 Eugenia Kim makes beautiful hats but the designer is also responsible for some of the most beautiful, timeless straw tote bags.
Even though this print and color may not be available anymore, the Carlotta bag is a forever staple in the Eugenia Kim lineup season after season and it's no mystery why. It's beautiful, durable, and classic. Definitely fits that quiet luxury aesthetic with its simplicity and neutral colorways.
I'm Selling this Tote Bag – Buy it Here:
It is time for me to let her go as I have my eye on a different color and style – the Carlotta with a satin bow! So this bag is available for purchase on the following second-hand re-sale websites:
Mercari – I listed this bag for sale on Mercari, please check it out. Free Shipping! Use my referral link to get $10 OFF your first purchase.
Kidizen – This blue Eugenia Kim Carlotta Bag is available to purchase here as well! Thank you for looking! Use my code: mau3s for $5 OFF your 1st purchase.
Vestaire Collective – You can also purchase my Eugenia Kim Carlotta bag here. An extensive second-hand resale website where you can find anything from accessible fashion, mid-range designers, and luxury brands! This website is GLOBAL so you can source items from all over the world. Shhh… they almost always have coupon codes and discounts available.
Poshmark – The blue Carlotta bag is listed on Poshmark as well, this platform allows for videos so you can see a quick video of the bag. Hope you check it out!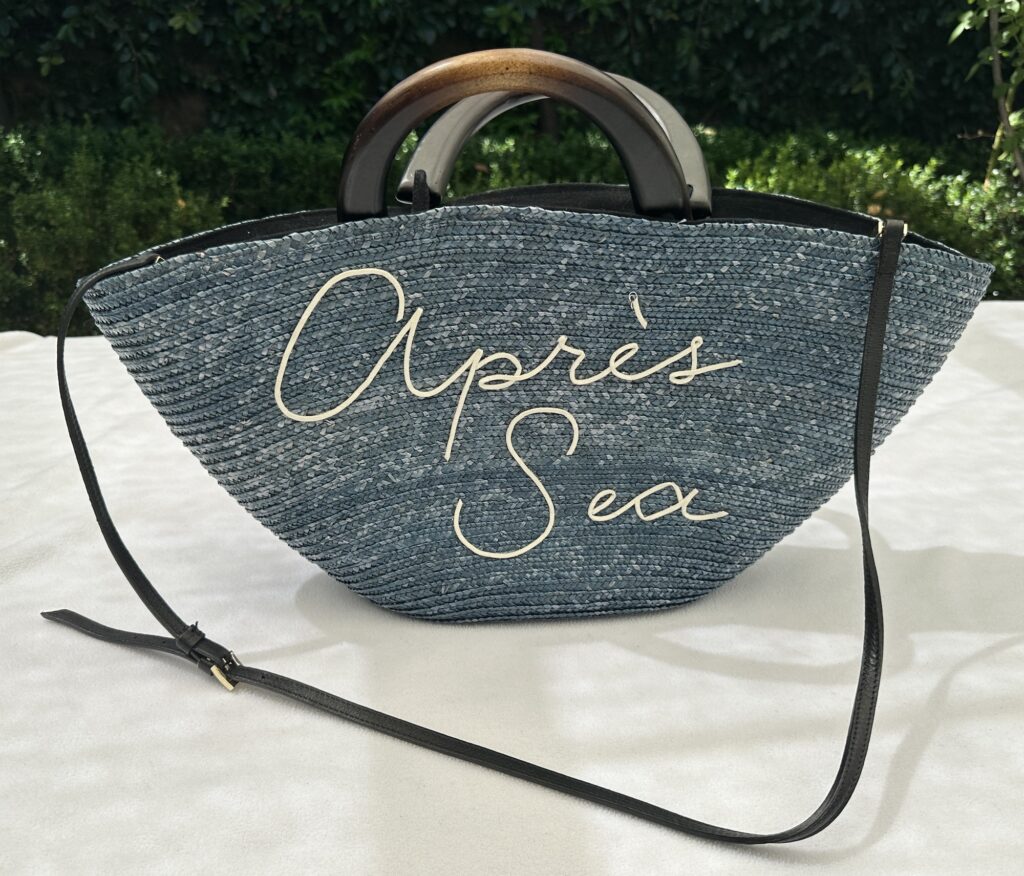 External Features of the Eugenia Kim Carlotta Straw Tote Bag
This tote boasts a trapezoid shape that is synonymous with a classic straw beach bag.
Approximate measurements:
Width at the longest point (the top): 23″ (inches)
Height at the tallest point (measured from base to top, excluding handles): 11″ (inches)
Depth measured at the base (but this bag opens quite wide and will fit a tablet): 5″ (inches)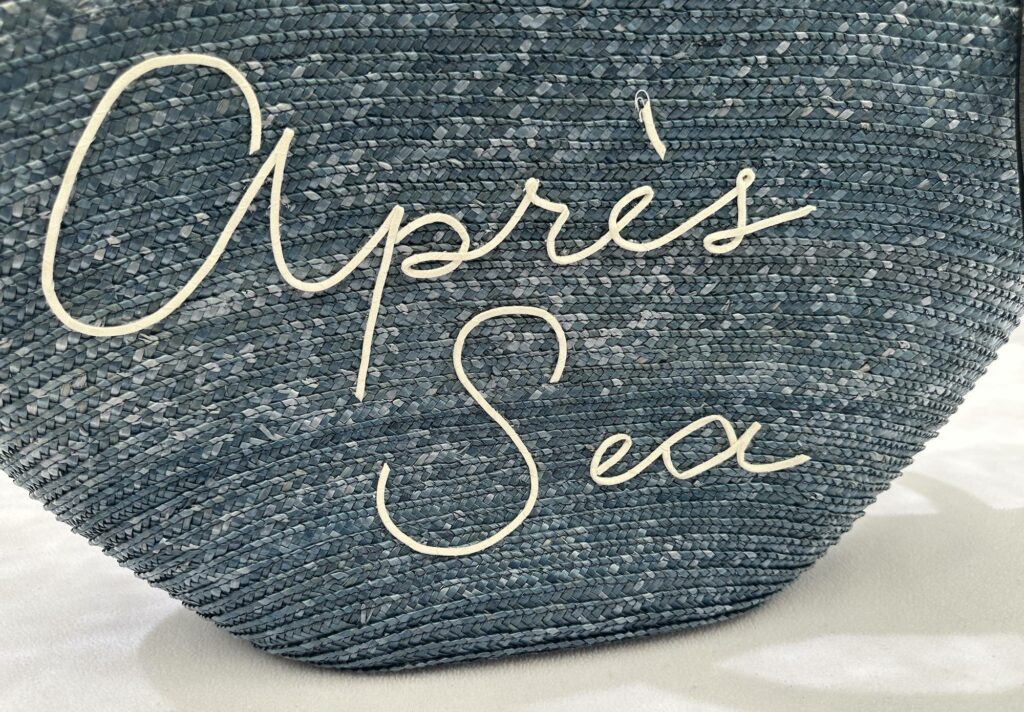 The tightly woven straw is dyed a beautiful denim blue with various shades of the natural straw color peaking out, giving it a multidimensional look that may come off as slightly distressed.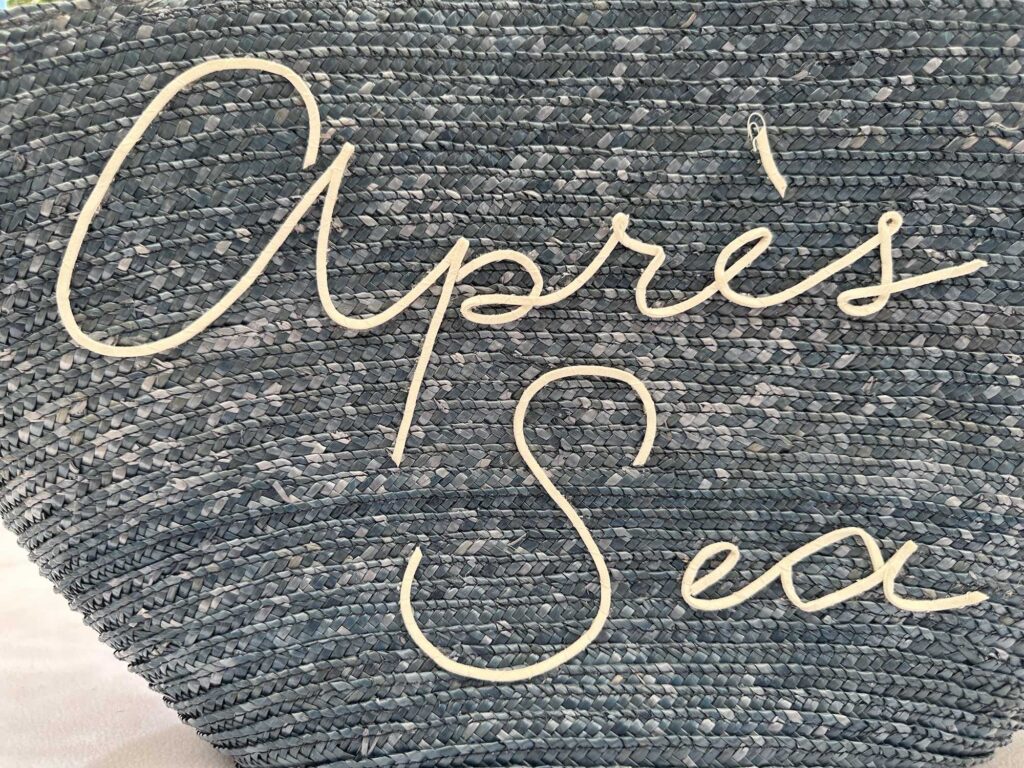 The slogan on the front of the bag says Aprés Sea (I believe that means After Sea in French). This text looks like cursive writing and is created from straw which is shaped into the text and adheased to the front of the bag. It does add some extra texture and interest to the design.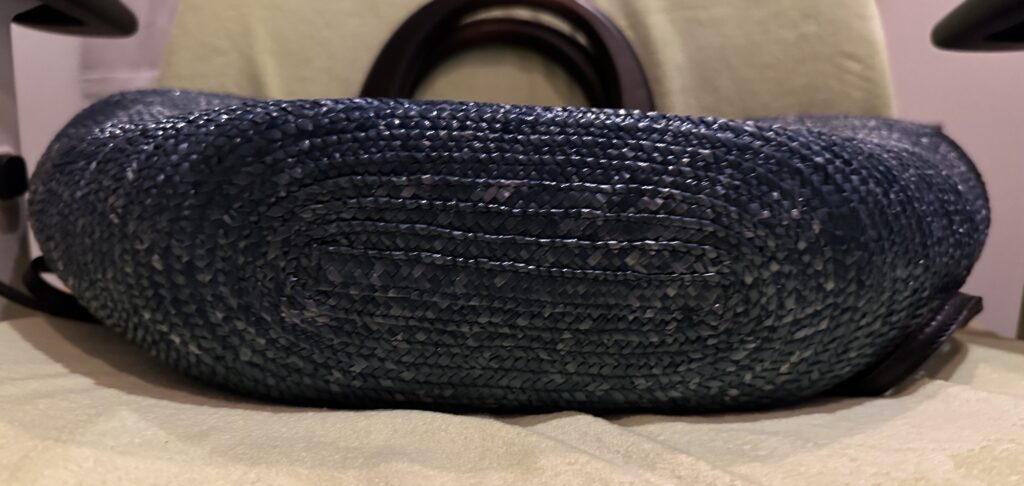 The bottom of the bag is an oval shape and the tote is able to stand by itself which is a definite bonus.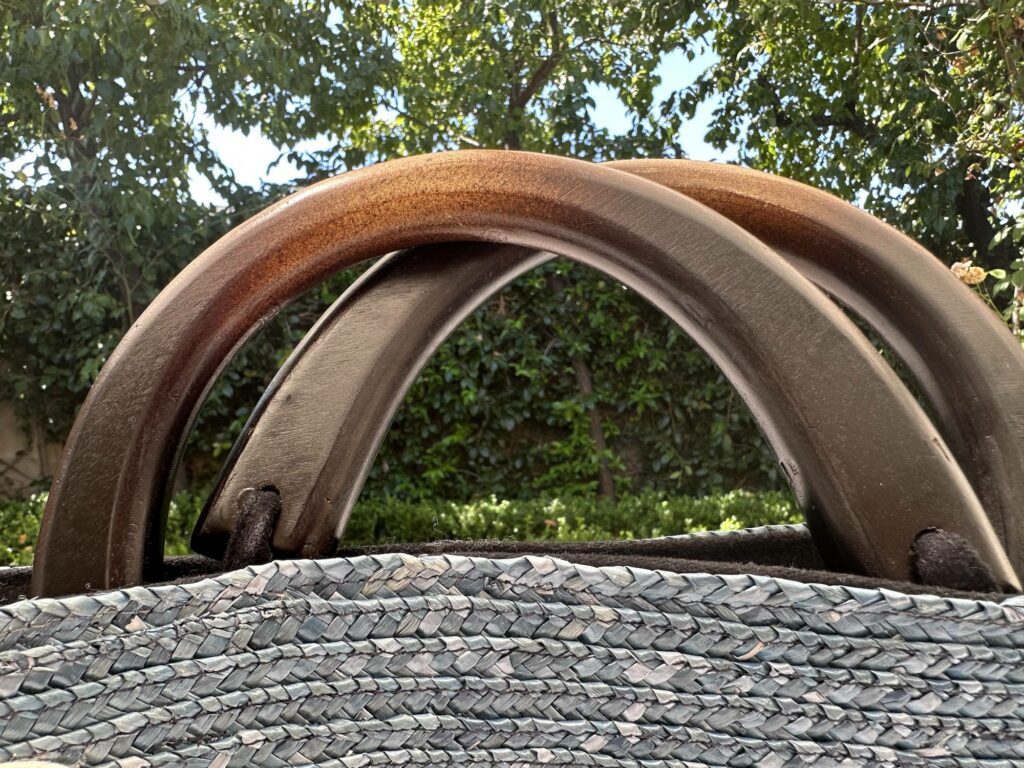 The handles are made out of wood. I am not sure what type of wood but it's lightweight and a bit on the softer side.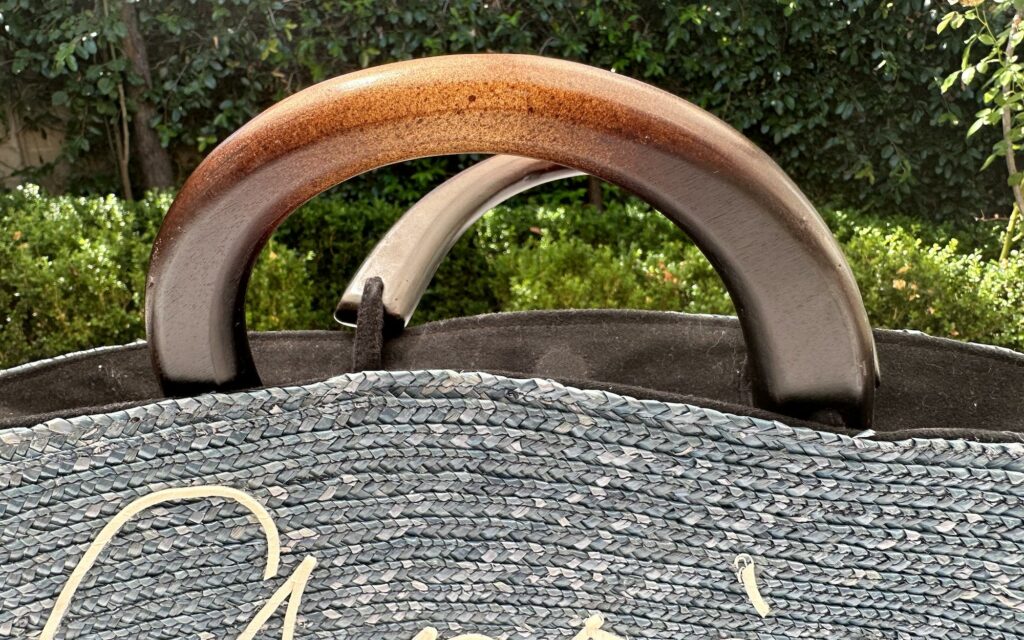 The way the handles are attached is beautiful and really lends to the laid-back beachy feel of the bag.
There are holes drilled in the wood where the same fabric as the interior is looped through to attach the handles to the handbag.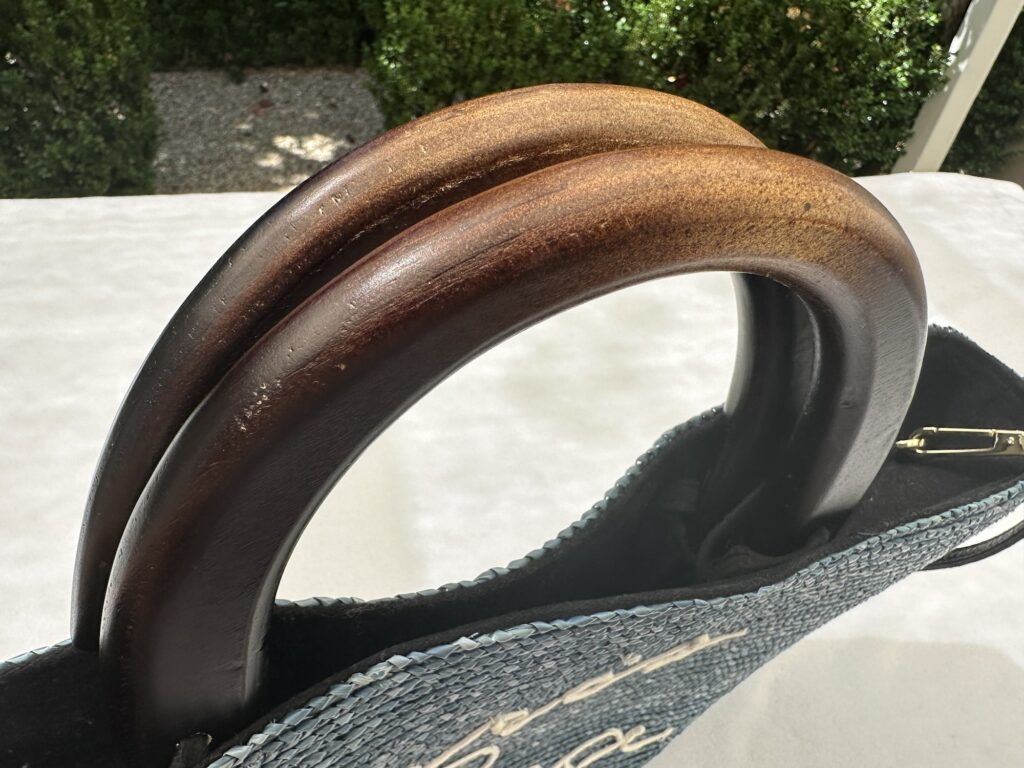 The wood is definitely treated and stained but it's not perfect.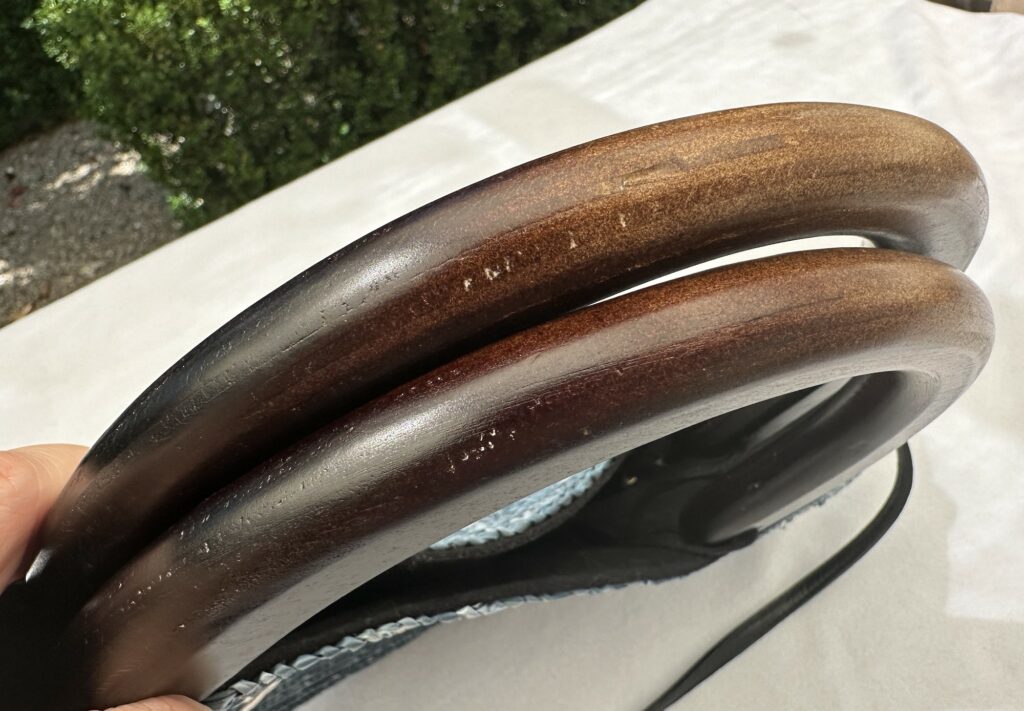 It is pitted and slightly distressed but because it's stained and treated it's very smooth (don't worry about splinters).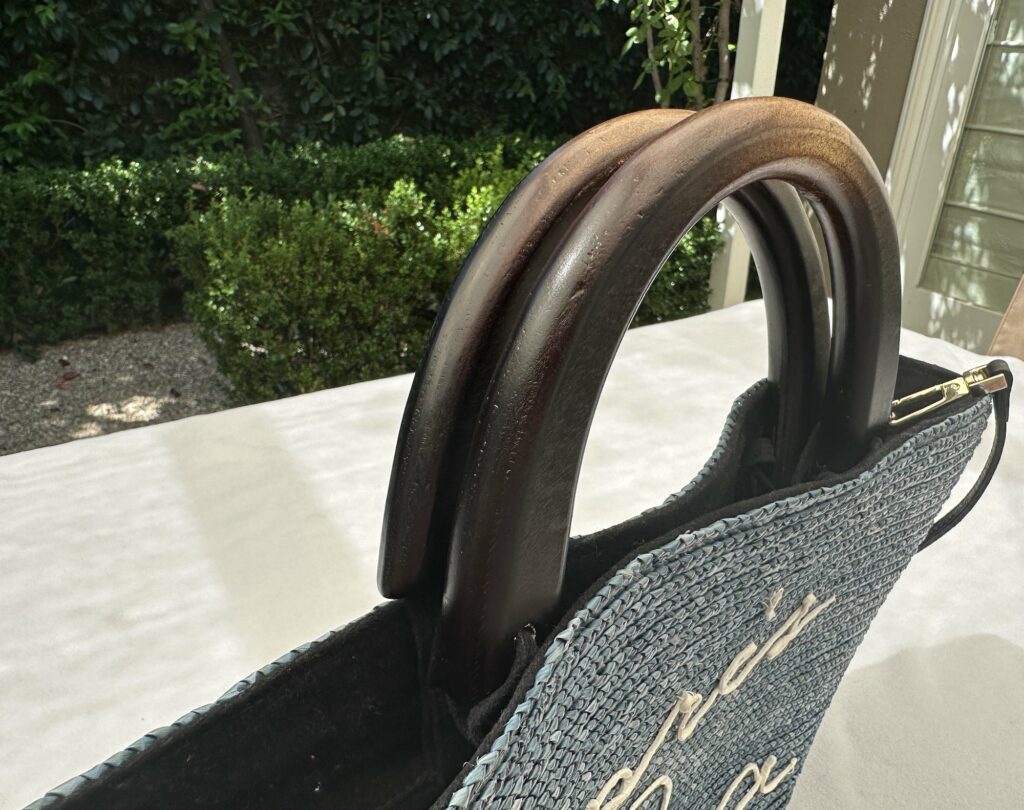 This style of the Eugenia Kim Carlotta bag is unique in that it comes with an adjustable, detachable, leather shoulder strap.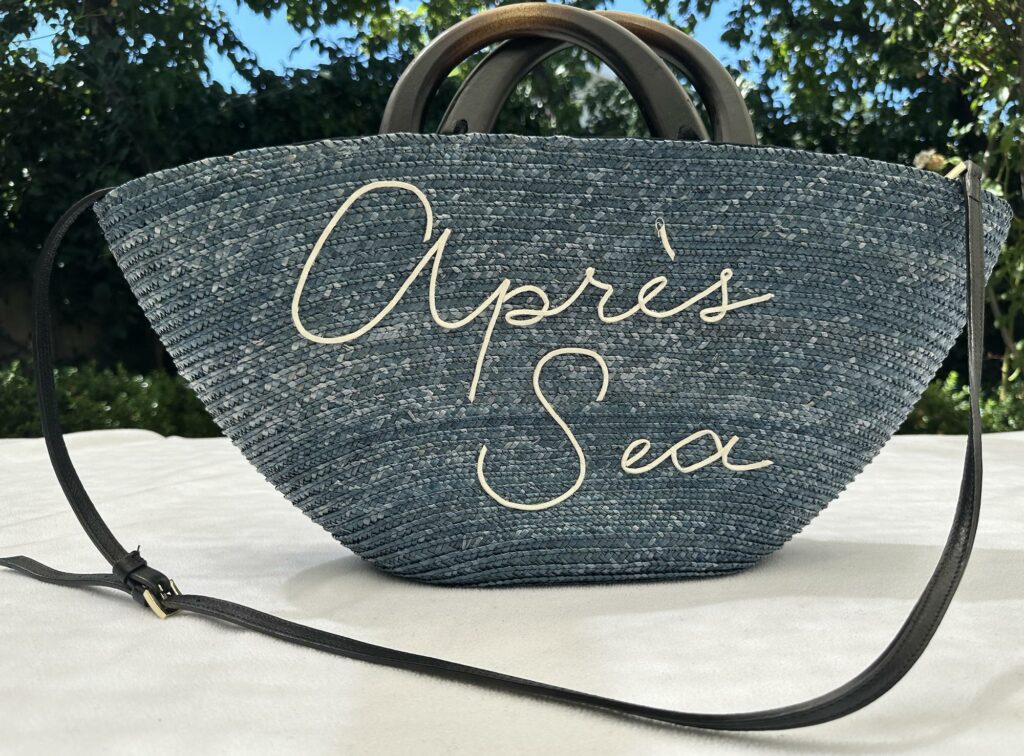 Lastly, the back of the tote is blank, classic, and simple.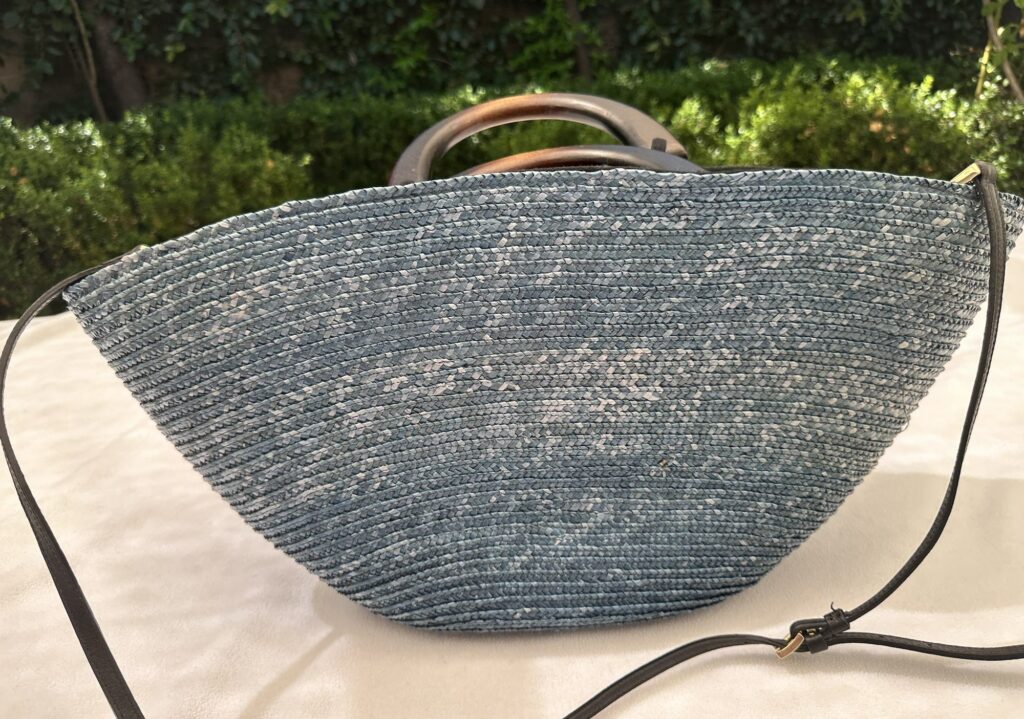 Internal Features of the Eugenia Kim Carlotta Straw Tote Bag
The interior of the tote is a neutral black color. The fabric is 100% thick cotton. This particular cotton fabric has an ultra-soft, suede-like feel.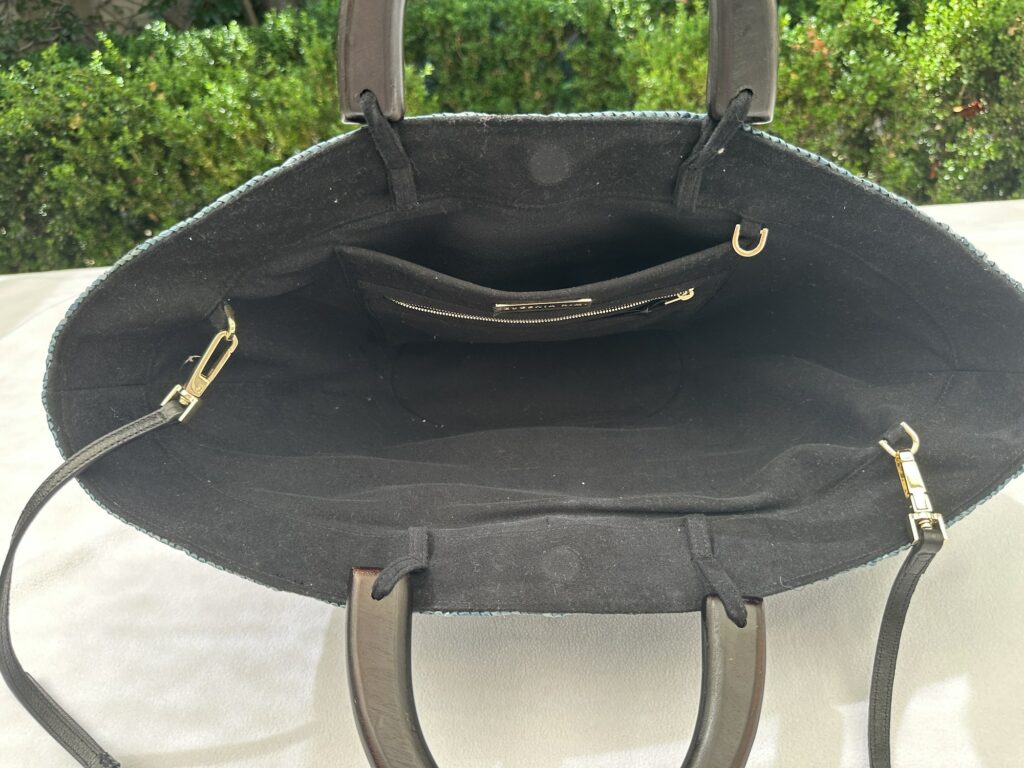 Unfortunately, it is prone to fuzzies and piling because of how soft and staticky it is.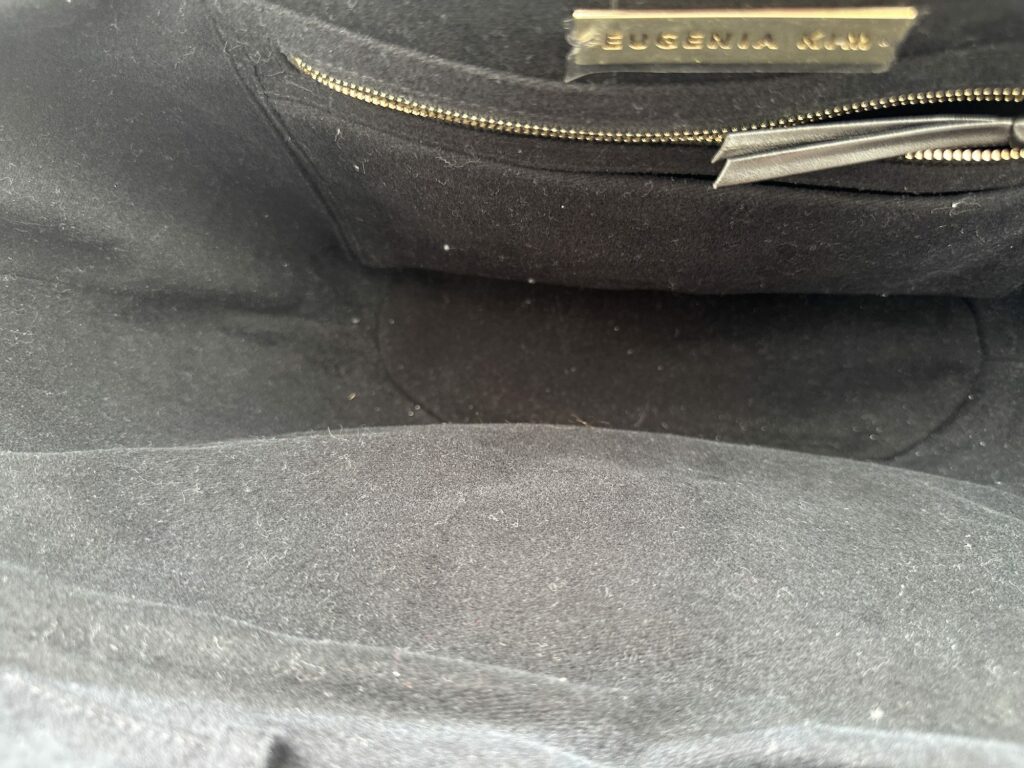 The hardware of this Eugenia Kim Carlotta purse is all gold-toned.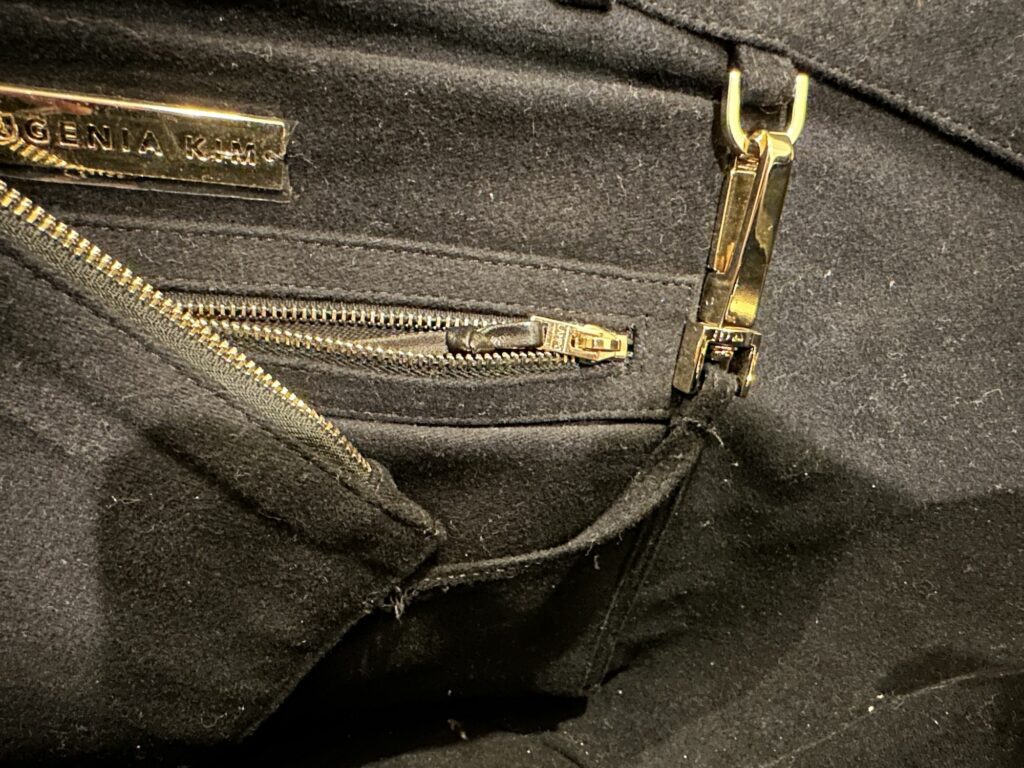 It's very shiny and a true gold hue, not a muted light gold.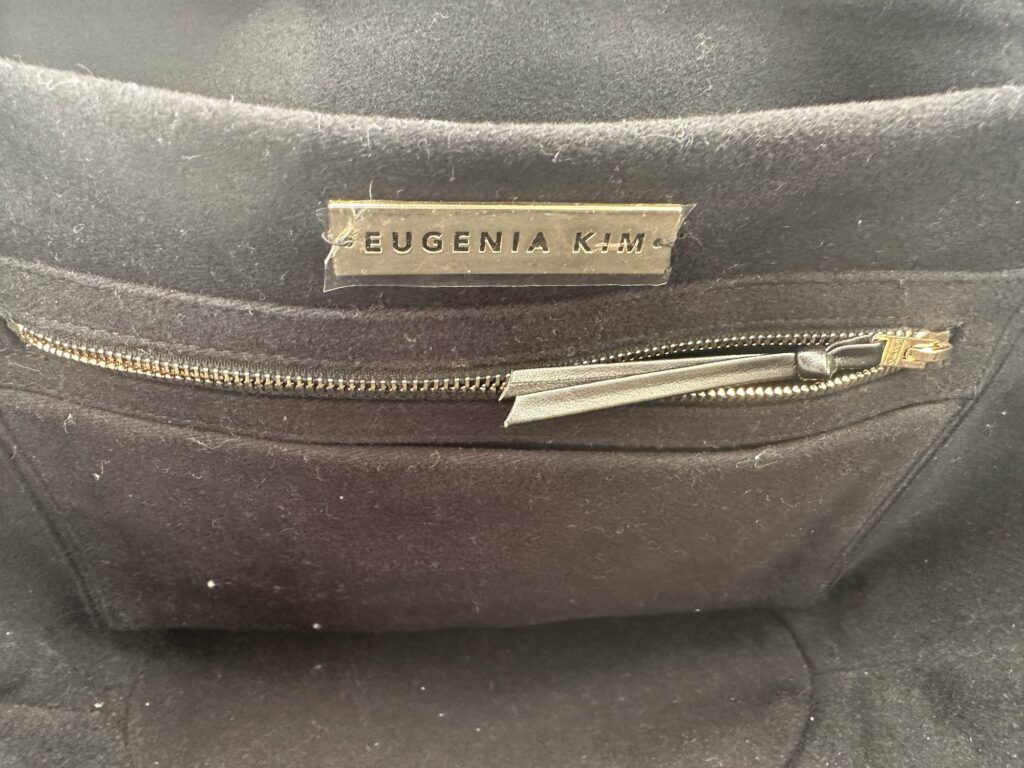 The zipper pulls are sewn from the same fabric as the interior of the bag, 100% luxurious thick black cotton.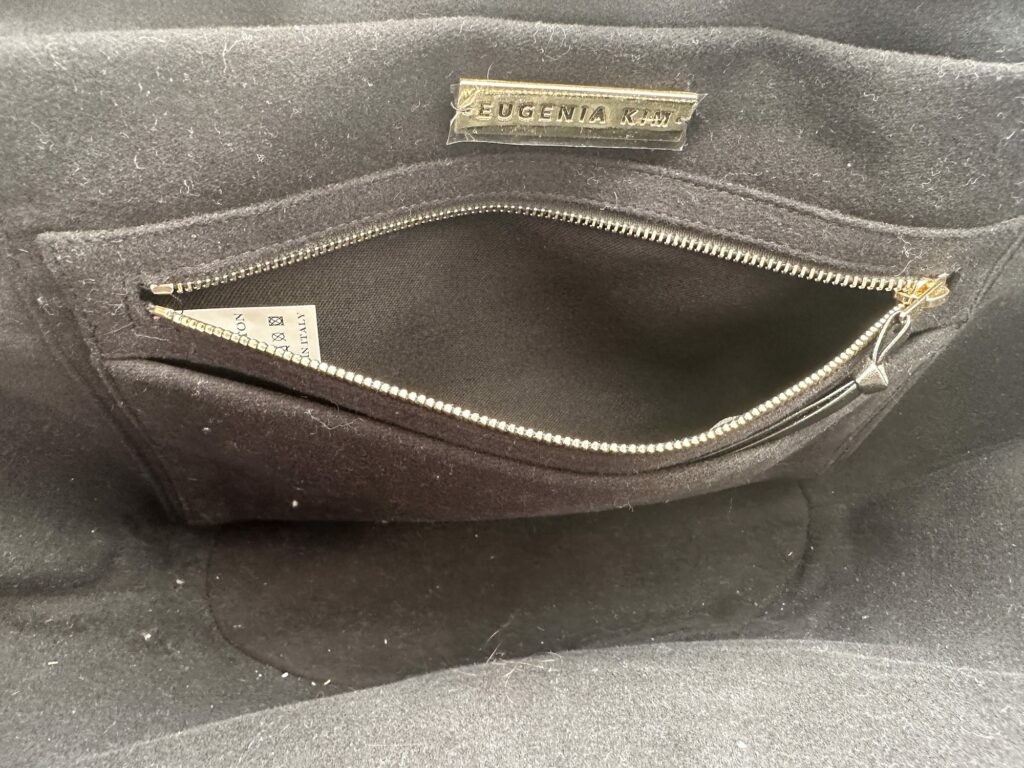 Inside is your typical smaller zipper closure pocket with the Eugenia Kim engraved logo on a gold tone plate. A bonus slip pocket directly behind the zip pocket allows for easy access.
The interior of the bag houses the straps and rings which attach/detach the removable shoulder strap. The strap has a clasp that can be clipped on and off as needed.
The bag itself closes with a hidden magnetic closure sewn discreetly behind the lining. See that circle shape at the top and bottom of the open tote below? That is it!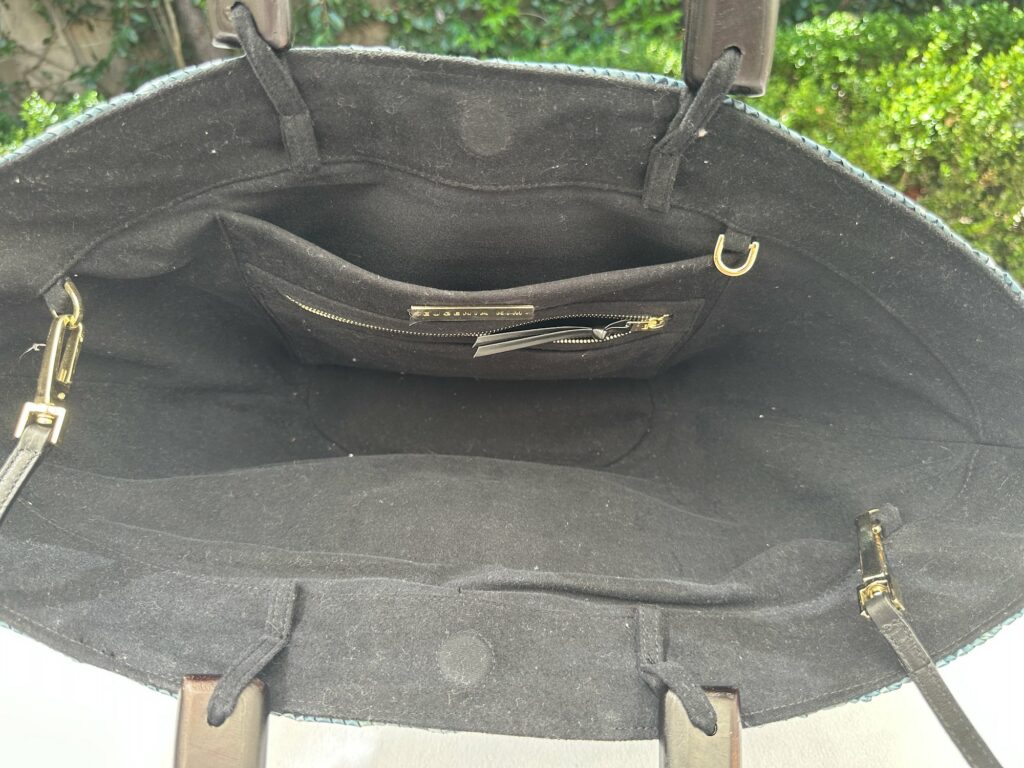 Detachable Pochette
The last feature of this particular style of the Eugenia Kim Carlotta wicker bag is the detachable pochette.
The small, black pouch is created from the same 100% cotton fabric that the lining is made out of.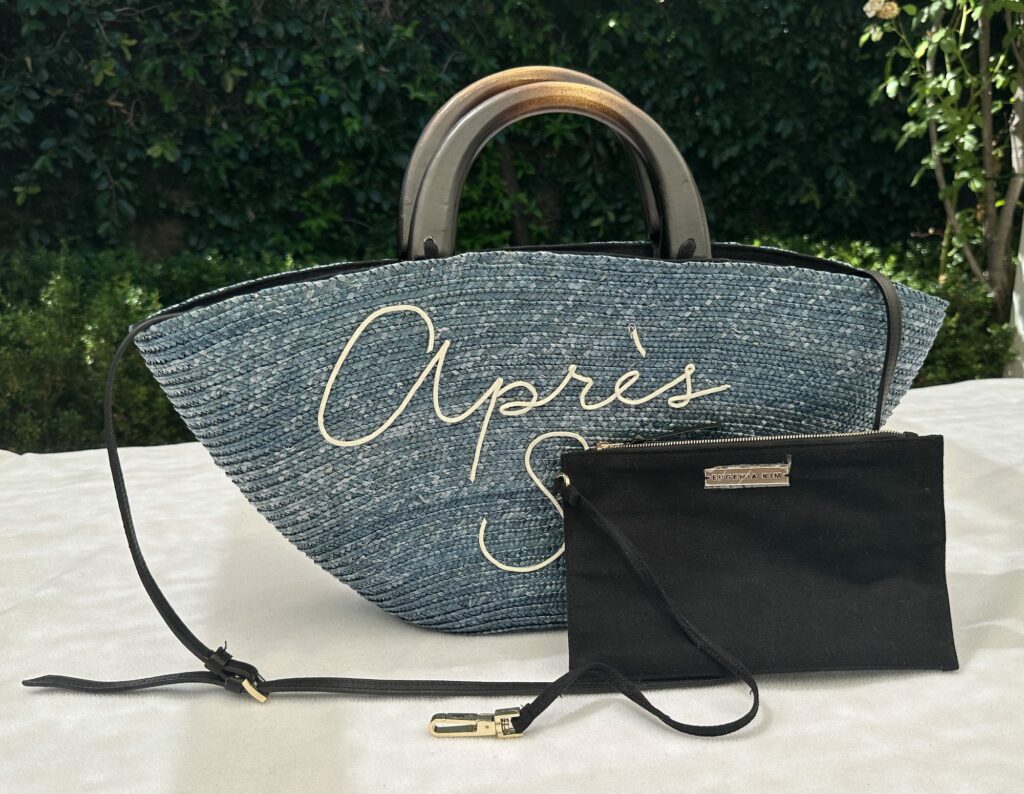 This pouch is attached inside the bag with a loop and clasp and can be removed when not needed or carried by itself as it has the beautiful gold tone Eugenia Kim golden plate logo.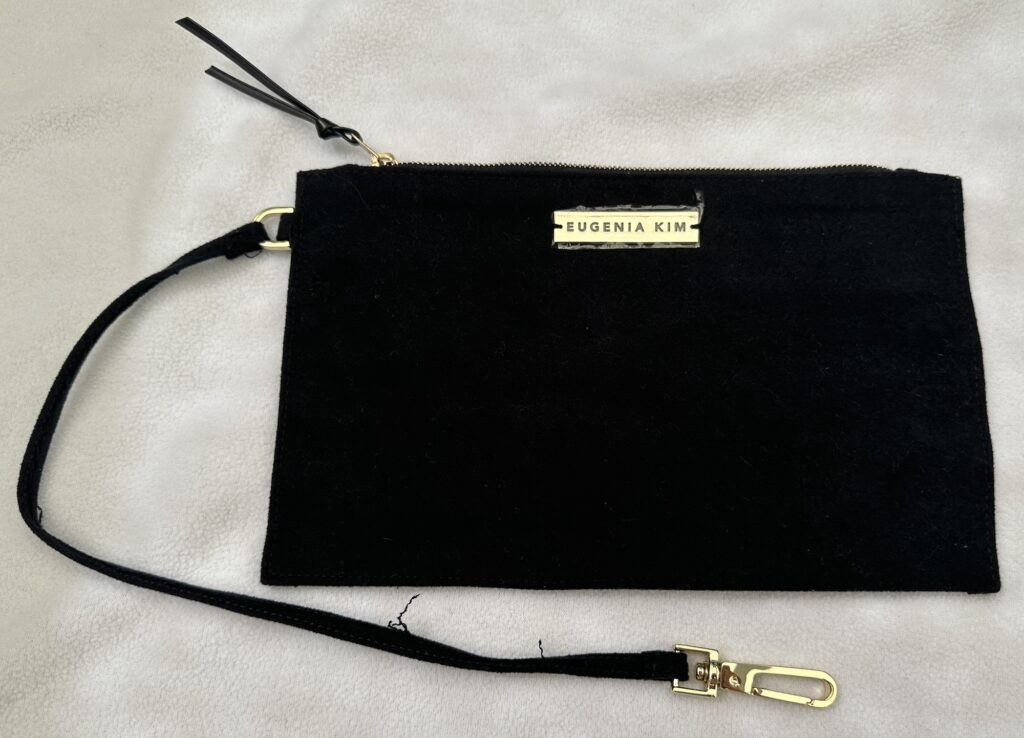 The zipper closure at the top allows your belongings to stay put.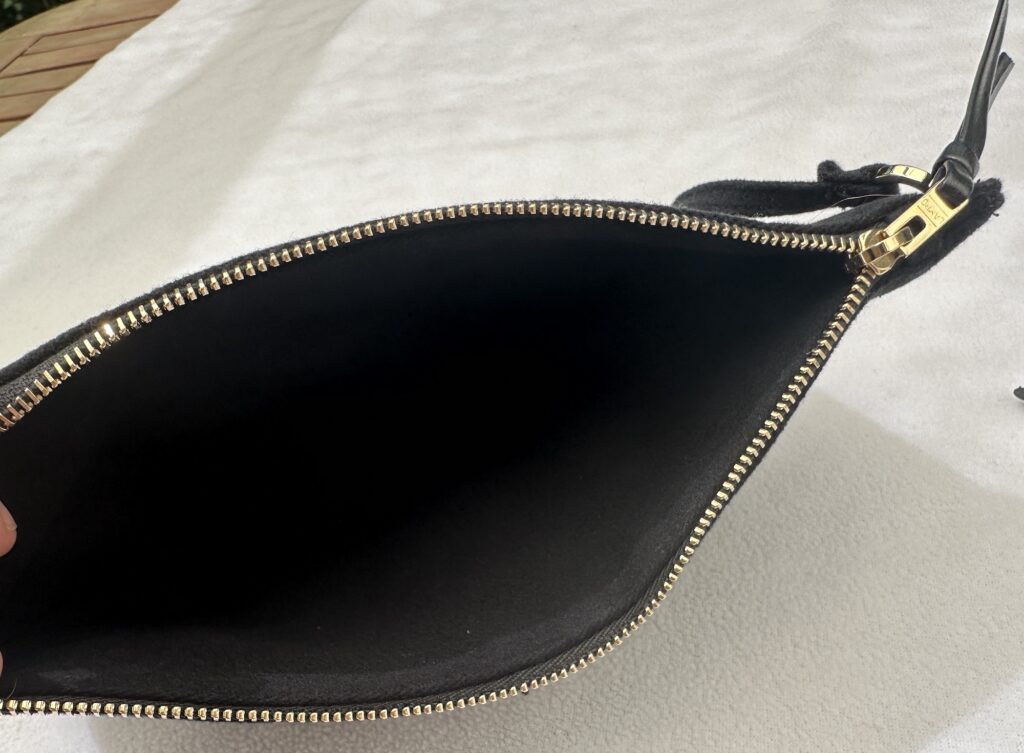 Hope you enjoyed this little review or overview of the Eugenia Kim Carlotta bag.
Looking for reviews and information on Women's Fashion and Women's Handbags? Additionally, check out the other sections of my blog and feel free to leave a comment or contact me on social media under @MalibuKarina everywhere including Instagram, Threads, Facebook, Pinterest, and LinkedIn (I'm everywhere).
Bonus tip: Undoubtedly, Install RAKUTEN on your browser to get cash back on your purchases! It's FREE and easy to sign up for. For example, when I purchased the Eugenia Kim Carlotta handbag mentioned in this article from Maisonette, I got 6% cash back on it. Rakuten costs you nothing and you'll get a "big fat check" once every few months with all the cash back you accrue.
Some of the great resources that keep this blog running, profitable, and beautiful:
Wodpress.com – The most popular blogging platform in the world, anyone can launch a blog.
WordPress.org – A little more complicated but definitely recommended for more advanced bloggers.
GoDaddy.com – Affordable web hosting for beginning bloggers using WordPress.org.
Squarespace – Want to get started blogging FAST? Squarespace is the place.
Canva – Graphic design website for all social media from blogs to Pinterest to Instagram.
Teachable – I have taken many blogging, Pinterest, web graphic, and business courses through Teachable. I highly recommend this site to get you a head start on your blogging journey.
LegalZoom – This is really a great resource for beginners to make their business legit. I used LegalZoom for this blog as well as a successful clothing store I ran for 8 years! They've got your covered – Legally!
Hulu – Okay this one doesn't technically keep the blog running but it does provide me entertainment as I write the blog posts.