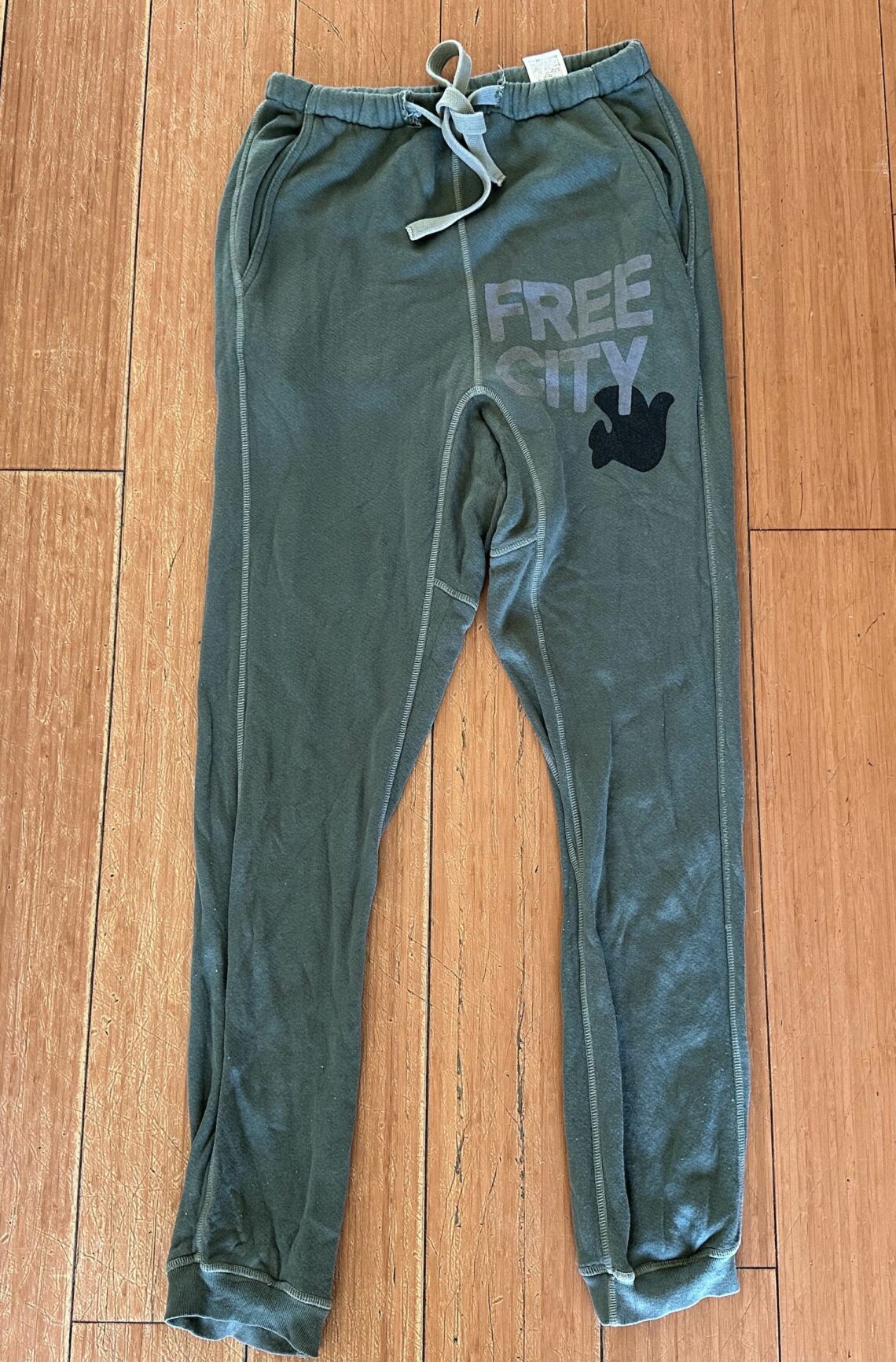 Free City Superfluff Pocket Lux Sweatpants Review
This blog post may include affiliate links that may earn me a small commission at no cost to my readers. I am an Amazon Affiliate Partner and use Amazon product links throughout which may earn me a small commission on qualifying reader purchases. All opinions on my blog are my own and honest, I want my blog to provide information and help my readers become informed consumers, parents and caregivers.
A detailed review of the elusive and often sold-out Free City Superfluff Pocket Lux Sweatpants. Slightly different than the classic Free City sweats, the Superfluff sweats are more lightweight, softer, and feature pockets!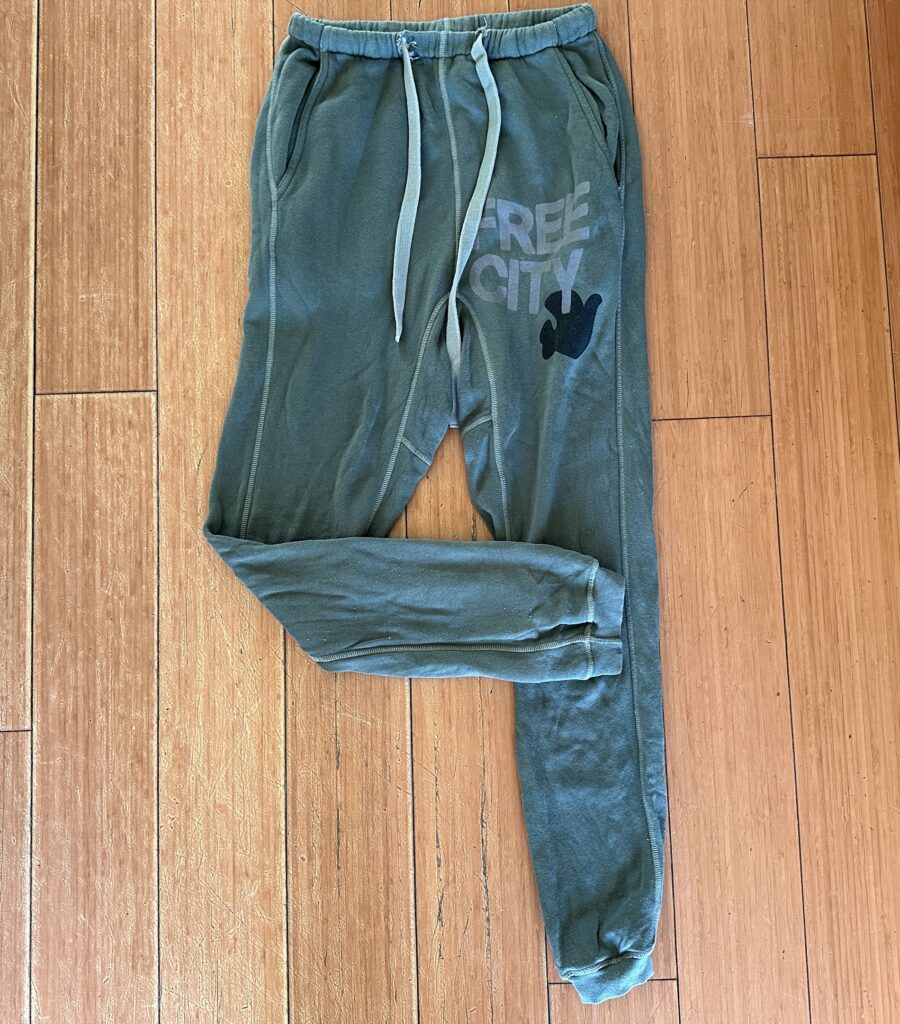 If you're reading this, you probably know the exclusive, luxury status of Free City and its loungewear items.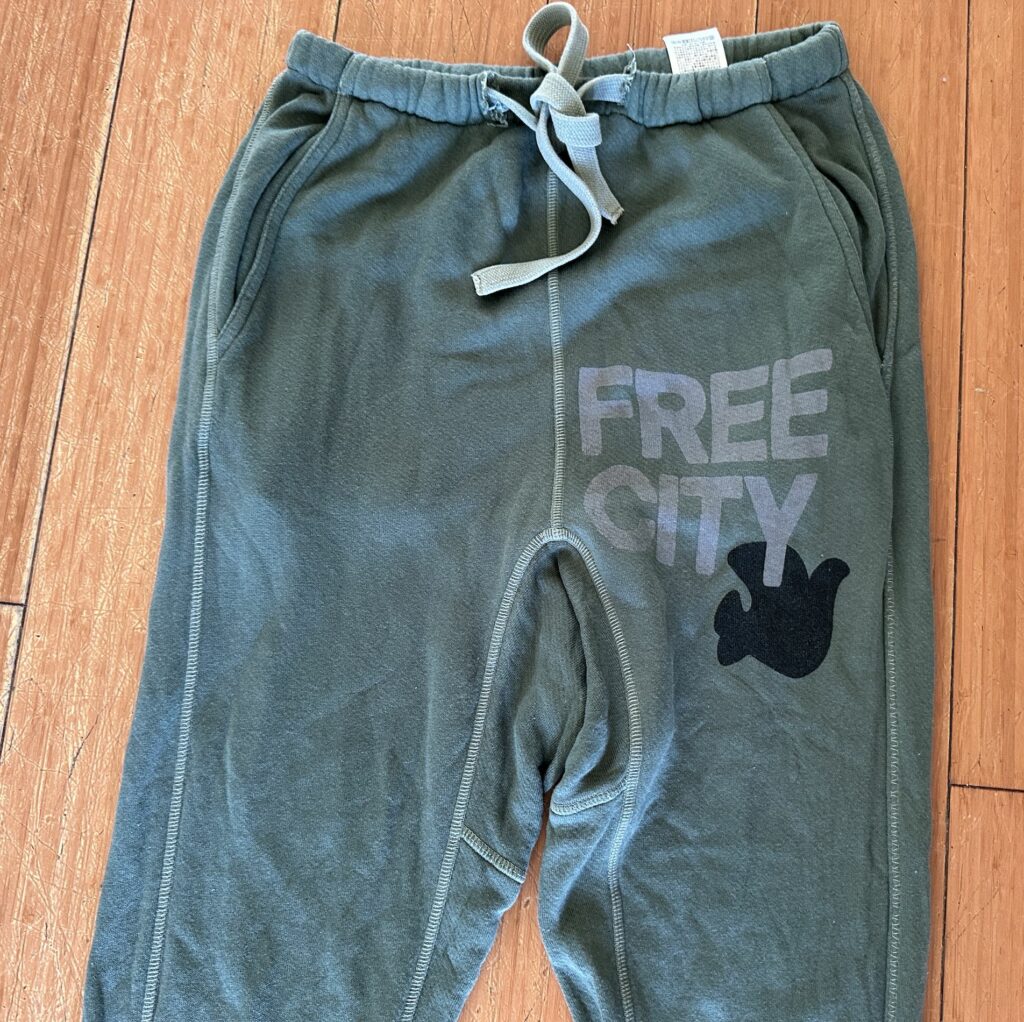 Free City handcrafts every item in their collection in limited quantities at their Hollywood workshop. Their philosophy of creating clothing, art, and an encompassing experience garners respect in the fashion world. Free City does not mass-produce its products which makes the brand more exclusive. That is another reason the price point of Free City is rather high. Each Free City item is thoughtfully created with the hope that it will bring joy for years.
Free City classic loungewear is high quality and a status symbol but the Superfluff line FEELS luxurious, unique, and has an upscale fit.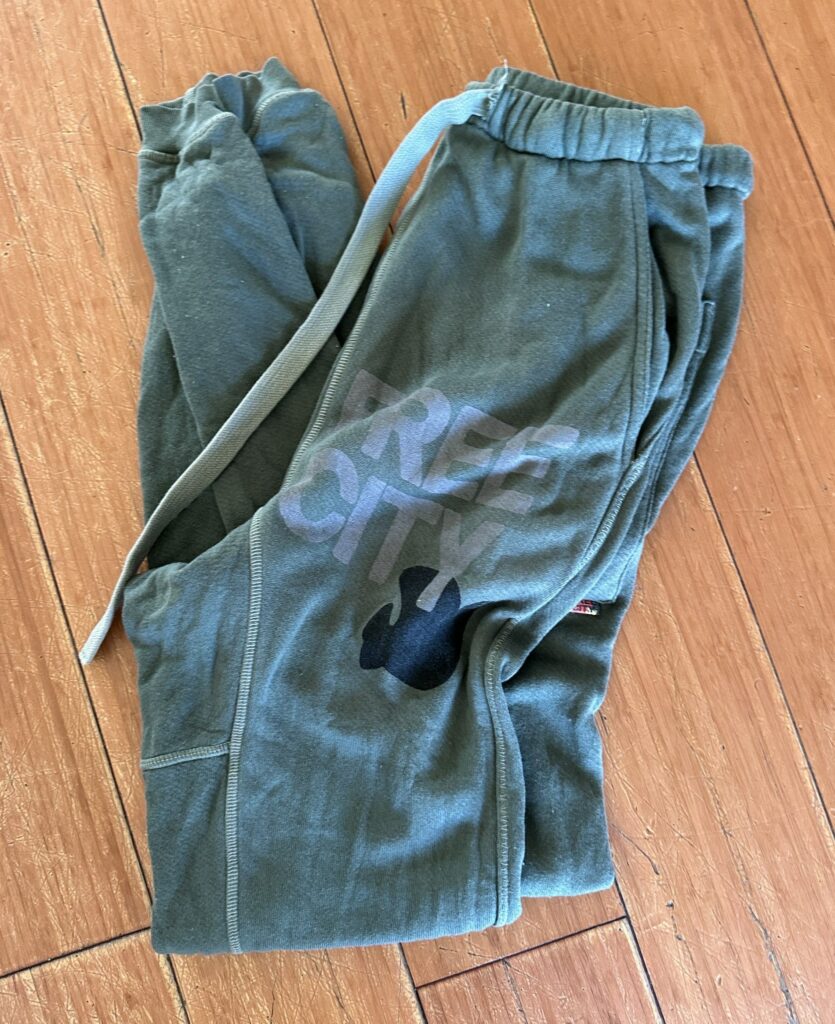 I purchased these Free City Superfluff Pocket Lux Sweatpants from Shopbop on a whim because I really loved the classic sweats. The "Bush" color of these sweatpants is a rich hunter green. These sweatpants are no longer available on Shopbop.com in the "Bush" color but you can still purchase them on these websites:
Garmentory – A community of curated top fashion brands and trends you may or may not have heard of. Highly recommended (they oftentimes have sales and coupon codes!).
Free City Supershop – The OFFICIAL Free City online store.
Blue & Cream – Designer fashion boutique.
Free City Superfluff Sweats External Features
The waist is elastic and covered in fabric with drawstring ties.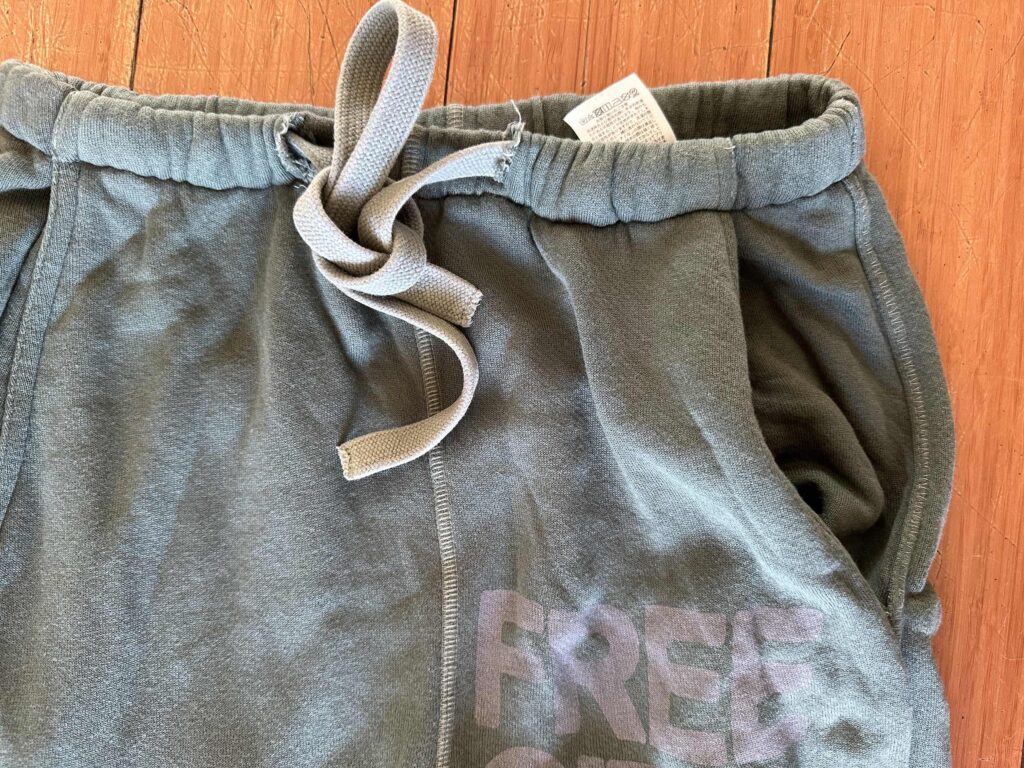 The drawstring is made out of a flat, woven fabric, similar to shoelaces. This self-tie drawstring is soft, flexible, and fully functional. The ties are long and can easily tie into a bow, loose knot, or hidden inside the pant.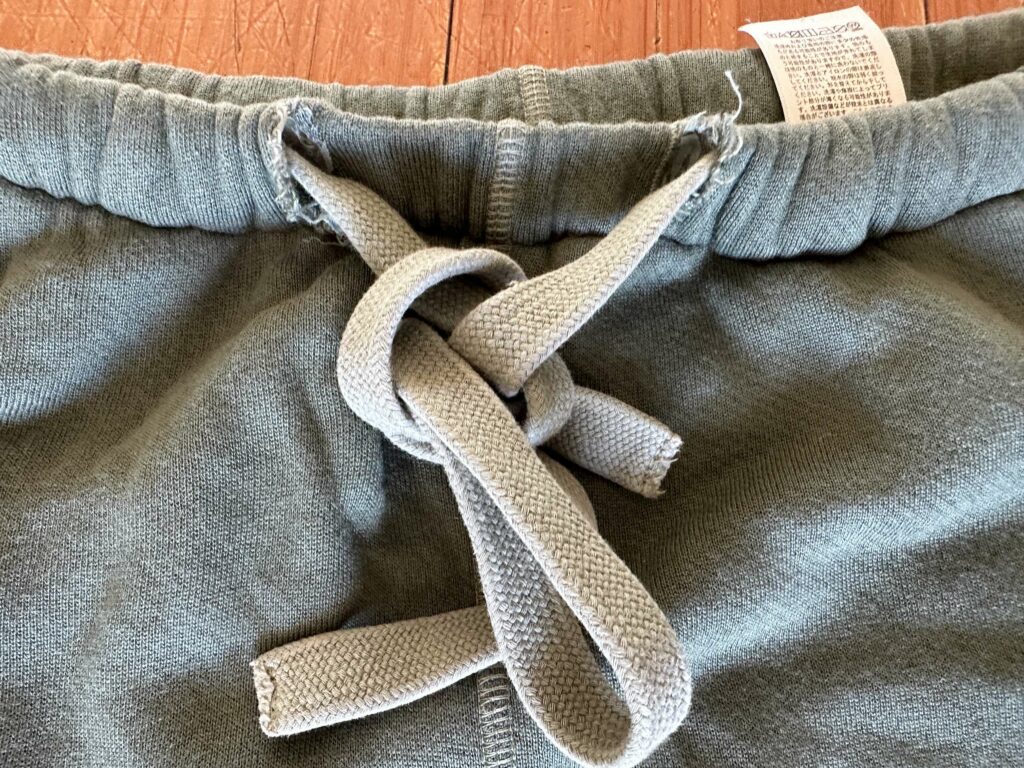 Following down from the waist, the slant pockets at the hips are roomy. Because of the thinner fabric, the pockets drape down the thigh without adding bulk. Being that the fabric is lightweight, anything heavy that you may put into the pockets may show through on the exterior.
Perhaps, the most important feature is the logo on the leg. This is the FREE CITY Classic Dove Logo. Clothing with the Free City Logo is exclusive and recognized worldwide.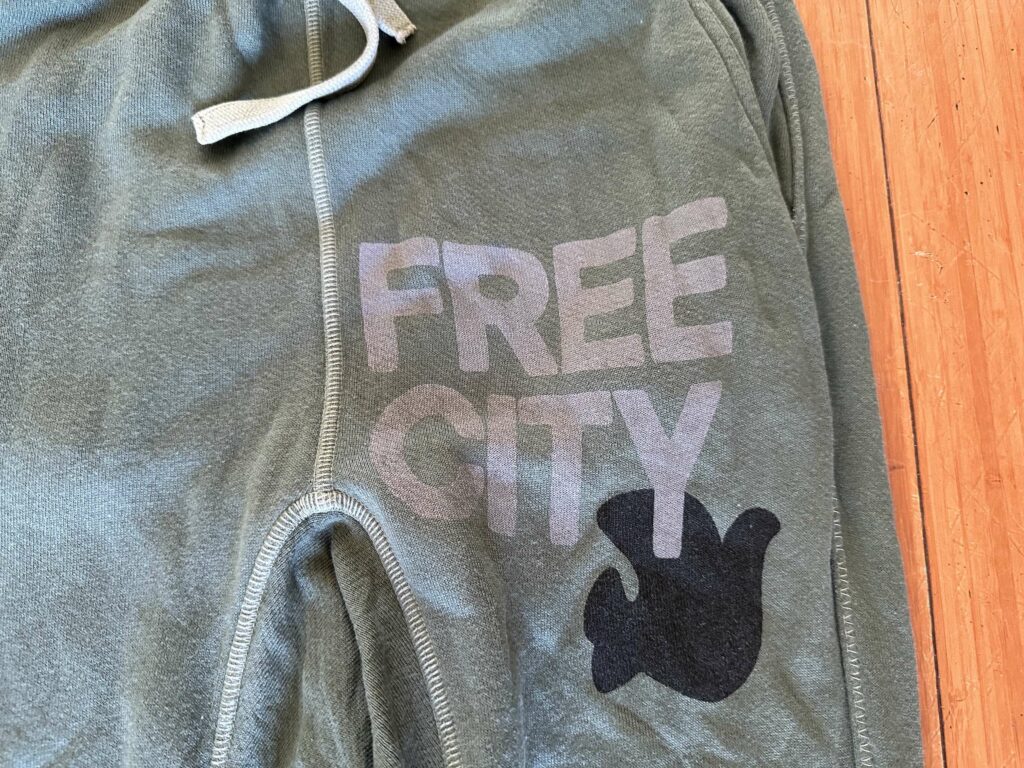 To the touch, the logo feels like part of the fabric. The method used to adhere the graphic is "Soft-Hand Screen Printing" which provides the softest feel. This feels like it is part of the fabric whereas other brands' graphics feel plastic-y and can crack and peel. To read more about it, feel free to check out this article from Sharprint on how Soft-Hand Printing works on dark garments.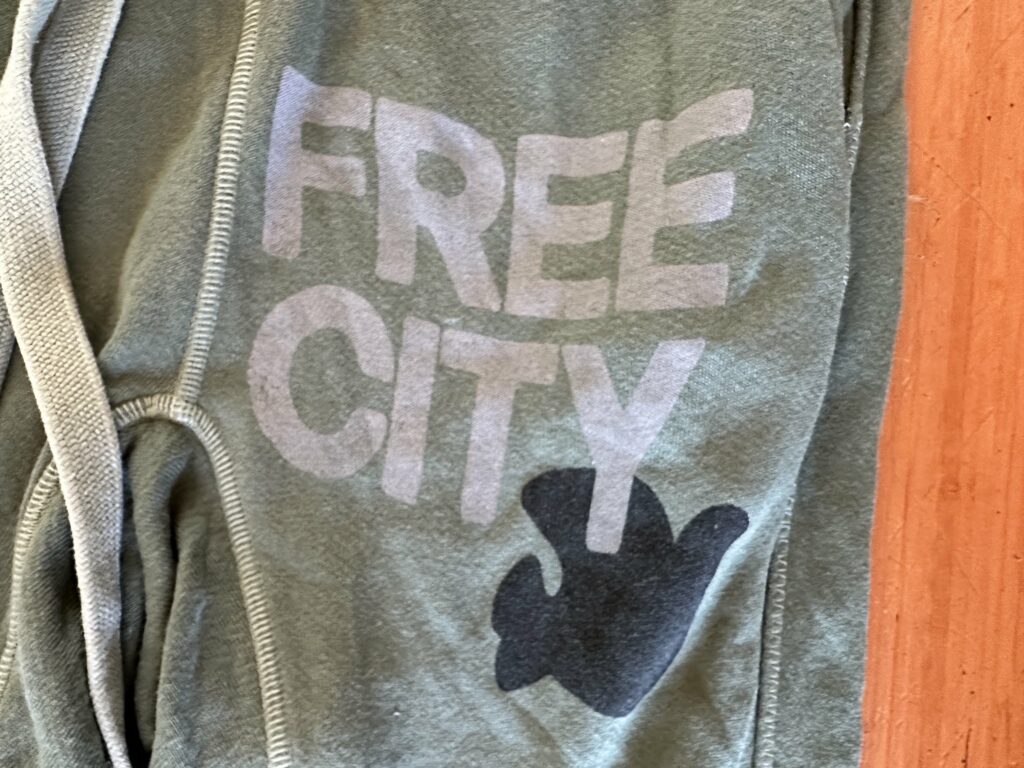 Exposed flatlock seams run at the sides, from the waist to between the legs and the length of the inseam. For that reason, these seams are similar to the seams on thermal underwear / long johns.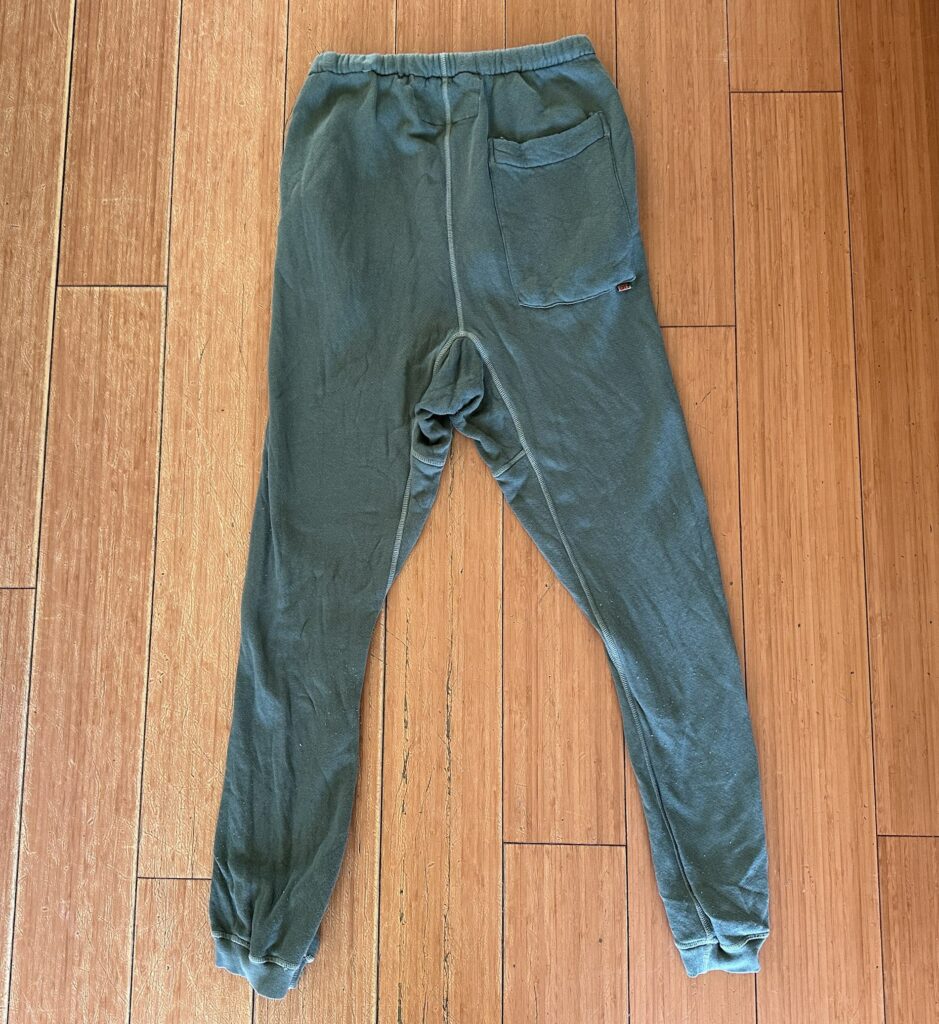 The back of the pants features a fully functional, slouchy, patch pocket. The size of the pocket is nice and can fit quite a bit.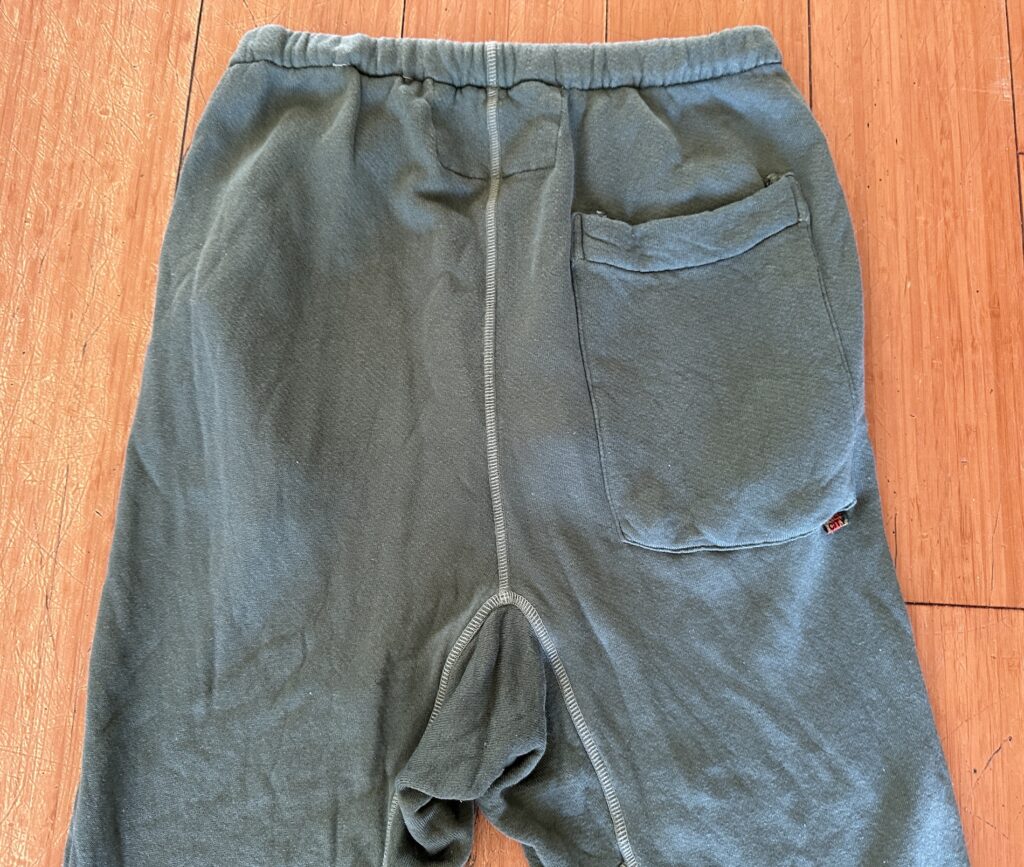 There is a decorative "FREE CITY" tag at the bottom of the pocket. This tiny feature is basic but gives the sweats a pop of flare.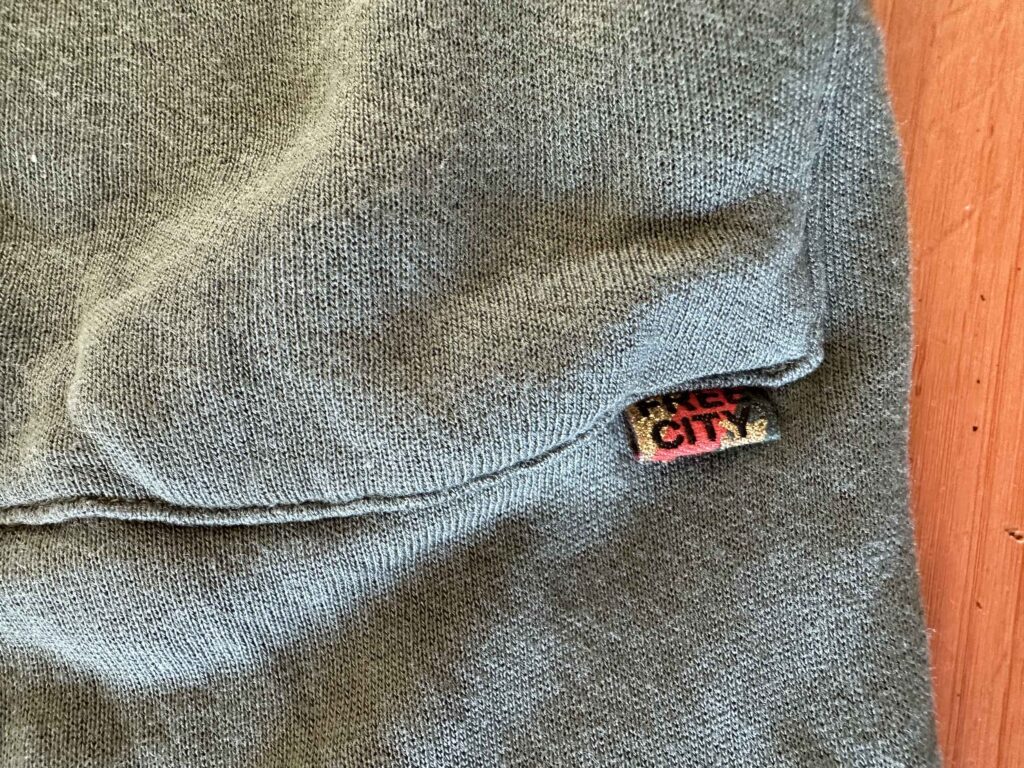 The bottoms of the leg openings feature a relaxed (barely elasticized) banding.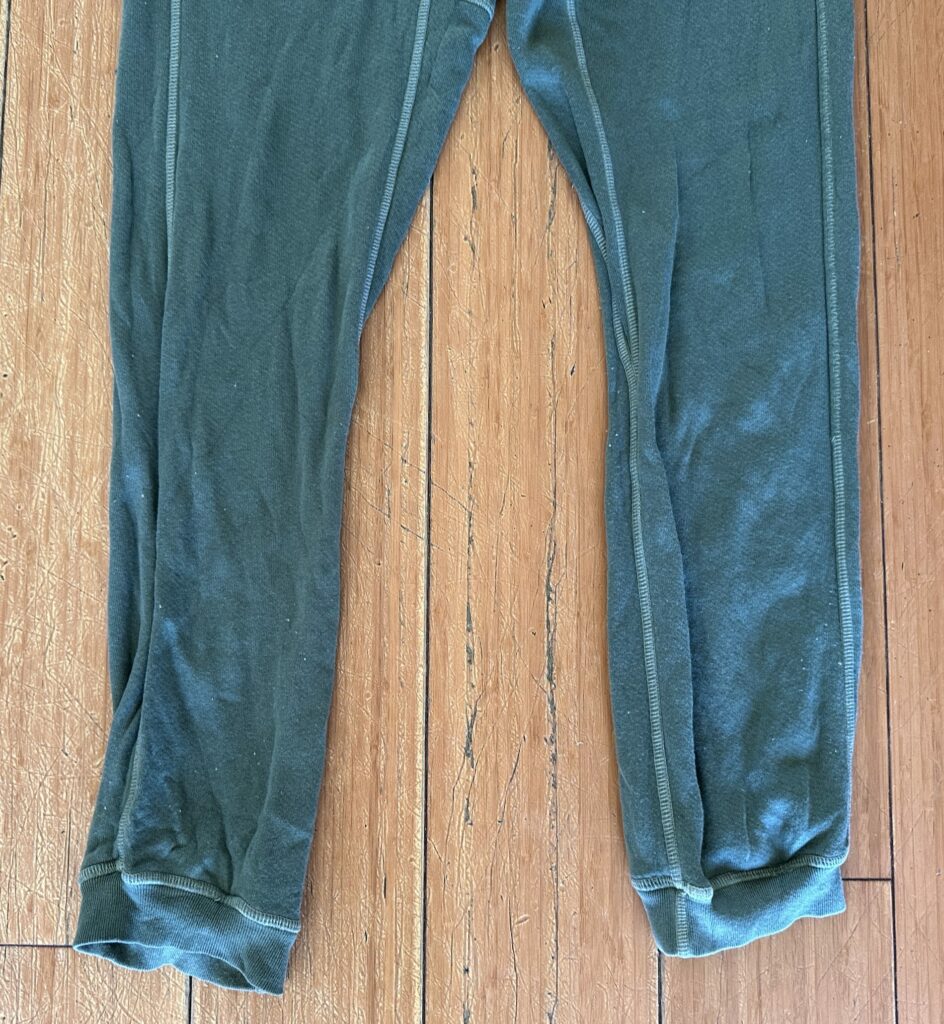 The fit of these pants is somewhat unique. The legs are narrow and the front and back are oversize with a drop-crotch style. According to some reviews, for a looser fit, sizing up is recommended. As a matter of fact, the legs and thighs run slim. However, the elastic waist is true to size because it is meant to be worn above the belly button. These are definitely a high-waist style. On the contrary, the lower you wear them the more exaggerated the drop crotch is. So it really depends on what your personal preference is.
The fabric is lightweight and extremely pleasant to the touch. It is soft and drapey, it feels truly luxurious.
Since the classic Free City sweats are quite popular, the likelihood that you are reading this article and already own those is high. I thought it was a good idea to compare and contrast the Superfluff to the Classic sweats. First, the classic style sweatpants are oversized and loose with tight elastic at the ankles with plenty of room in the legs, thighs, tummy, and behind. On the other hand, the Superfluff sweats are somewhat fitted with a drapey loose elastic at the ankles. The photo below shows a pair of Free City classic sweats I purchased many years ago. This core Free City style is still their #1 best seller therefore it is brought back season after season.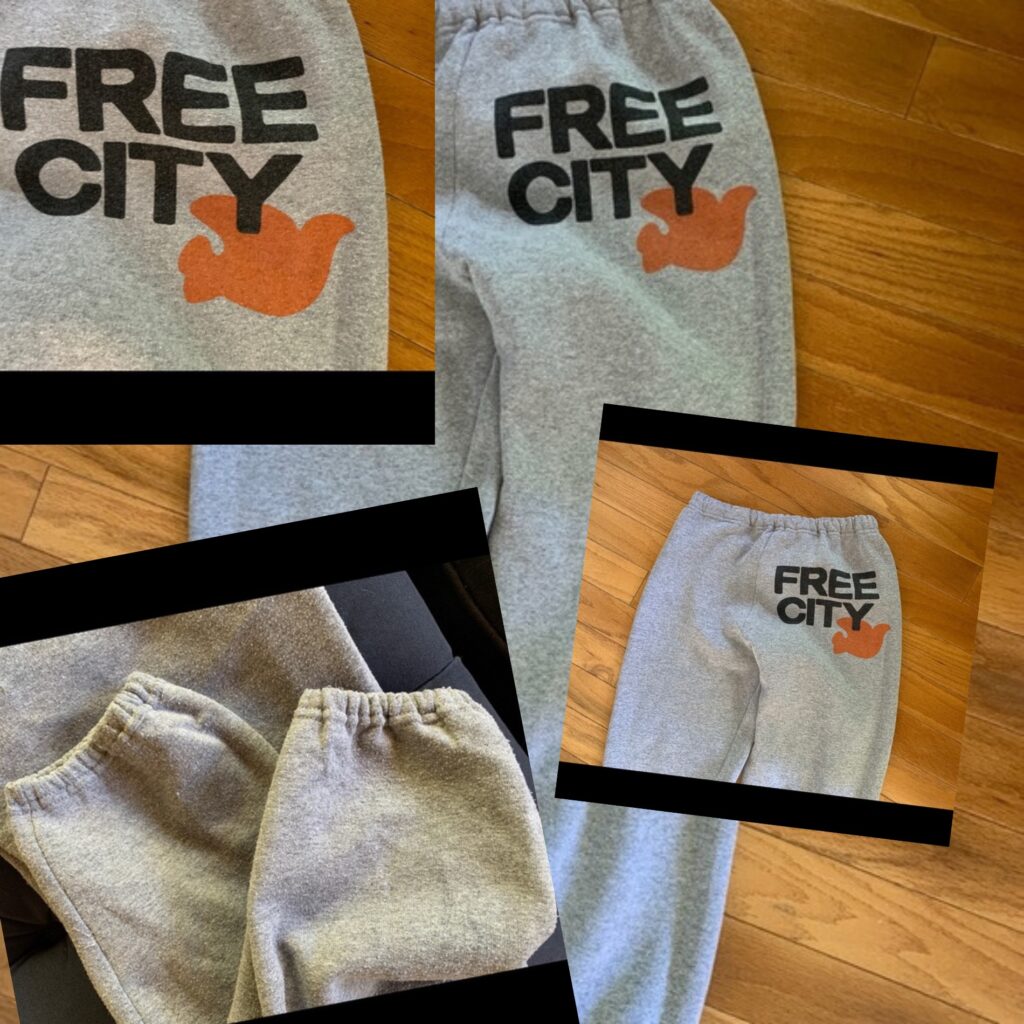 In contrast to the lightweight fabric of the Superfuluff line, the Classic style fabric is warm, cozy, and extra thick. Think back to sweats from your childhood or perhaps your boyfriend's old sweatpants, they have that old-school vibe – thick, cotton/poly blend sweats. No frills, just plain and simple.
As noted above, keeping the Classic sweats plain and simple means no pockets and no fancy seams. Whereas the Superfluff sweats have 2 side pockets, 1 back pocket, and intricate exposed seams throughout.
The composition of the Superfluff sweats includes various blends of the following fabrics Modal (30-70%), Cotton (30-40%), and/or Tencel Lyocell (20-30%).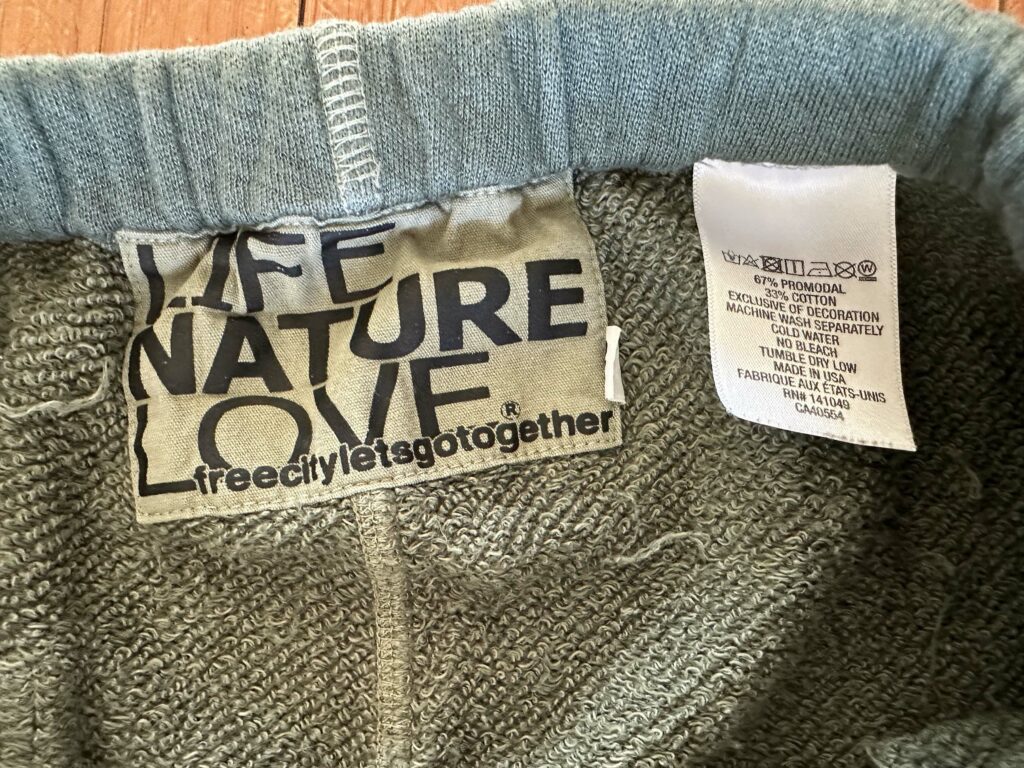 The composition of the Classic sweats includes various blends of the following fabrics Cotton (50-100%) and Polyester (up to 50%). Most are 100% Cotton.
Free City Superfluff Pocket Lux Sweatpants MAY Be Worth The Splurge
If you are a fan of the classic Free City items, this is definitely a nice addition to your closet. I wouldn't recommend these be the 1st pair of Free City sweats you get. Start with the classics for sure.
As far as fit, these are definitely better suited for a frame that is not petite (I would suggest being at least 5′ 3″). They can overpower a shorter frame because of the high waist and drop-crotch style which makes your legs look shorter. If you have a short torso (like myself) these are not all that flattering.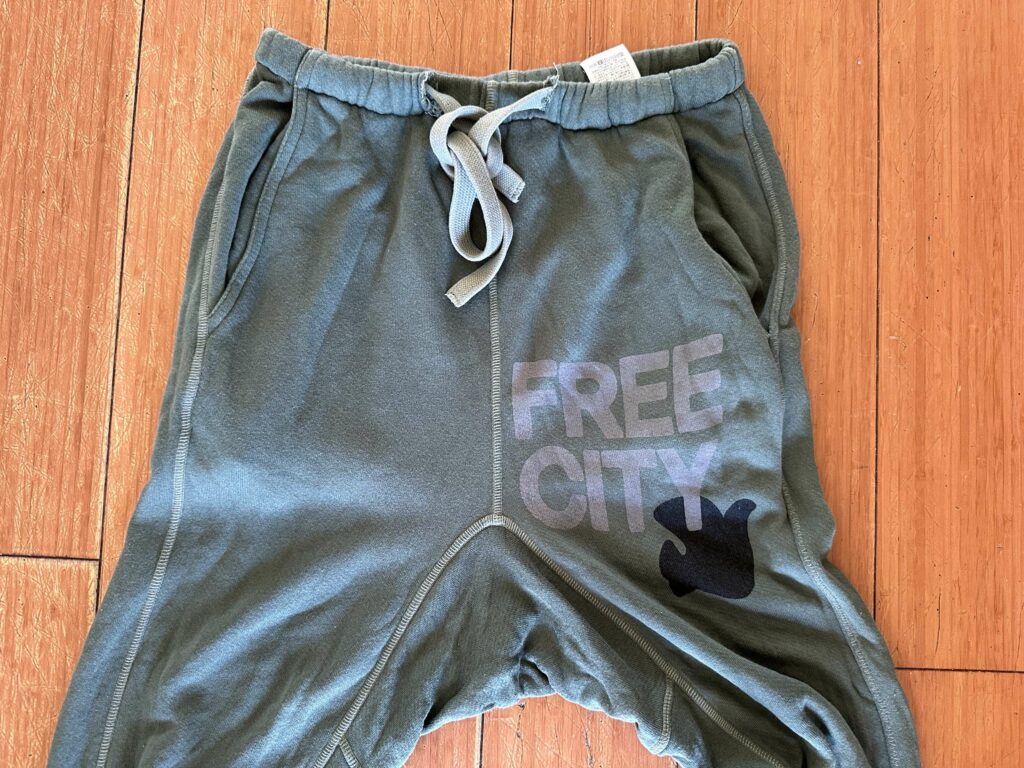 So I suggest something with a lower rise for those of us who are all legs and short torsos. The other thing is with the rise being high there is a lot of real estate on the tummy so if you have a mommy tummy (or carry your weight in your stomach) these lounge pants won't be flattering unless you wear a longer tee or sweatshirt on top of them.
Sizing recommendations: I am 5′ tall and weighted about 128lbs (my inseam is about 28″), I purchased the size XS (but should have taken the size S because the legs and thighs were too tight).
Hope this little analysis and review helped!
Looking for other reviews for Women's or Kids' Fashion, accessories, toys, and gear? Additionally, check out the other sections of my blog and feel free to leave a comment or contact me on social media under @MalibuKarina everywhere including Instagram, Facebook, Pinterest, and LinkedIn (I'm everywhere).
Bonus tip: Undoubtedly, Install RAKUTEN on your browser to get cash back on your purchases! It's FREE and easy to sign up for. For example, when I purchased these Free City sweats on ShopBop, I got 2% cash back on them. Rakuten costs you nothing and you'll get a "big fat check" once every few months with all the cash back you accrue.
Some of the great resources that keep this blog running, profitable and beautiful:
Wodpress.com – The most popular blogging platform in the world, anyone can launch a blog.
WordPress.org – A little more complicated but definitely recommended for more advanced bloggers.
GoDaddy.com – Affordable web hosting for beginning bloggers using WordPress.org.
Squarespace – Want to get started blogging FAST? Squarespace is the place.
Canva – Graphic design website for all social media from blogs to Pinterest to Instagram.
Teachable – I have taken many blogging, Pinterest, web graphic, and business courses through Teachable. I highly recommend this site to get you a head start on your blogging journey.
LegalZoom – This is really a great resource for beginners to make their business legit. I used LegalZoom for this blog as well as a successful clothing store I ran for 8 years! They've got your covered – Legally!
Hulu – Okay this one doesn't technically keep the blog running but it does provide me entertainment as I write the blog posts.