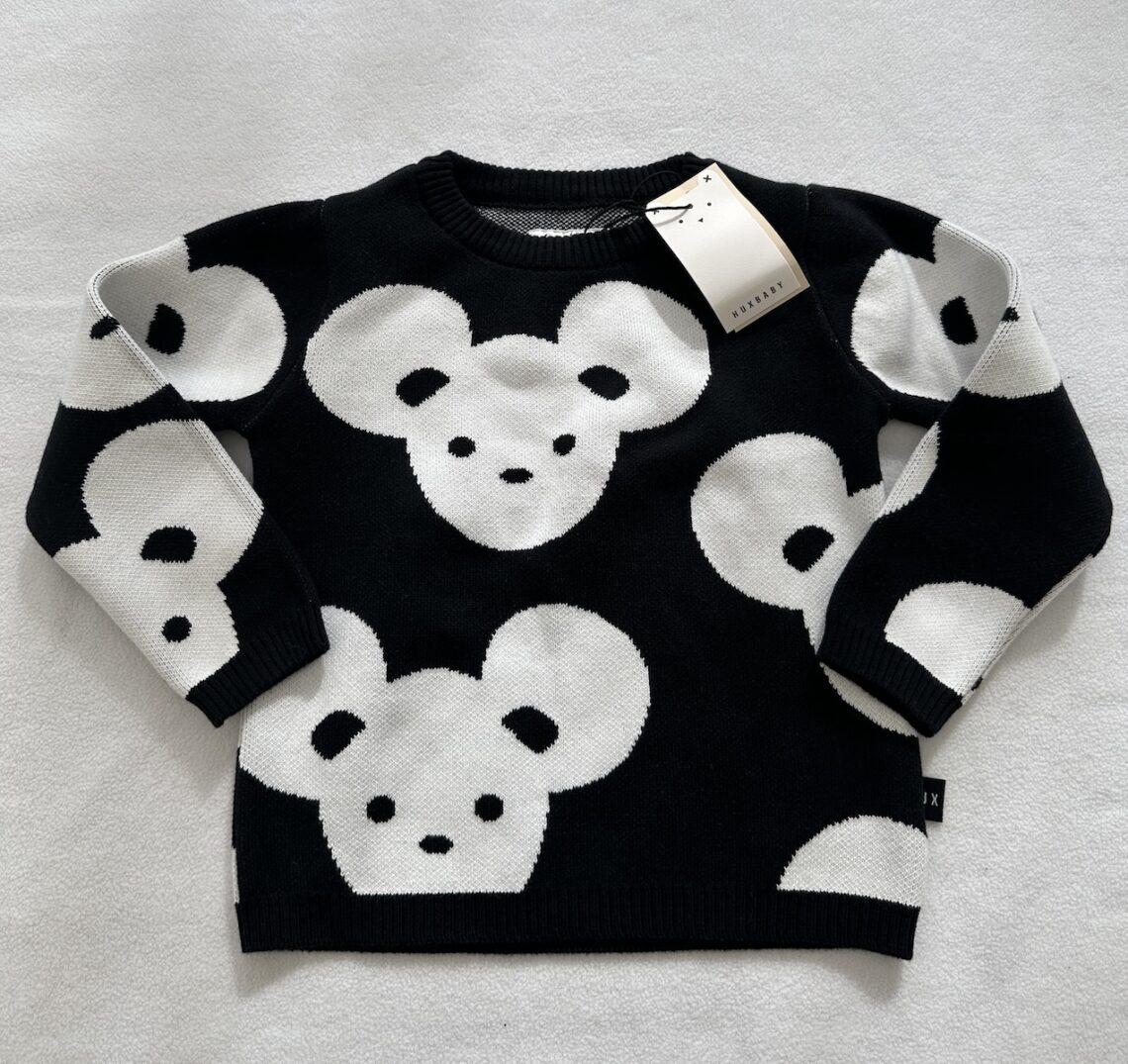 Huxbaby Mouse Cotton Sweater
This blog post may include affiliate links that may earn me a small commission at no cost to my readers. I am an Amazon Affiliate Partner and use Amazon product links throughout which may earn me a small commission on qualifying reader purchases. All opinions on my blog are my own and honest, I want my blog to provide information and help my readers become informed consumers, parents and caregivers.
An instant classic! The Huxbaby Hux Mouse cotton sweater is luxurious and fashionable. The minimalistic look is neutral but definitely not dull.
Where to Buy this Huxbaby Sweater (Sorry it sold out)
I am selling this brand new, with tags, Huxbaby Mouse Cotton Sweater in size 4 on the re-sale sites below:
Ebay – Sold out
Kidizen Sold out
Mercari – > Sold out
Poshmark * Sold out *
This particular print is out of stock but you can purchase other prints like an adorable all-over bear print or this sweatshirt version of the bear print.
Even though Huxbaby is an Australian company, you can purchase their items all over the world. In the USA Huxbaby is sold at these retailers (and many more):
Huxbaby at Saks Fifth Avenue and Saks Off 5th
Bloomingdales is usually running good discounts and sales on Huxbaby
Amazon sells Huxbaby and other minimalist brands such as Nununu and Sweedish-designed Tiny Universe
Spearmint Love has an extensive selection of Huxbaby items
Zappos stocks Huxbaby as does 6PM, their outlet sister site
and, of course, the official Huxbaby Website.
Purchasing items pre-owned is always an excellent option, sometimes you can even find items that are new with tags! Shopping secondhand, especially for ever-growing kids, can keep clothing out of landfills, be more sustainable, and environmentally friendly and save you some money in the process. Huxbaby is very popular on the pre-loved market and can be purchased on many websites including these:
Detailed Description of the Huxbaby Mouse Cotton Sweater
The crew neck features black banding around the opening. The sleeves also have black banding as does the waist.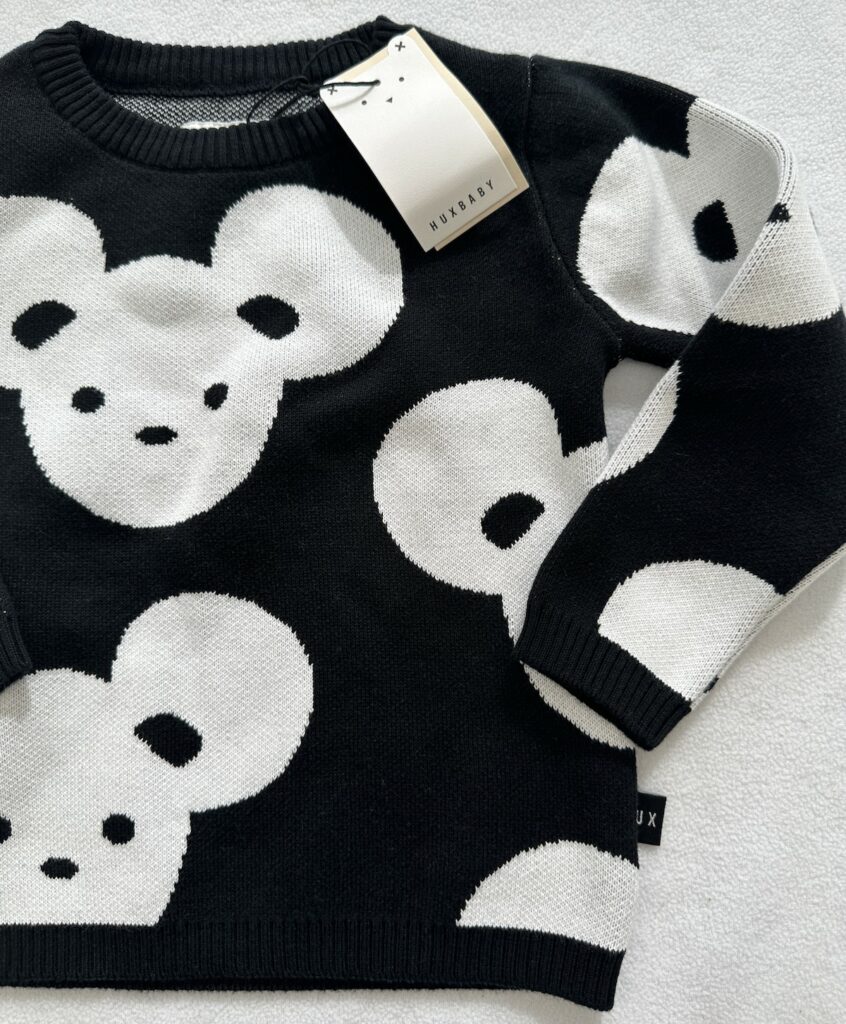 The print is an all-over "Hux Mouse" print. My son always called this his "Mickey Mouse sweater" because it resembles the famous Disney mouse.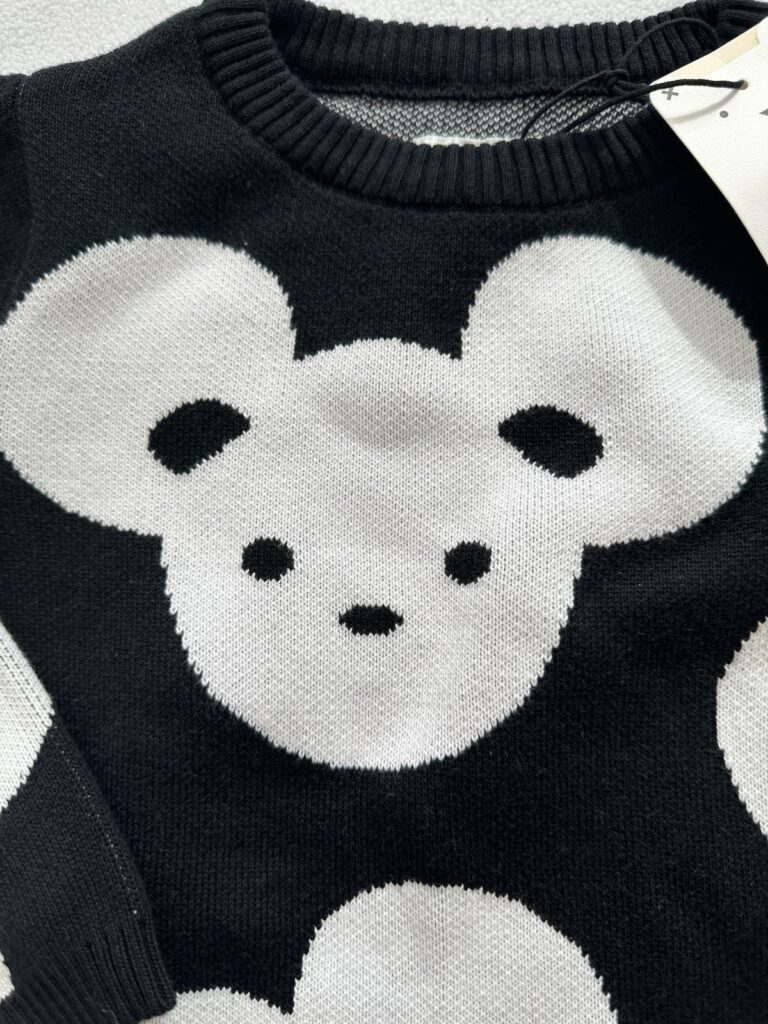 Also, there is a cute little detail at the side, a "HUX" logo black with white lettering vanity tag.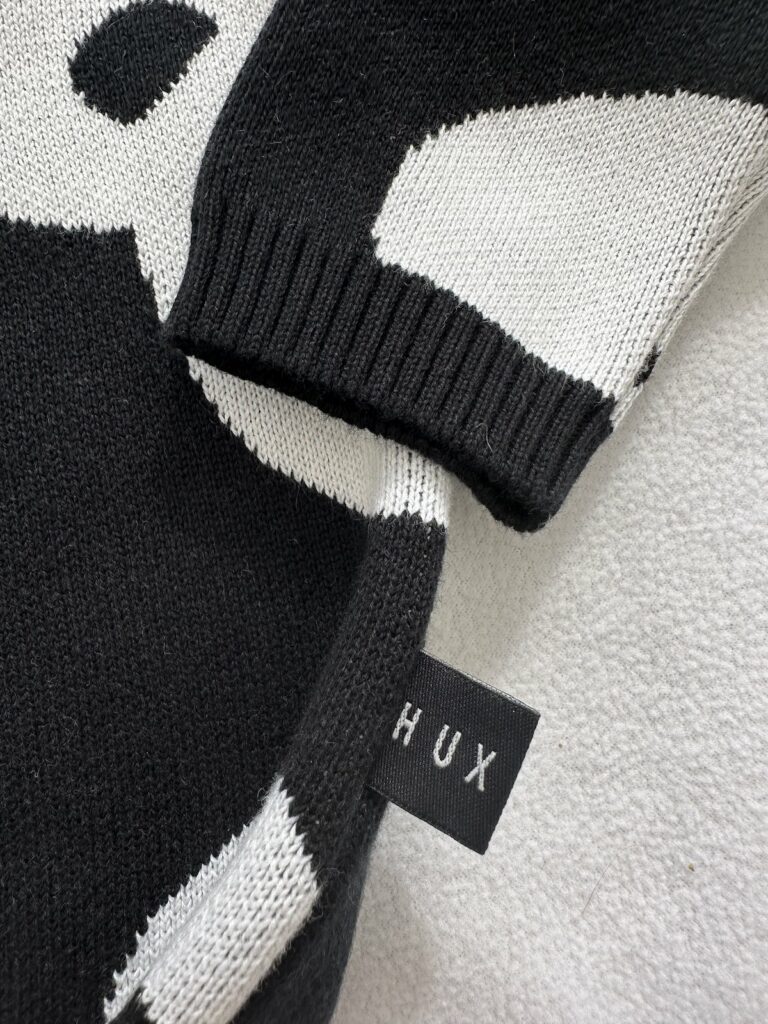 Huxbaby reintroduces this design every season with different, equally adorable, animal prints. Sometimes in minimalistic black and white and other times in beautiful color combinations.
This particular Huxbaby Mouse Cotton Sweater was one of the most popular prints and sold out FAST. I purchased it directly from the Huxbaby website.
Huxbaby Knit Sweater Sizing Information
This particular sweater is not sized in Toddler sizes. Typically when the size has a letter "T" for "toddler" it fits a chunkier baby, perhaps leaving extra room in pants for diapers, and has a shorter inseam and overall length of clothing items. Whereas the number sizing without the letter "T" fits more of a slimmer, lankier little kid. Clothing without the "T" is typically a couple of inches longer and has a longer inseam and slimmer fitting legs and arms.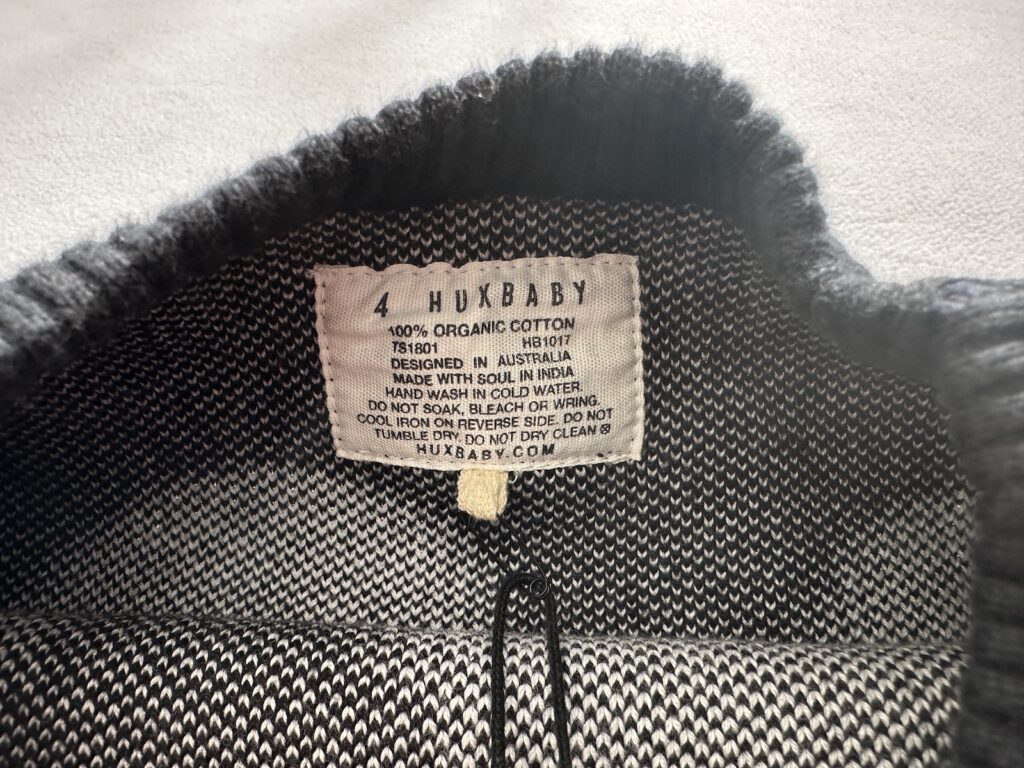 In my personal opinion, this particular style has more of a toddler fit. It is on the shorter side with a shorter sleeve length. The width is wide and quite relaxed. Overall is it very flattering and the fabric is extremely soft and thick.
Looking for MORE cool clothes for infants, toddlers, and little kids? Surprisingly, Amazon has AMAZING options from Huxbaby, Nununu, and [BLANKNYC] Kids.
Check out more Kid's Fashion reviews full of photos, videos, and honest opinions.
Shopping for this sweater and other items? Use Rakuten, it is FREE and gives you cash back just for shopping at your favorite online stores!
Some of the great resources that keep this blog running, profitable and beautiful:
Wodpress.com – The most popular blogging platform in the world, anyone can launch a blog.
WordPress.org – A little more complicated but definitely recommended for more advanced bloggers.
Canva – Graphic design website for all social media from blogs to Pinterest to Instagram.
Squarespace – Want to get started blogging FAST? Squarespace is the place.
Hulu – Okay this one doesn't technically keep the blog running but it does provide me entertainment as I write the blog posts.