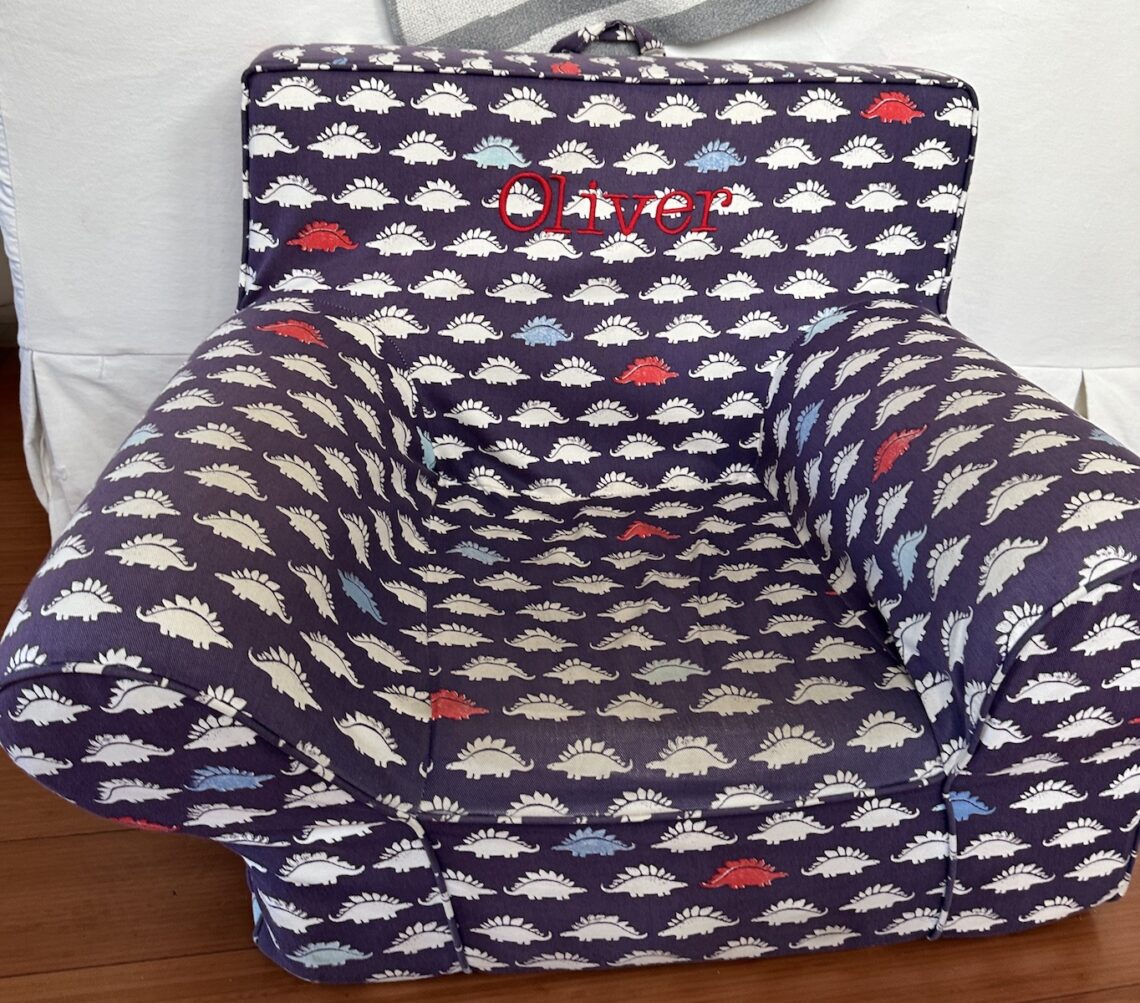 Pottery Barn Kids Anywhere Chair
This blog post may include affiliate links that may earn me a small commission at no cost to my readers. I am an Amazon Affiliate Partner and use Amazon product links throughout which may earn me a small commission on qualifying reader purchases. All opinions on my blog are my own and honest, I want my blog to provide information and help my readers become informed consumers, parents and caregivers.
The Pottery Barn Kids Anywhere Chair was gifted to us from my husband's brother's family when Oliver turned one. This exact dinosaur print has since sold out or been discontinued but you can still purchase this armchair in 90 or so different prints, fabrics, and shapes.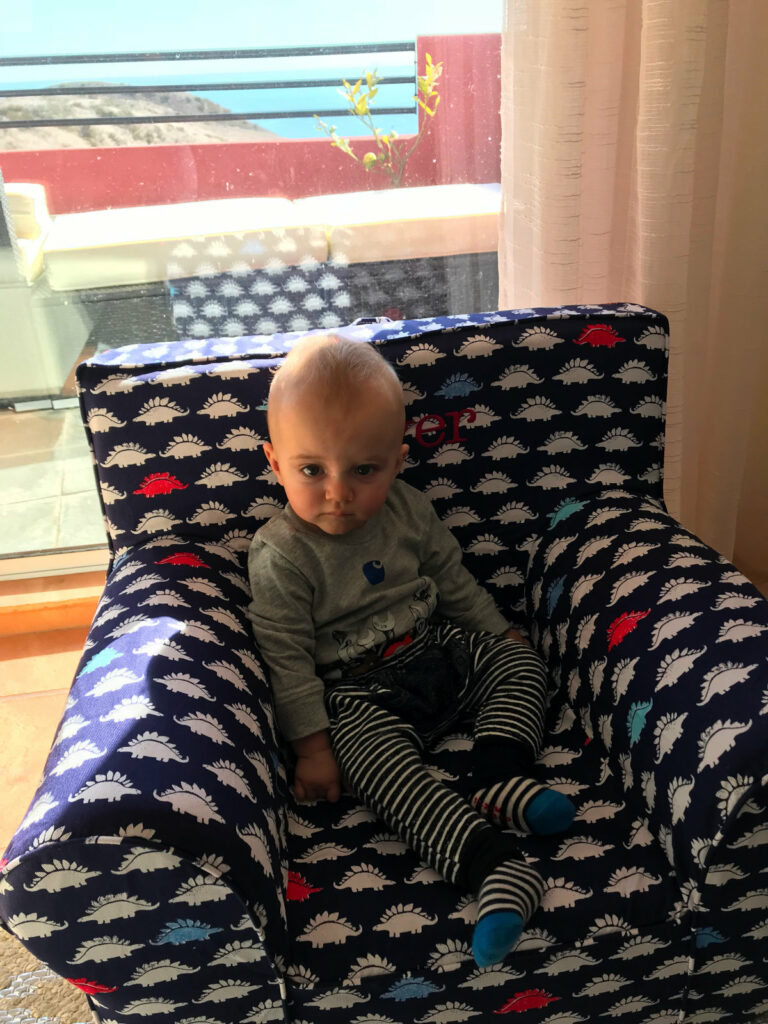 Pottery Barn Kids Anywhere Chair is Fast and Easy to Assemble
The chair came disassembled but was a breeze to put together. It came in 4 pieces of covered foam: the seat, the back, and 2 cylinder-shaped arms. The cotton-twill cover featured a zipper at the bottom along with velcro flaps to keep the foam pieces secure. Make sure you secure the velcro evenly and that the foam pieces fit along the seams of the cover. This design worked extremely well, the seat stayed together and upright even with a rambunctious baby, then toddler, and now little kid (and his friends) plopped and pounced on it.
Here is the instruction video from The Pottery Barn Kids' Official YouTube Channel.
As you can see assembly is quick and easy and the cotton twill cover can be efficiently removed to launder out any kid-made spills and stains.
Sizes, Dimensions, and Age Recommendations of the Anywhere Chair
This children's armchair comes in three different sizes: My First, Kids, and Oversized Anywhere Chair. Not all the options come in all three sizes, some only come in one or two of the options.
Dimensions*
My First
Overall: 20.5″ wide x 16.5″ deep x 17.75″ high
Seat: 10″ wide x 10.5″ deep
Seat height above floor: 6.5″
Weight: 4 lbs
Suitable for ages 1-3 years old
Kids
Overall: 25.25″ wide x 21″ deep x 22.5″ high
Seat: 13″ wide x 15.5″ deep
Seat height above floor: 8.5″
Weight: 6.75 lbs
Suitable for ages 3-6 years old
Oversized
Overall: 29.5″ wide x 25″ deep x 25.25″ high
Seat: 15″ wide x 18.5″ deep
Seat height above floor: 9.5″
Weight: 10.75 lbs
Suitable for ages 6+
*Dimensions provided from the Pottery Barn Kids Website / Anywhere Chair product pages.
At Oliver's 1st birthday party, the dad of one of Oliver's friends sat on the Anywhere Chair for about an hour and it held up but it made me hold my breath for sure! Fortunately, no damage was done. Definitely not recommended for a six-foot-tall, 150-lb adult to sit in it!
The Oversized Anywhere Chair was too tall for Oliver when he was about one year old but it was good exercise to get up into the seat! It took all my might not to help my baby get up into the chair but at that age, it's best they exercise and try to pull themselves up to stand and walk. At the end of the day, Oliver loved this chair from day one! So, go ahead, and add it to your baby registry right now.
The Only Kid's Armchair You'll Need From Baby to Toddler to Little Kid
No question this is the best of the best chairs for kids. It lasted over five years and we ended up passing it along to someone in our community and their little one uses it daily. The quality is bar none and durability is insanely good to withstand 5+ years of being sat in, jumped on, spilled food on, etc, etc. This chair has lived a very busy and adventurous life!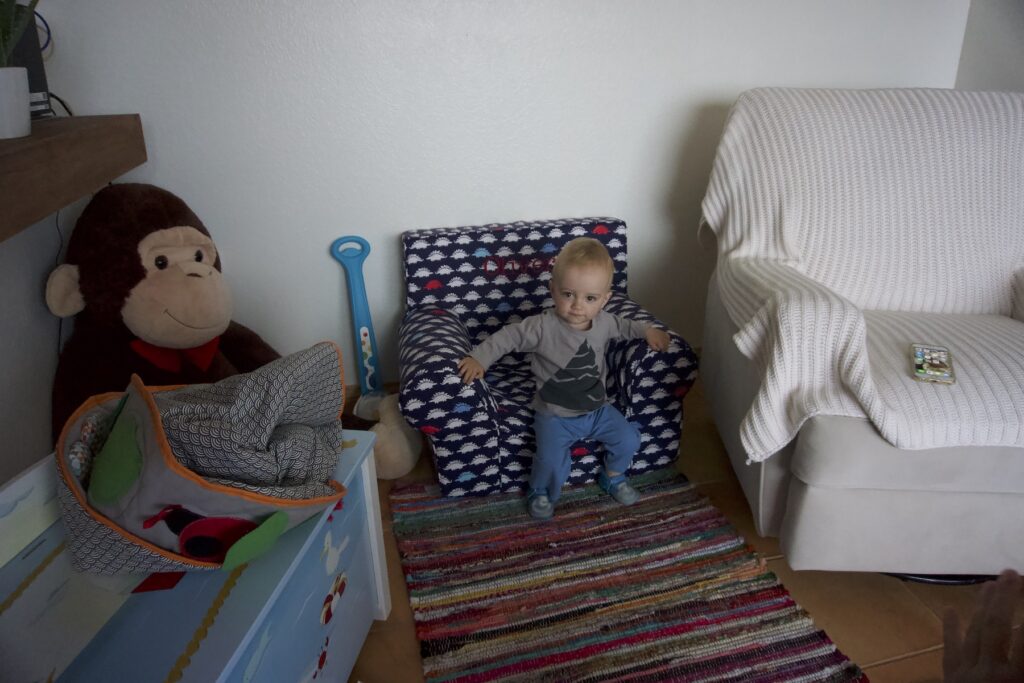 Follow All the Places Oliver's Chair Has Been To
After all, this chair IS called ANYWHERE Chair so it is no surprise it has traveled all over California with us! The lightweight chair is easy for even a small child to drag around but the handle on top makes it super easy to move anywhere fast.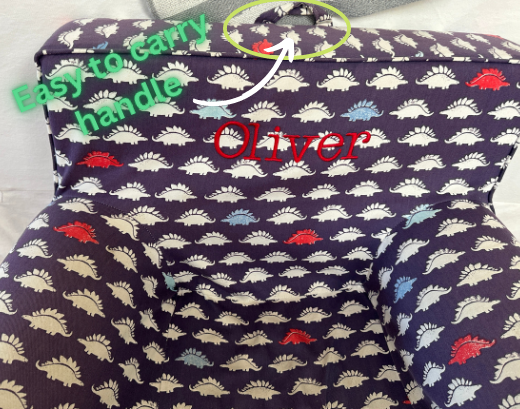 Once Oliver got big enough to sit in it at about 14 months old, it became "his" chair.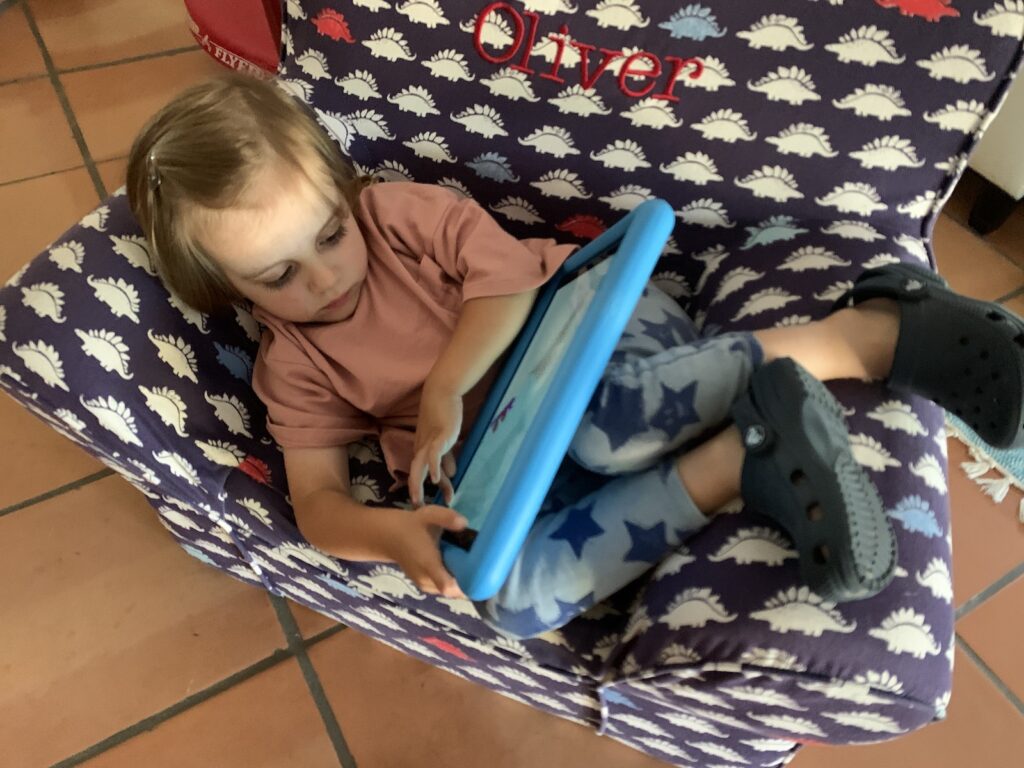 He used it to relax in, "read" books, use his Amazon Fire tablet, play, eat and drink in and generally just roll around in it, on it, underneath it…you get the idea.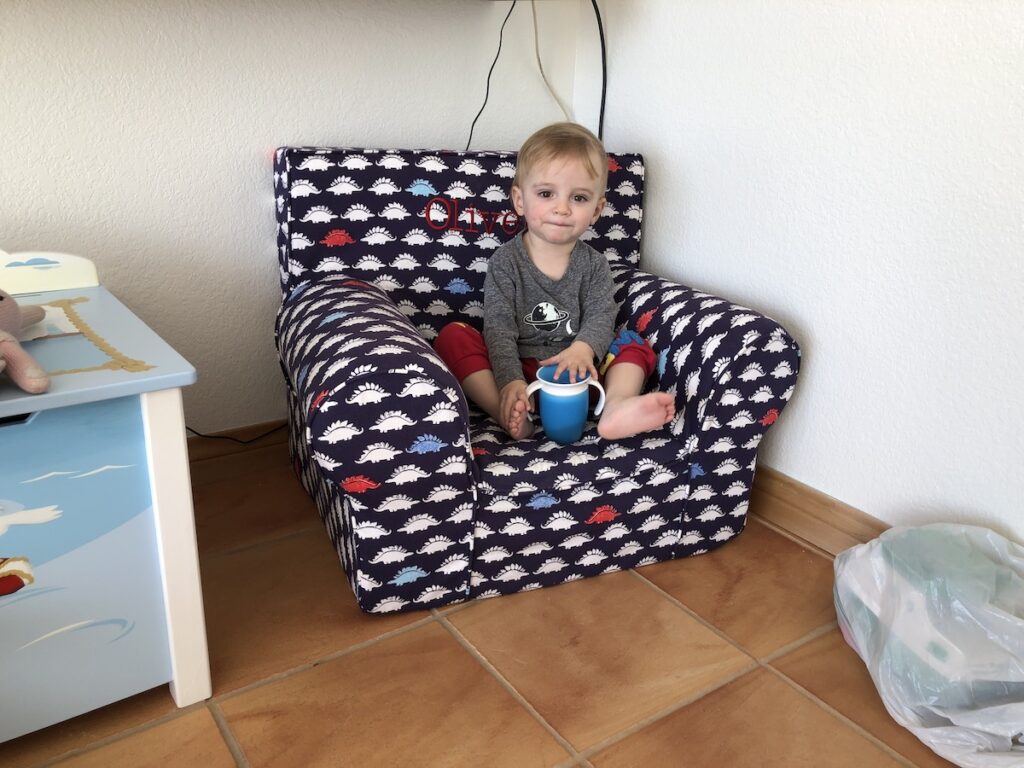 Over the 5-plus years, we had this armchair it sat in our living room, the baby's nursery, our son's room, our dining room, and in a play area.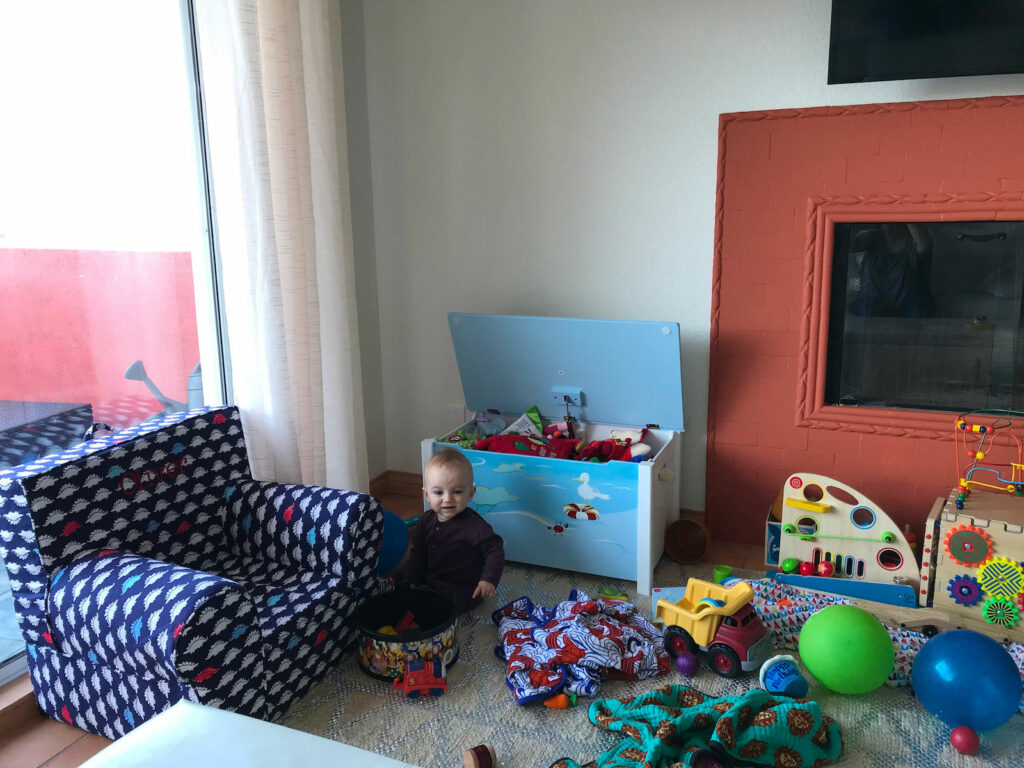 Even though it had a dinosaur print, the size and look of the chair didn't distract from the surrounding decor. And Oliver's love for it just grew as he got older and the chair got more and more use as he reached 4, 5, and 6 years old. Definitely, the target age is from about 4-6 years old.
As you can see this Anywhere Chair from Pottery Barn Kids has followed us to multiple houses and has been one of Oliver's favorite things from the time he was a baby until he turned 6 years old. So definitely put this one on your registry (or ask grandma and grandpa), hunt for a sale on the Pottery Barn Kids website, or opt to shop around for a look-a-like at a fraction of the cost.
Infinite Fabric Options Make the Anywhere Chair a Perfect Fit for Any Decor
The newest Pottery Barn Kids collaboration is with LoveShackFancy and it is adorable! But if that is just too frilly and flowery, don't worry this chair comes in seemingly infinite color, fabric, pattern, and style combinations.
This infinite combination allows this chair to integrate seamlessly into the nursery, kids' room, or even a shared family space like the living room, playroom, or rec room.
The chair comes in these fabrics (and the list keeps growing):
100% Cotton
Acrylic / Polyester Fuzzy Faux Fur
Polyester
The chair comes in these patterns (and the list keeps growing):
Oxford Stripe
Floral
Plain with Contrast Piping
Fuzzy Sherpa Faux Fur
Dots
Colorful Stripes
Ruffled
Animal Shapes (doggies, bears, lions, unicorns, etc)
Disney Inspired (Mickey and Minnie, Princesses)
Harry Potter Inspired
Rainbows
Transportation
Dinosaurs
Care and Washing Instructions for the Pottery Barn Kids Anywhere Chairs
One of the best features of the Pottery Barn Kids Anywhere Chairs is that the covers are MACHINE WASHABLE! This makes these chairs THE best piece of furniture in our house.
The covers are easily removed with a zipper closure. If you can, turn the cover inside out and zip it up. Wash in cold water on a delicate/gentle cycle. I use the Dropps Sensitive Skin Detergent Pods along with their Fabric Softener Pods but you can use practically anything. The Dropps line is organic and safe and it comes in easily recyclable cardboard packaging. For all items, my child uses or wears I try to use organic detergents. The Dropps Oxi Booster and Stain & Odor Detergent Pods are also a good combination to use when washing this chair as it always has some stains and discoloration. Of course, you can use any detergent you wish, it seems like it doesn't really matter in terms of care for the chair covers.
Since most of the covers are cotton or a cotton blend they may come out wrinkled, drying on low until damp and then line drying is recommended. Do not dry the cover on high or all the way as it may become misshapen or shrink. If the wrinkles are still a nuisance, a warm iron will do the trick.
How to Get Stubborn Stains off the Armchair?
I found the best stain removers on the market are Dawn Platinum (4x) Dishwashing Liquid and Zote Laundry Bar Soap.
Put a generous amount of Dawn or Zote on the stain and let it sit for a while then wash as recommended. Don't waste your money on "Stain Removers" these two inexpensive items will work just fine.
Replacement Foam Inserts for Your Anywhere Chair
You cannot purchase the covers alone so you cannot replace the cover without replacing the foam inserts too. But, if your chair gets to be slumpy or the foam is too squished, you can purchase the foam inserts separately. The insert set includes all the pieces needed to assemble the chair, you cannot purchase a partial foam set. It is called the "Anywhere Chair Insert Only" on the Pottery Barn Kids website.
Oliver had a favorite armrest he liked to lay on (the right one) so it started sagging out quite a bit, we ended up not replacing it but we could have very easily gotten it fixed (see photo).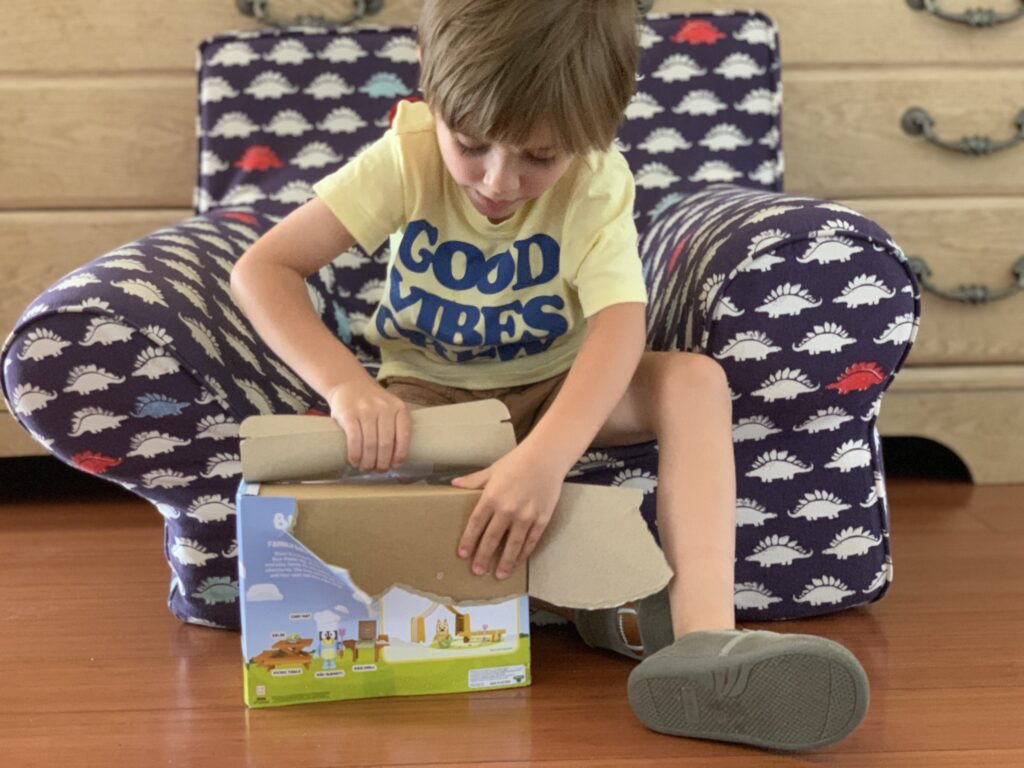 The replacement foam inserts come in all 3 sizes: My First, Kids, and Extended. These cost about 55%-65% of the total cost of the chair so it's quite an investment but if the cover is still in good shape and your little one adores the print/fabric, this will be a great option for you.
Unfortunately, the foam pieces are NOT washable so if there is a particularly bad spill or stain on the chair you can spot-clean it on the foam. If the stain is gross you may consider replacing the foam as the cover is machine washable and even if stained it will be "clean".
Pottery Barn Kids Anywhere Furniture and Accessories
The success of the Pottery Barn Kids Anywhere Collection has spawned various "Anywhere" furniture pieces including the Anywhere Pouf, Anywhere Sofa Lounger, Anywhere Beanbags, and Anywhere Playmat.
Yes it's expensive, yes it's high quality, yes it's easy to wash, YES it's worth having!
Definitely highly recommend it. The cost per use can be measured in pennies. Your child will absolutely adore this chair and sit in it for HOURS in the many years you'll have it. Definitely a pass-me-down piece of furniture. Easy to wash, easy to replace the cover and/or foam inserts. There are really no drawbacks to this chair, especially if you can buy it on sale!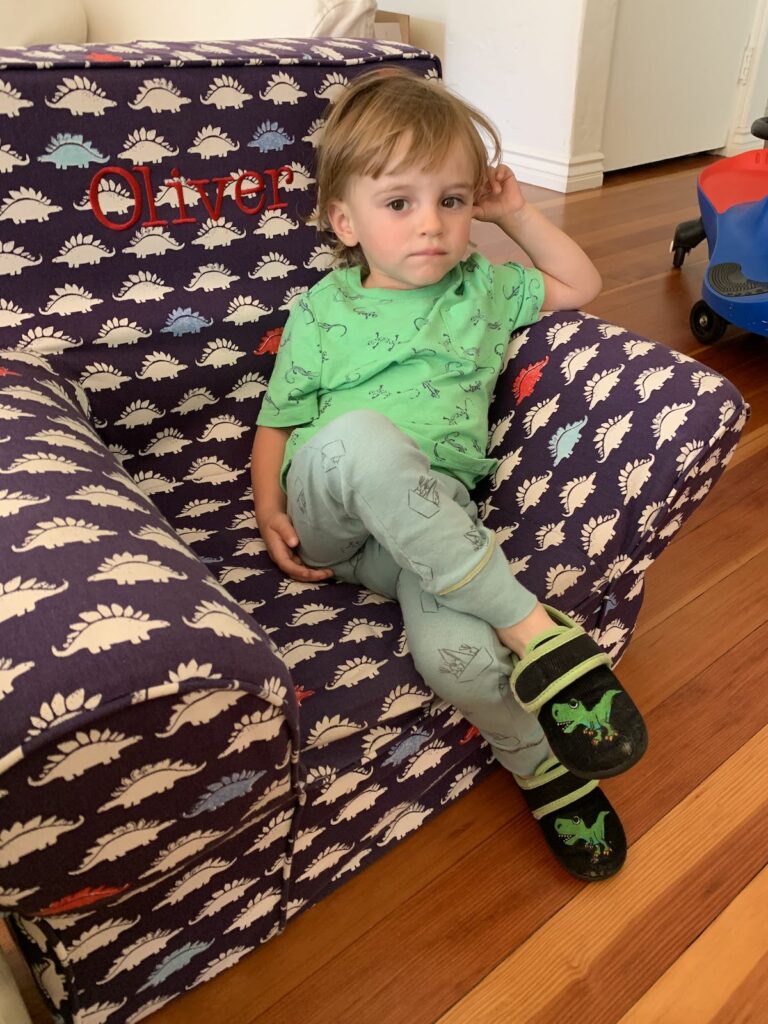 Read more about Baby / Kid Toys and Gear in the Toys & Gear Section of my blog.