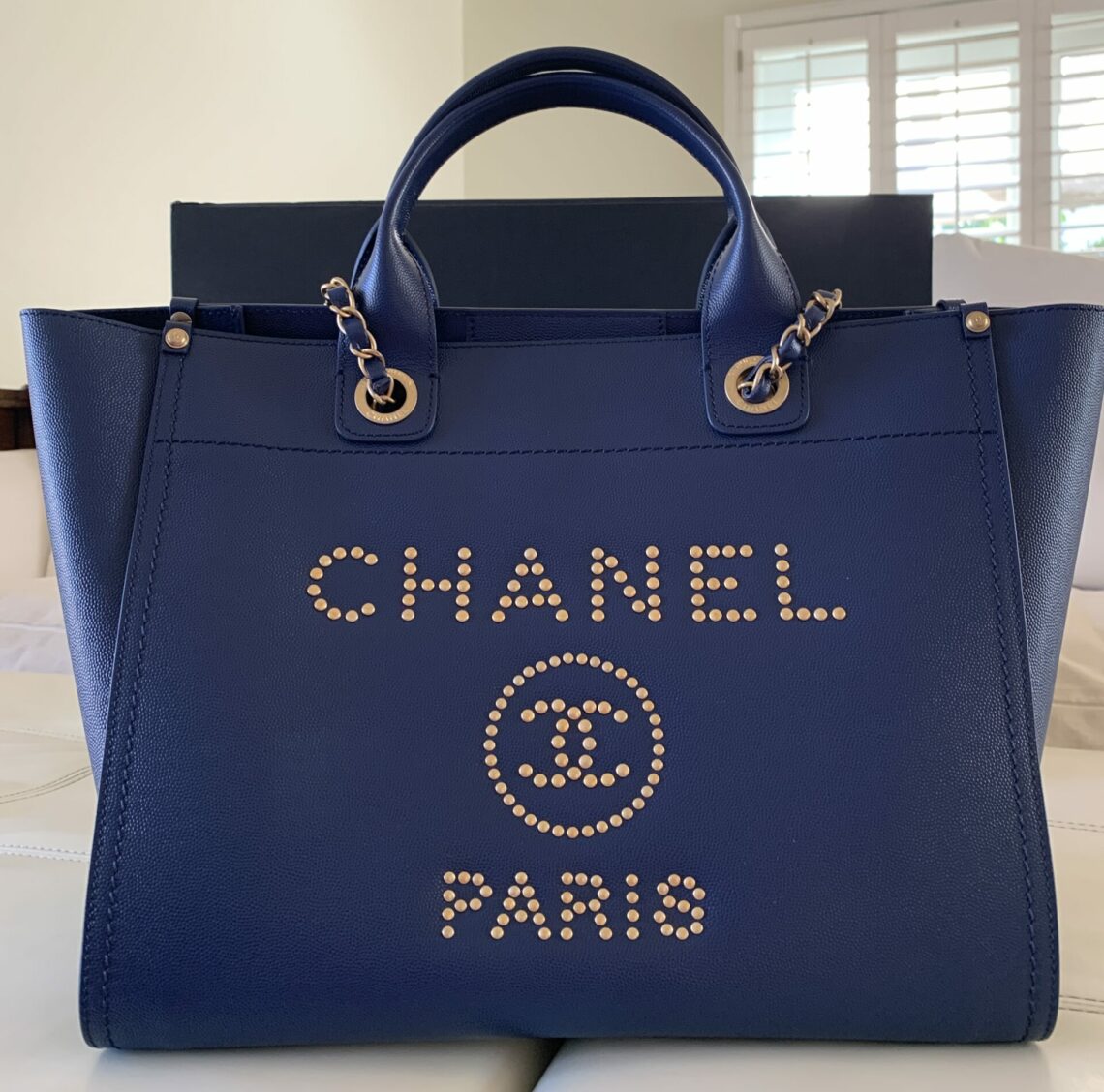 Chanel Deauville Small Tote Bag Review
This blog post may include affiliate links that may earn me a small commission at no cost to my readers. I am an Amazon Affiliate Partner and use Amazon product links throughout which may earn me a small commission on qualifying reader purchases. All opinions on my blog are my own and honest, I want my blog to provide information and help my readers become informed consumers, parents and caregivers.
An overthought review of the Chanel Deauville Small Tote Bag in navy blue Caviar leather.
Deauville is not only a fabulous town in France, but it is also a fabulous bag from the French fashion house Chanel. Imagine carrying this gorgeous Deauville tote while visiting Deauville, France! A girl can dream…
I purchased this bag on June 4th, 2021 from Fashionphile.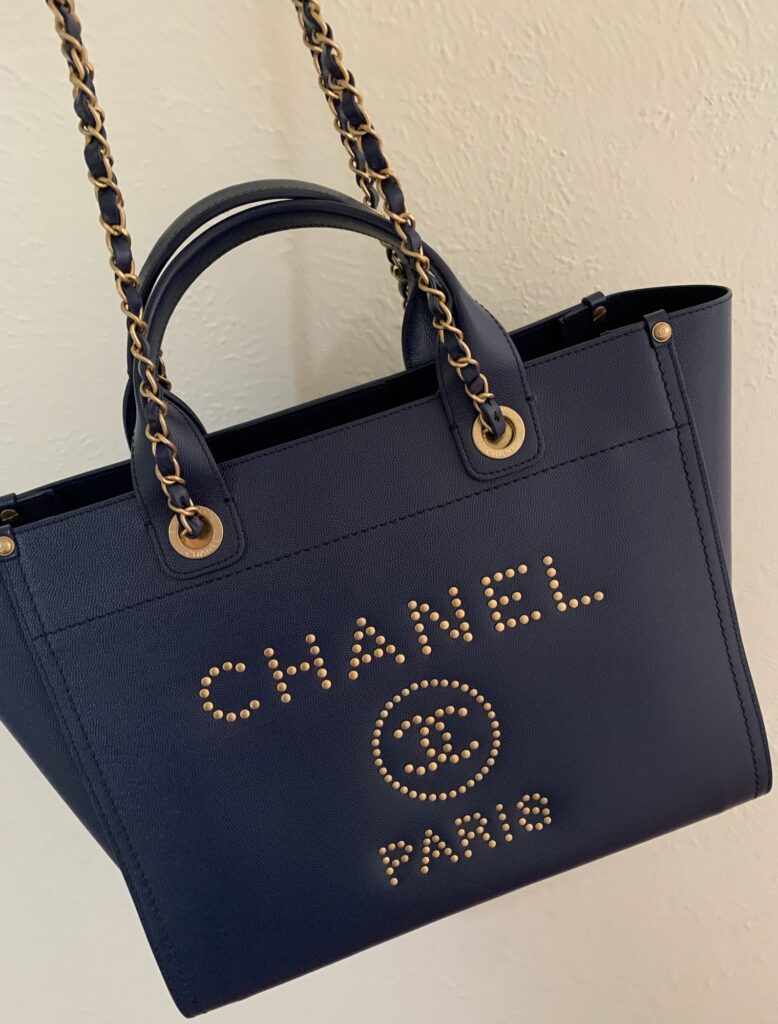 Characteristics of caviar leather
Most popular and desirable Chanel leather
Comes in matte, soft, and shiny finishes
It can appear more "dull" than other Chanel leathers
Grained, pebbled calfskin
Tough and heavy
Rigid and holds structure well
Not soft, not squishy, not pillowy to the touch
More durable than lambskin
More durable than non-leather fabrics such as tweed, canvas, straw, cotton, or denim
More durable than flat calfskin
Not as durable as goatskin
Does not scratch easily
Less prone to staining and color transfer
More carefree, can endure daily wear and tear (perfect for totes!)
Requires less maintenance and care than other leathers
Caviar leather can withstand moisture
Caviar leather holds the highest resale value for Chanel bags
Chanel Caviar Studded Deauville Measurements
The Deauville tote comes in various sizes from mini to extra-large; this one is the size small. I chose this size because I'm 5 feet tall and, quite honestly, I do not carry a lot of items in my bags. The base length is 13″, height is 10.5″, and width is 6.5″. A perfect size for someone petite. The bag, empty weighs in at about 2.45 lbs which is a bit on the heavy side.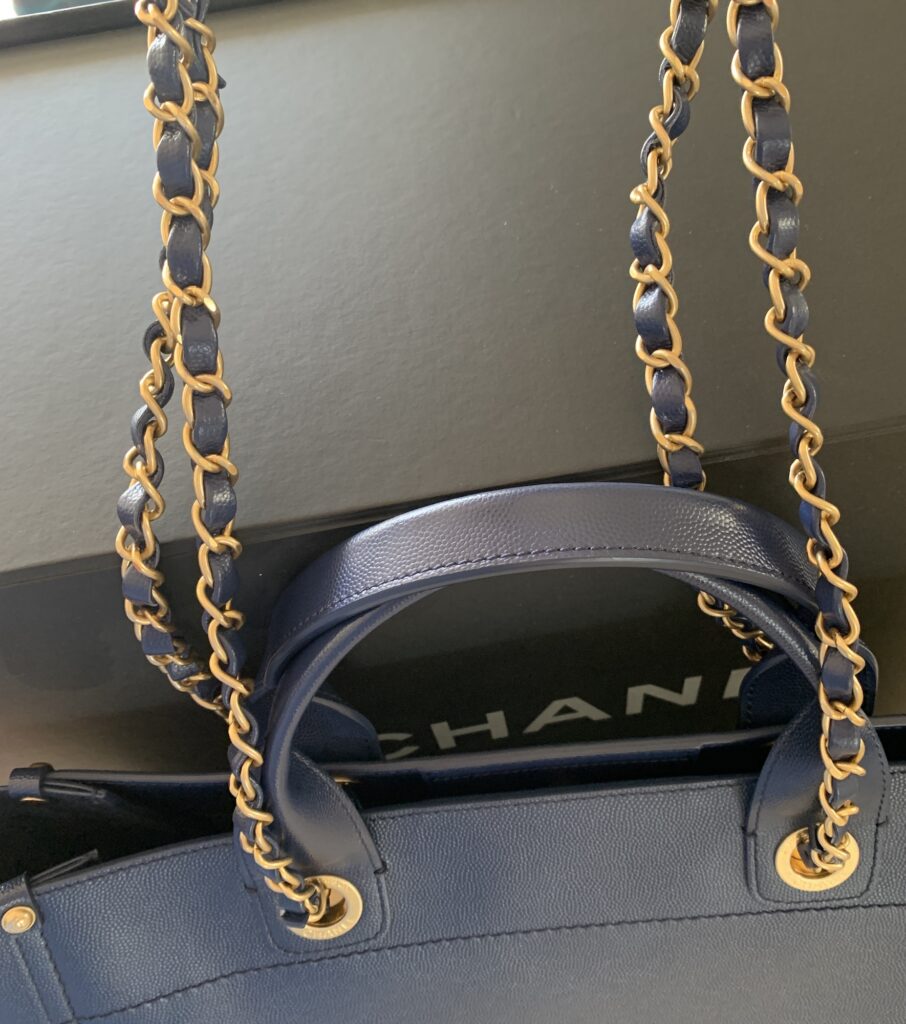 The woven chain drop is approximately 14.25″ and it hits me mid-thigh when worn on my shoulder. The handles of this bag can comfortably fit on the crook of the arm because they are wide and sturdy.
They are probably too small or awkward to wear on the shoulder as the drop is about 4.25″.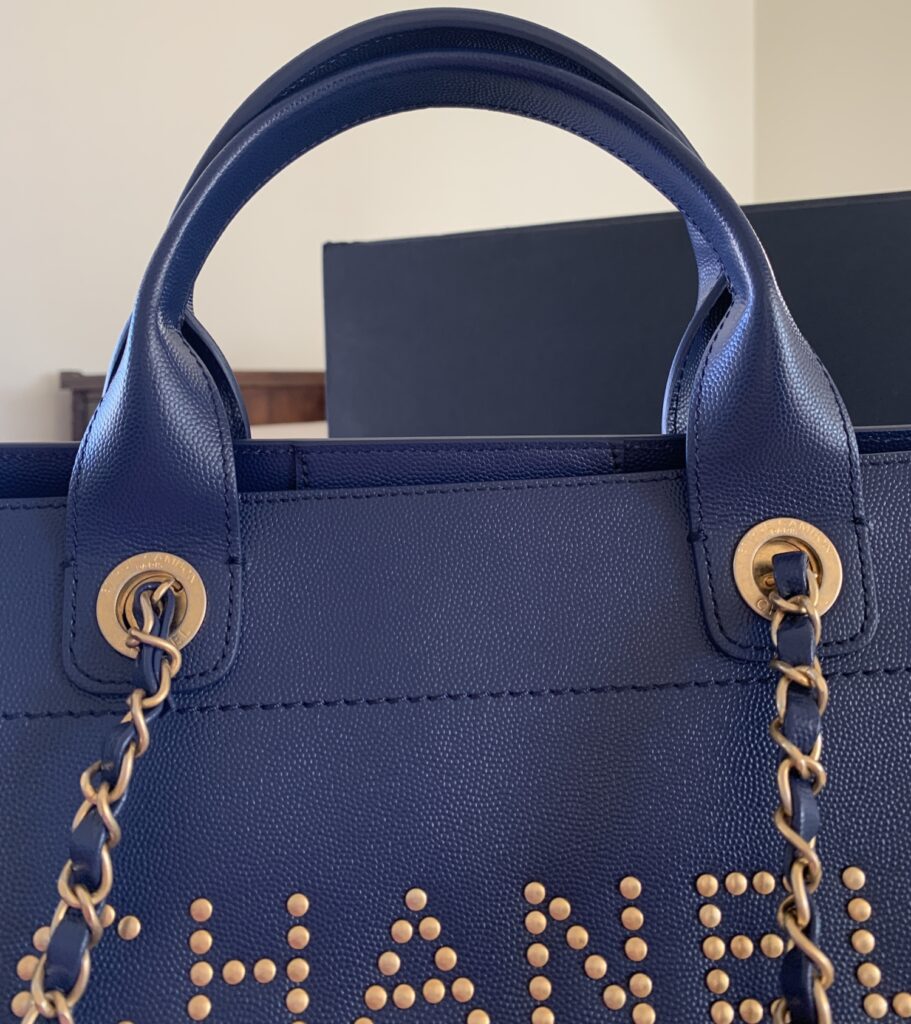 Chanel Caviar Studded Deauville Tote Interior
Continuing the Chanel Deauville small tote bag review with details of the interior. The bag features a wide easy in easy out opening which is a great feature for a bottomless tote. The bag's closure is a gold-colored magnetic circular closure. Ahh, the satisfying "snap" sound when it closes is pretty nice.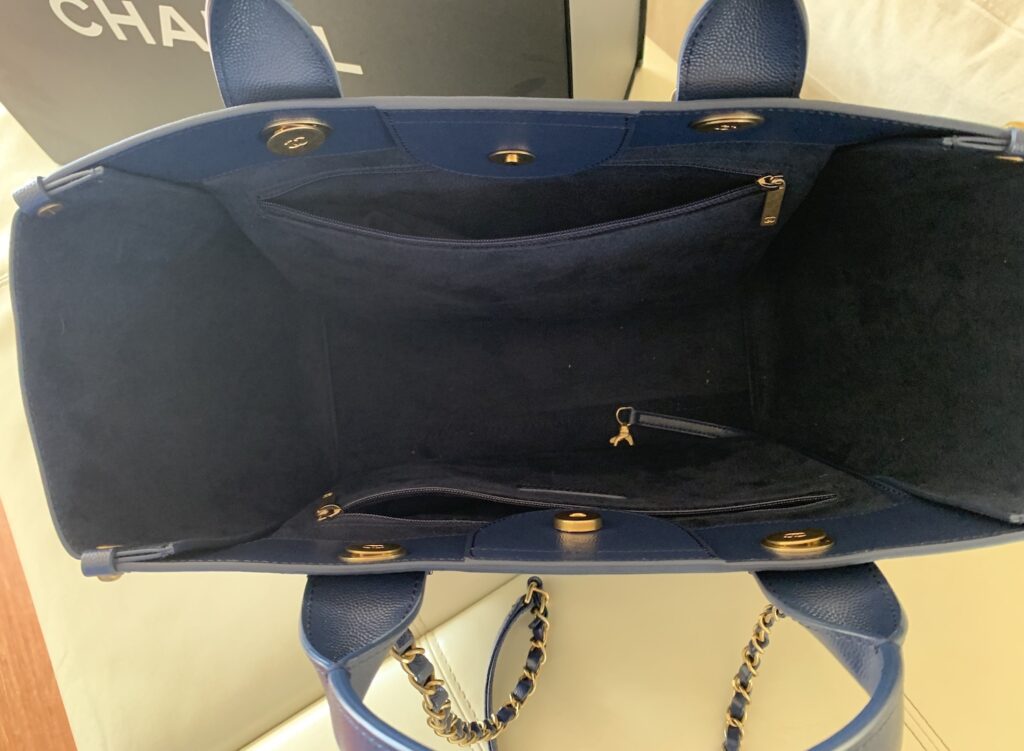 Microfiber, Microsuede, or Suede
The interior of Caviar Chanel Deauville tote bags is microfiber, microsuede, or suede. Recently, microsuede replaced suede as the most popular lining for the caviar Deauville bag. Some colors still use suede but others transitioned to microsuede. Microsuede feels like genuine suede but is a man-made, tightly woven, polyester fabric. It is soft to the touch, durable, more resistant to staining, and easy to care for.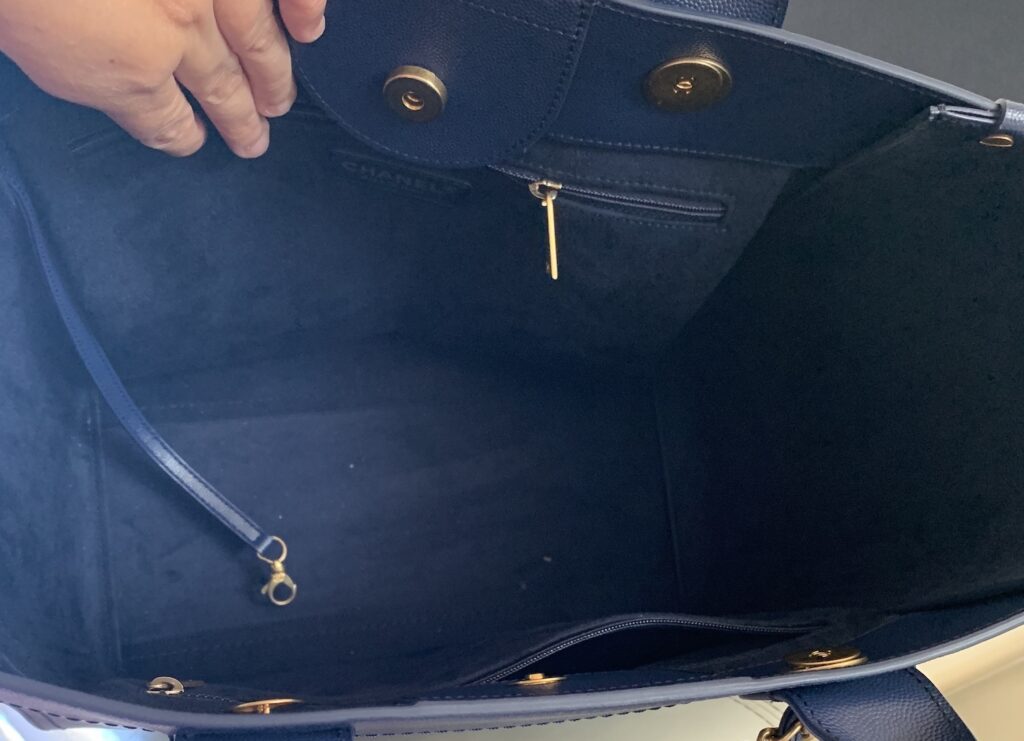 While shopping for a Chanel Deauville, I wanted to make sure it came with natural suede leather interior and not microfiber. This was a bit hard to do as more and more Chanel Deauvilles in Caviar Leather have a microfiber interior so I felt really lucky to snag this! The interior of this bag is soft and luxurious natural suede made out of the underside of lambskin. The feel is buttery soft but natural suede is much harder to care for as it is supple and can stain easily and look worn.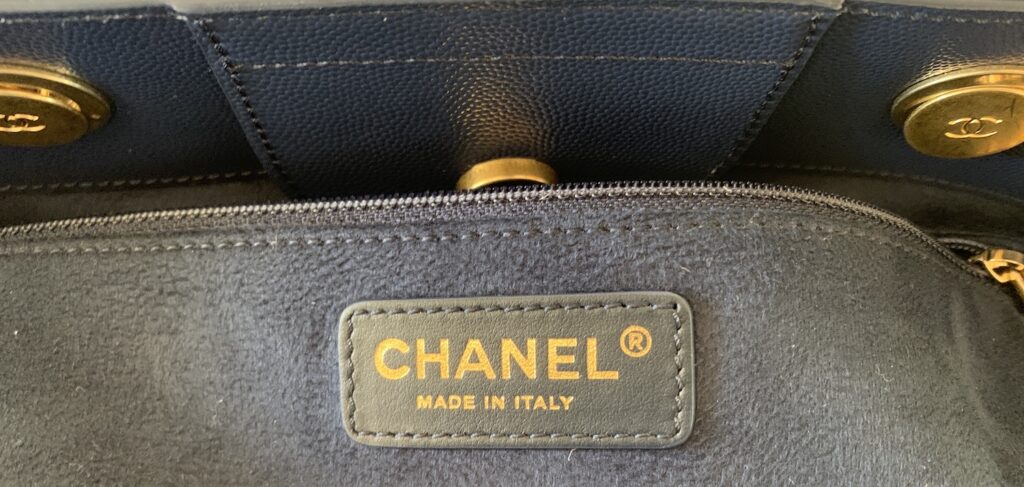 A No Frills Interior
This bottomless tote is enormous inside and has two zipper pockets. One of the pockets features the "CHANEL Made in Italy" leather patch with gold embossed text.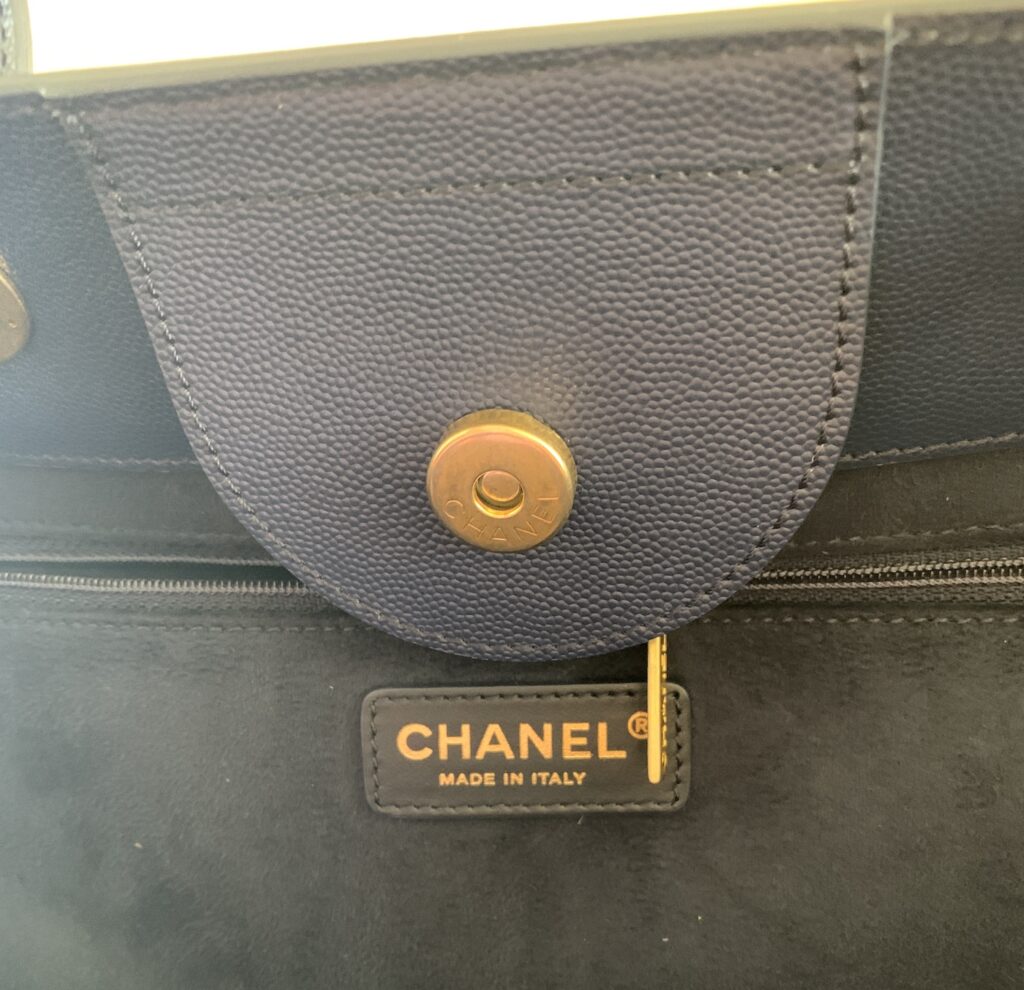 The other pocket is identical but without the logo patch. The zipper is smooth and sturdy and the zipper pull detail features the CHANEL logo on one side and the double CC's on the other side.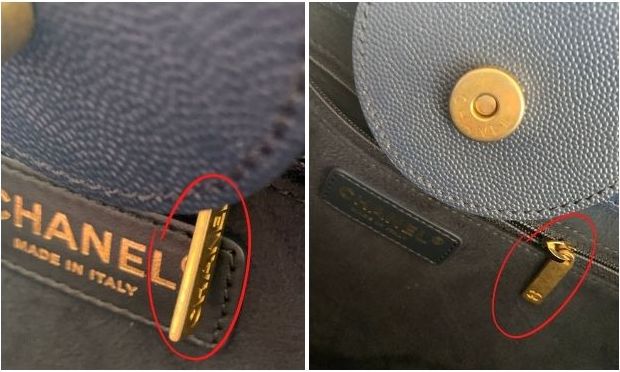 The inside pockets are loose at the sides and bottom and attached to the interior of the bag at the top, near the zipper closure.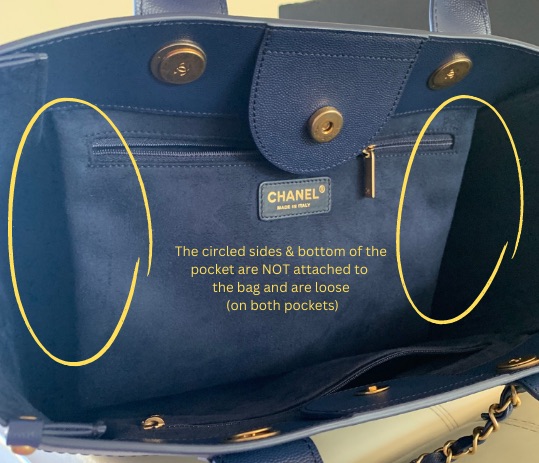 The only other feature of the interior is the key leash. The key leash is a long, leather strap and a gold lobster claw clasp. You can attach your keys or key fobs to the lobster claw to make them easier to find.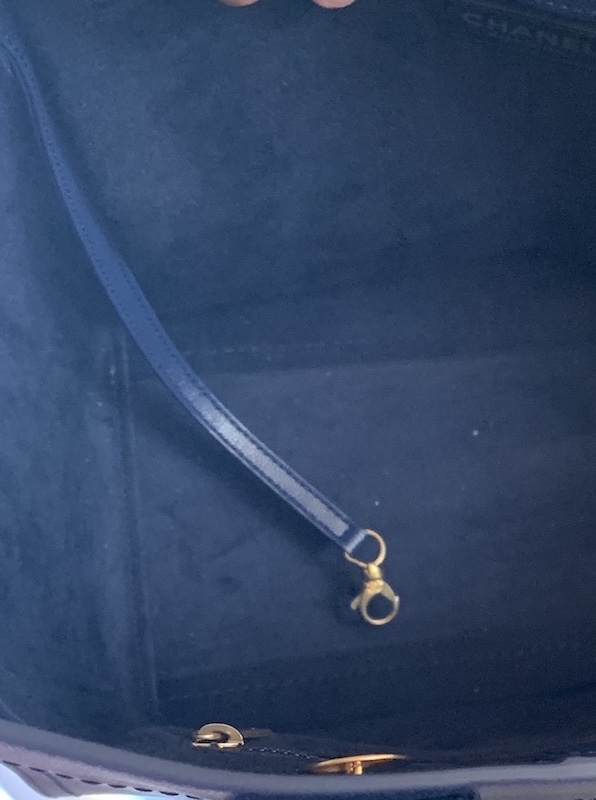 Should I Get An Organizer for My Chanel Deauville Tote Bag?
The Chanel Deauville totes in fabrics that are not leather are soft, squishy, and unstructured. Squishy, unstructured tote bags benefit greatly from purse inserts or organizers to keep their structure for years to come and to keep them from collapsing when not carried. And, of course, organizers are great for organizing the items inside the tote. Another tip is to use other small leather goods (SLGs) to further organize tiny items like cosmetics, snacks, pens, membership cards, etc.
The caviar leather of this Chanel Deauville is extremely rigid and structured which helps hold its shape whether it is empty or full. Since holding its shape is not an issue with a leather Deauville tote, an organizer will help to, well…organize small items in the bag.
External Features of the Chanel Deauville Studded Tote in Leather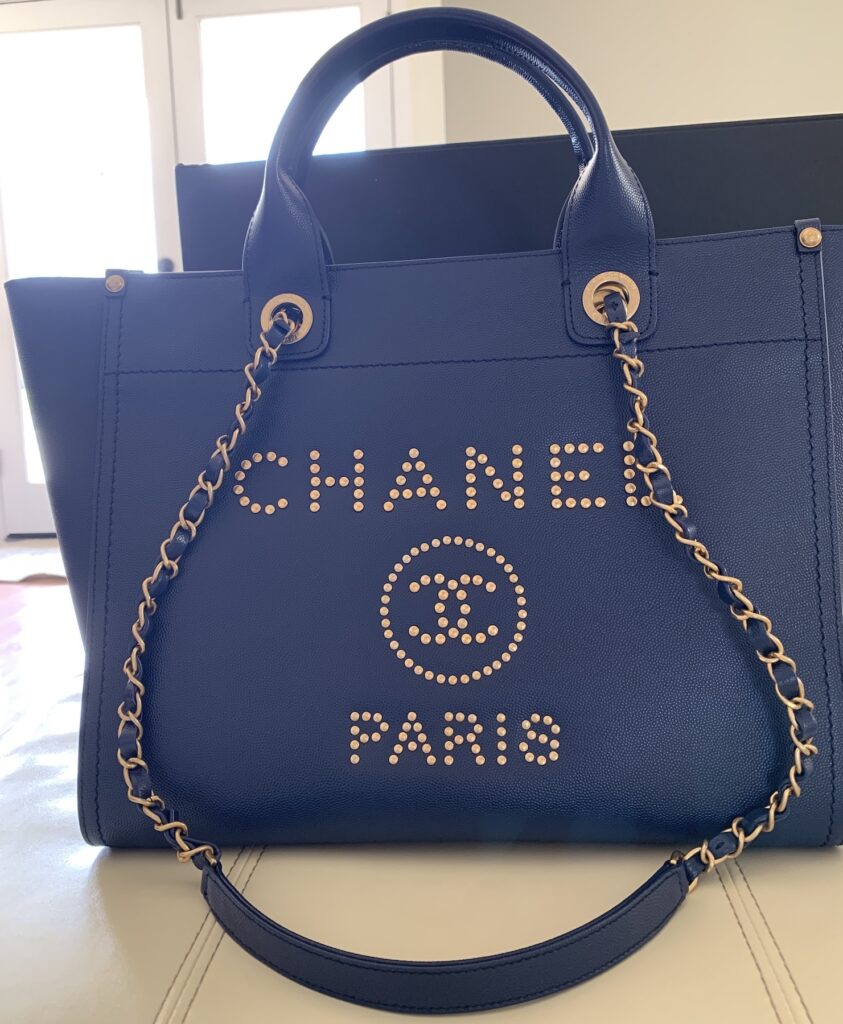 Arguably one of the most beautiful Chane bags. Expert Chanel craftsmanship at its best! The tote features aged gold studs on the front. The studs skillfully spell out "Chanel", the CC logo, and "Paris". This bag is definitely not for someone who doesn't like to flaunt designer labels. They will see this Chanel bag coming from miles away.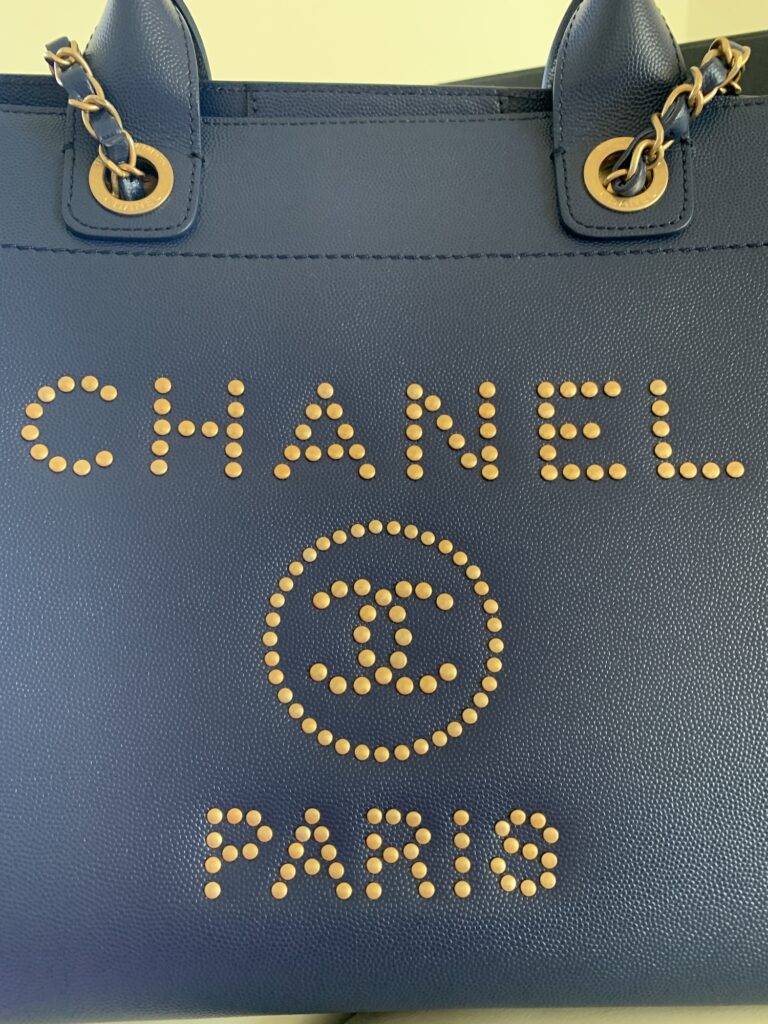 The beautiful details don't end there. The tote features "CC" logo gold studs near the opening. The rings which hold the woven leather and chain shoulder straps have the "Chanel" logo along with "31 Rue Cambon Paris" engraved on them. These rings also decorate the handles of the bag.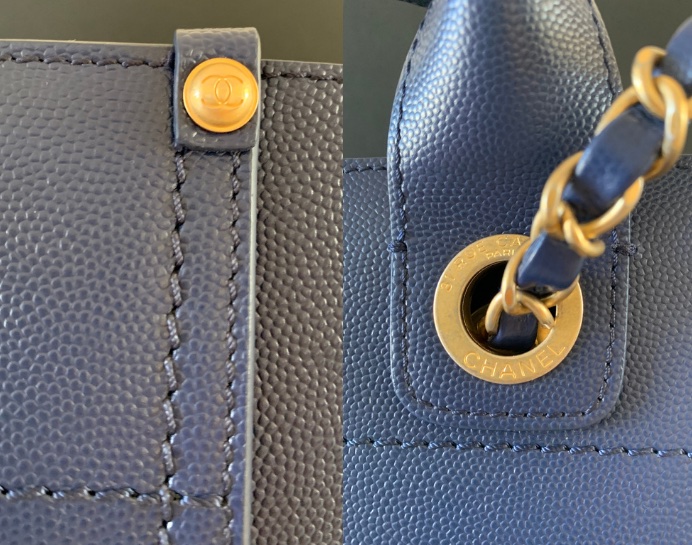 Gold disks interlocked between the gold rings and the woven leather and chain shoulder straps are sturdy when in use and flexible when not in use.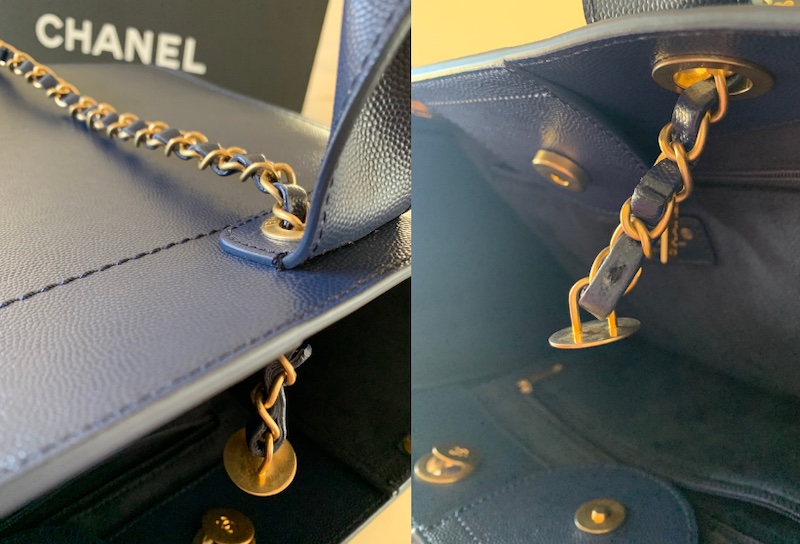 The woven gold and leather shoulder straps are a signature feature of a classic Chanel handbag.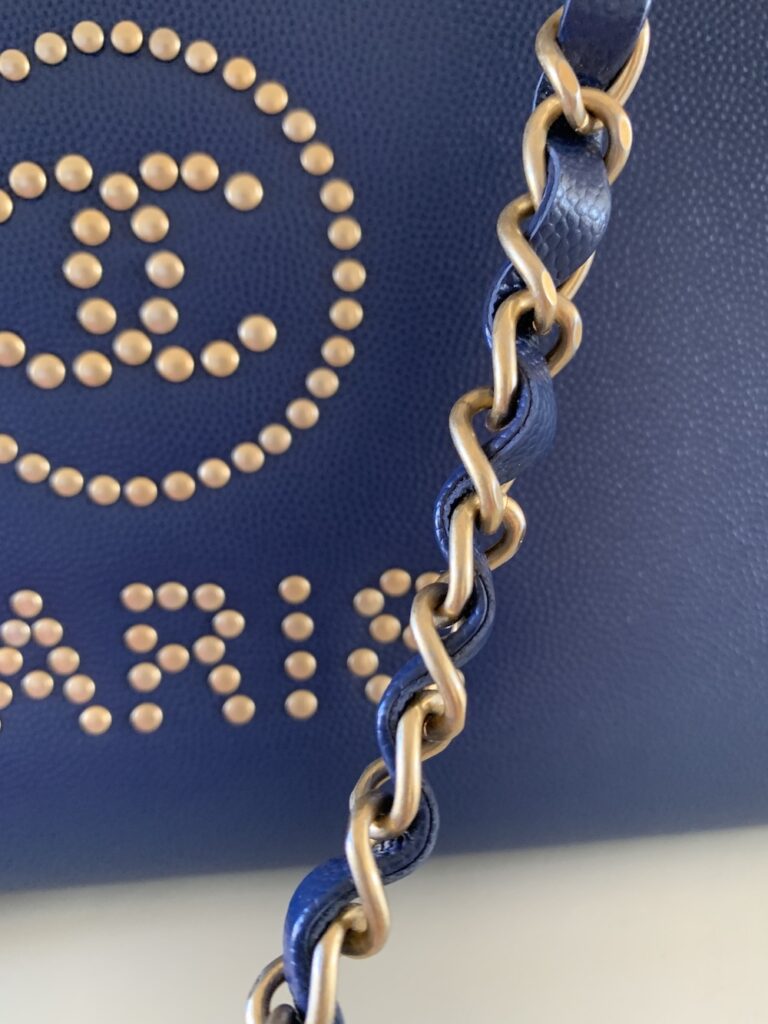 The bag itself features perfectly spaced and color-matched stitching throughout.
A Bag with Feet!
And finally, a must-have feature: The Chanel Studded Deauville in Caviar Leather has FEET! Rejoice!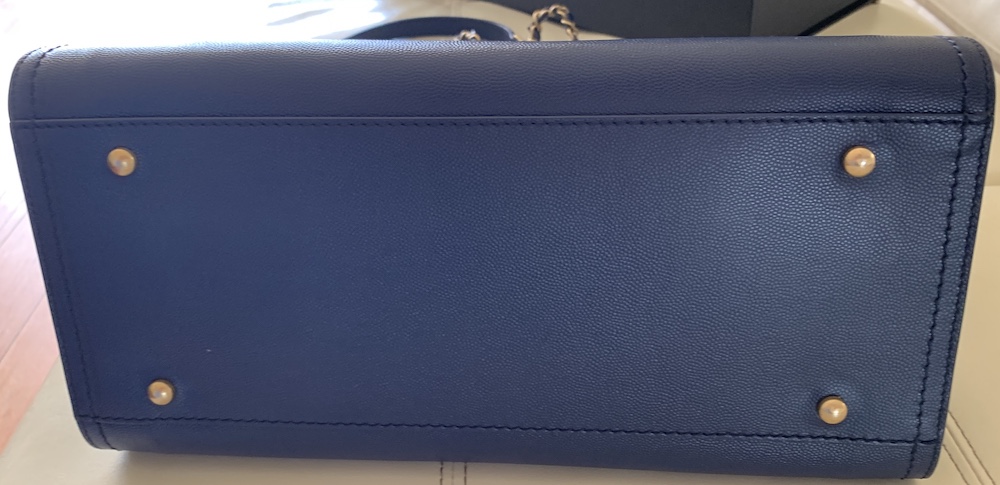 Four gold studs at the bottom keep the Deauville tote cleaner and more protected from dirt, wear and tear when sat down. Honestly, all or most luxury handbags should have this feature. After all, the luxury prices we pay should demand luxury features. The non-leather, stain-prone fabric versions of this bag, unfortunately, do not have feet.
Best Use Scenarios
I know this is a Chanel Deauville small tote bag review, but I wanted to throw in some advice.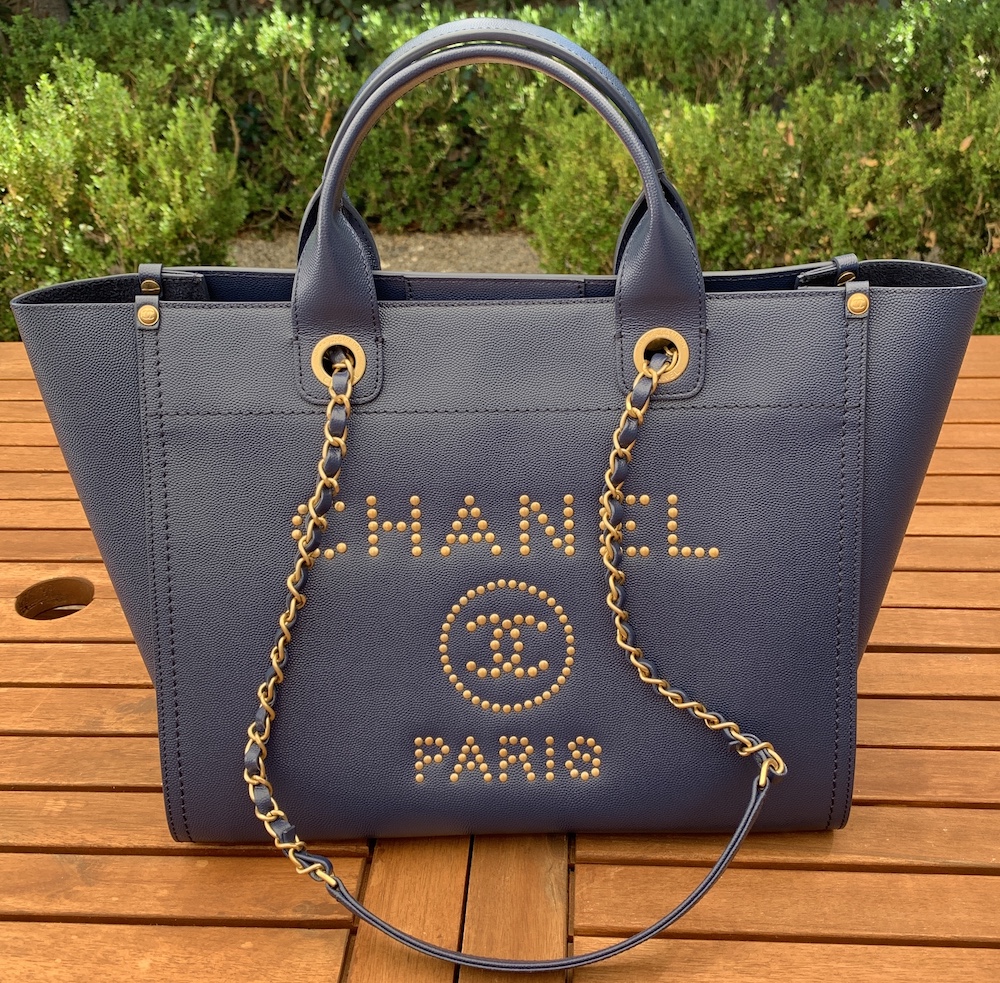 Personally, I would not use the Chanel Deauville as a carry-on or as a handbag while traveling by plane, train, or any other public transportation. Have access to a private jet or yacht? Go ahead and take the Deauville. But, because the opening of the bag is not secure, I would avoid using it to travel on public transportation. The bag is also quite stiff and large, making it cumbersome in small tight spaces such as airplanes and trains. Good luck stowing this baby underneath the seat of a plane.
I have used the Deauville while traveling by car to stay at Airbnb's and hotels. It is the perfect size to store electronics like my laptop, my son's tablet, and all the cables that come with all the electronics. I also put books, journals, writing utensils, eyeglasses, and my smaller Chanel camera bag inside. All this fits pretty well!
Where to Purchase, Cost, and Resale of the Chanel Deauville Small Tote
I noticed many Chanel Deauville small tote bag review blog posts don't mention where to buy, price and resale so I wanted to add this information for my readers. I ordered this handbag on June 4th, 2021 from Fashionphile.
Fashionphile is a highly trusted online and retail shop that specializes in authentic luxury items from Chanel, Hermes, Louis Vuitton, Rolex, Cartier, etc. Their items are second-hand luxury items but many are brand new with tags, which Fashionphile calls "Giftable" and include the original boxes, tags, plastic on hardware, etc. The lowest condition is called flawed but there are many items in between from new, excellent, very good, good, and fair.
Fashionphile's Layaway Program
I purchased this bag online using Fashionphile's layaway program called Reserve. This program allows you to pay over 60 days with 0% interest. A 25% downpayment is required and subsequent payments must be at least $50.00. Otherwise, you can make as many payments as often as you need spread out over multiple credit or debit cards.
There is a 10% penalty fee if the payments are not completed in 60 days, the buyer cancels the purchase or the purchase is returned. This 10% fee is quite high when you're talking about a luxury handbag that can cost thousands of dollars so it is best to pay it all in full on time and be absolutely sure you love the item and will not be returning it.
Below is a screenshot of my invoice for the bag with all the details. The bag cost $4,850.00, I reside in California so the sales tax is relatively high, making the grand total $5,201.63.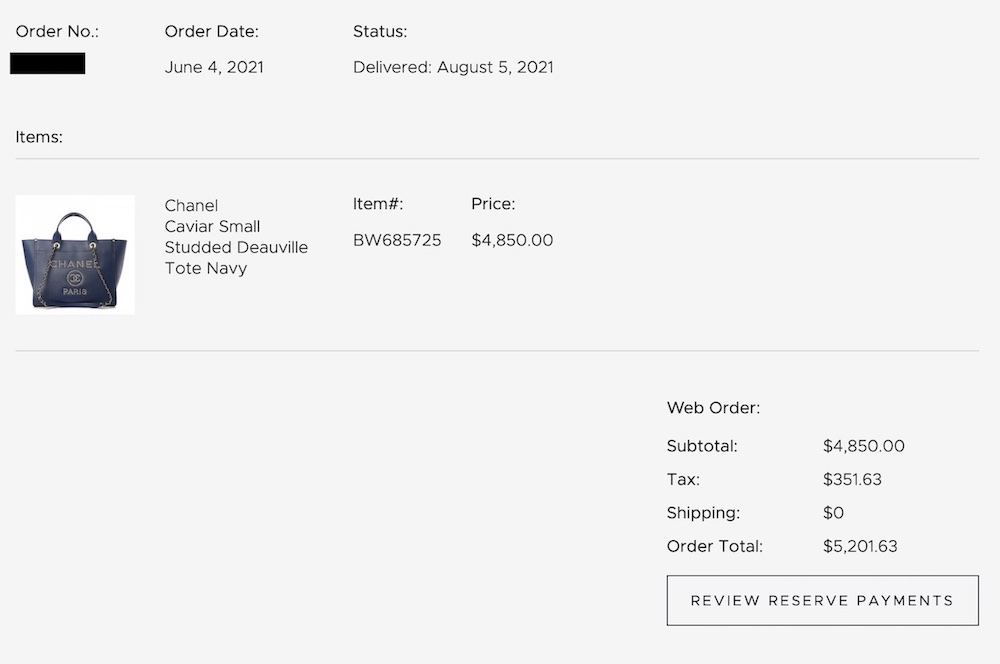 As I said, I used the Fashionphile Reserve layaway option to pay over time which made it a little easier financially. Below is a screenshot of my reserve payments showcasing that you can pay any amount (above $50) and use various credit and debit cards to split up the purchase. Making the financial burden slightly more bearable.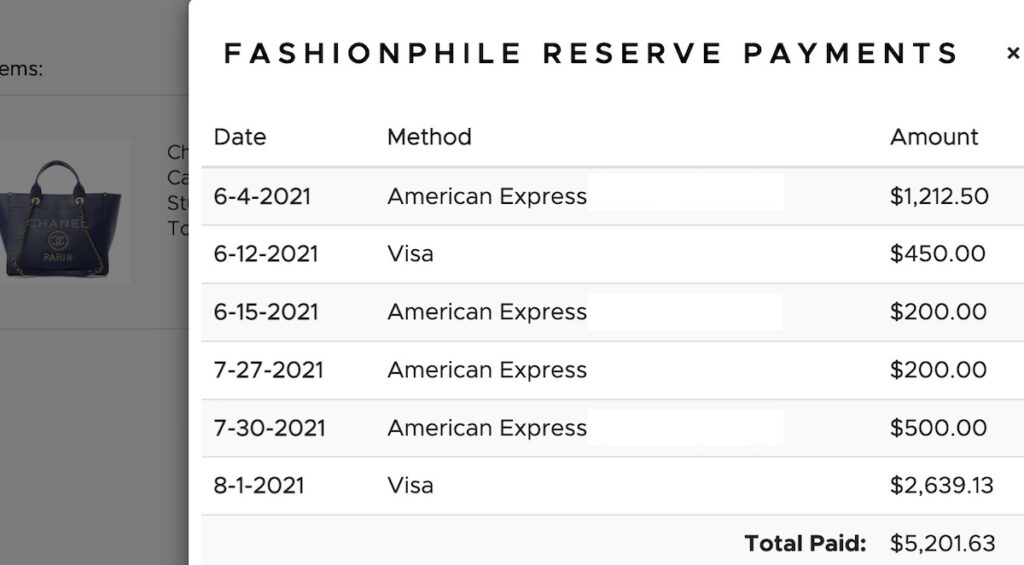 As of 2022, Fashionphile has partnered with Affirm to offer pay-over-time options over 60 days. Depending on your credit history it can be at 0% interest or more.
Resale of the Chanel Deauville Tote
I ended up selling this Chanel Deauville small tote bag to use the funds to purchase the Chanel 19 because I needed more of an everyday bag. I consigned it to Opulent Habits, and had an amazing experience! Opulent Habits listed the bag at $4,450 and I received $3,269.00 (which included their 4% processing fee and typically they take a 20% cut but they were running a special and only took 15%).
Conclusion of the Chanel Deauville Small Tote Bag Review
While the Chanel Deauville is not one of the popular Chanel styles it is definitely a beautiful and versatile bag. Perfect for travel, the office, or even as a diaper bag. You have to be a "tote bag" kind of person to get a lot of use out of it (which I found out I was not).
The bag, even in the smaller sizes, is roomy and slightly on the heavier side. The exterior is luxurious, hand studded, and includes FEET for that extra expensive look! The Chanel logo is in your face so if you want something more muted, definitely look elsewhere.
The interior is soft and luxurious but can be a hassle to clean. An organizer is recommended to keep items organized in the oversized interior.
The closure is quite open and easily accessible so it is not great for traveling on public transport or in crowded places.
Overall an amazing bag with slightly underwhelming resale value. But, if you own it for years it will go up in price if kept in pristine condition. Or use it, love it, enjoy it, and don't have a care in the world about resale! Fashion has no rules so don't buy what is popular, buy what you love!
Enjoyed this article. Please check out more articles about Women's Fashion on MalibuKarina.com