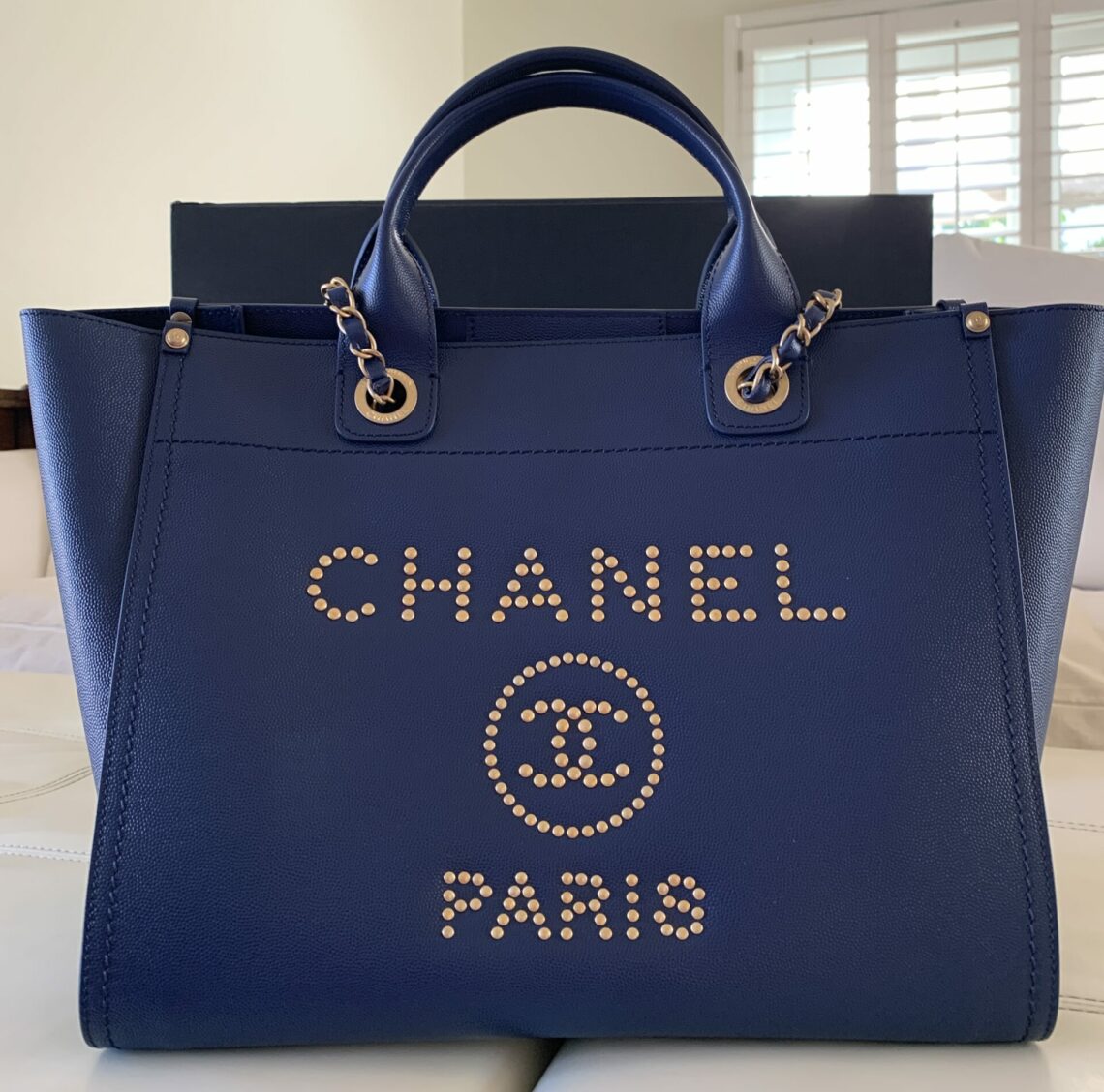 Chanel Deauville Small Tote Bag Review
This blog post may include affiliate links that may earn me a small commission at no cost to my readers. I am an Amazon Affiliate Partner and use Amazon product links throughout which may earn me a small commission on qualifying reader purchases. All opinions on my blog are my own and honest, I want my blog to provide information and help my readers become informed consumers, parents and caregivers.
An overthought review of the Chanel Deauville Small Tote Bag in navy blue Caviar leather.
Deauville is not only a fabulous town in France, but it is also a fabulous bag from the French fashion house Chanel. Imagine carrying this gorgeous Deauville tote while visiting Deauville, France! A girl can dream…
I purchased this bag on August 1st, 2021 from Fashionphile.
Characteristics of caviar leather
Most popular and desirable Chanel leather
Comes in matte, soft, and shiny finishes
It can appear more "dull" than other Chanel leathers
Grained, pebbled calfskin
Tough and heavy
Rigid and holds structure well
Not soft, not squishy, not pillowy to the touch
More durable than lambskin
More durable than non-leather fabrics such as tweed, canvas, straw, cotton, or denim
More durable than flat calfskin
Not as durable as goatskin
Does not scratch easily
Less prone to staining and color transfer
More carefree, can endure daily wear and tear (perfect for totes!)
Requires less maintenance and care than other leathers
Caviar leather can withstand moisture
Caviar leather holds the highest resale value for Chanel bags
Chanel Caviar Studded Deauville Measurements
The Deauville tote comes in various sizes from mini to extra-large; this one is the size small. I chose this size because I'm 5 feet tall and, quite honestly, I do not carry a lot of items in my bags. The base length is 13″, height is 10.5″, and width is 6.5″. a perfect size for someone petite. The bag, empty weighs in at about 2.45 lbs which is a bit on the heavy side. The woven chain drop is approximately 14.25″ and it hits me mid-thigh when worn on my shoulder. This bag can comfortably fit on the crook of the arm because the handles are wide and sturdy. They are probably too small or awkward to wear on the shoulder as the drop is about 4.25″.
The bag features a wide easy in easy out opening which is a great feature for a bottomless tote. The bag's closure is a gold-colored magnetic circular closure. Ahh, the satisfying "snap" sound when it closes is pretty nice.
I am not an organizer girl but I do think many of you would love an organizer for this huge bag.
Chanel Caviar Studded Deauville Tote Interior
The interior of Caviar Chanel Deauville tote bags is microfiber, microsuede, or suede. Recently, microsuede replaced suede as the most popular lining for the caviar Deauville bag. Some colors still use suede but others transitioned to microsuede. Microsuede is a tightly woven, polyester fabric which feels like genuine suede. It is soft to the touch, durable and more resistant to staining, and easy to care for. This particular suede is created from the underside of lambskin which makes it extremely soft and luxurious but harder to care for.
Fashion has no rules so don't buy what is popular, buy what you love!
Enjoyed this article. Please check out more articles about Women's Fashion on MalibuKarina.com