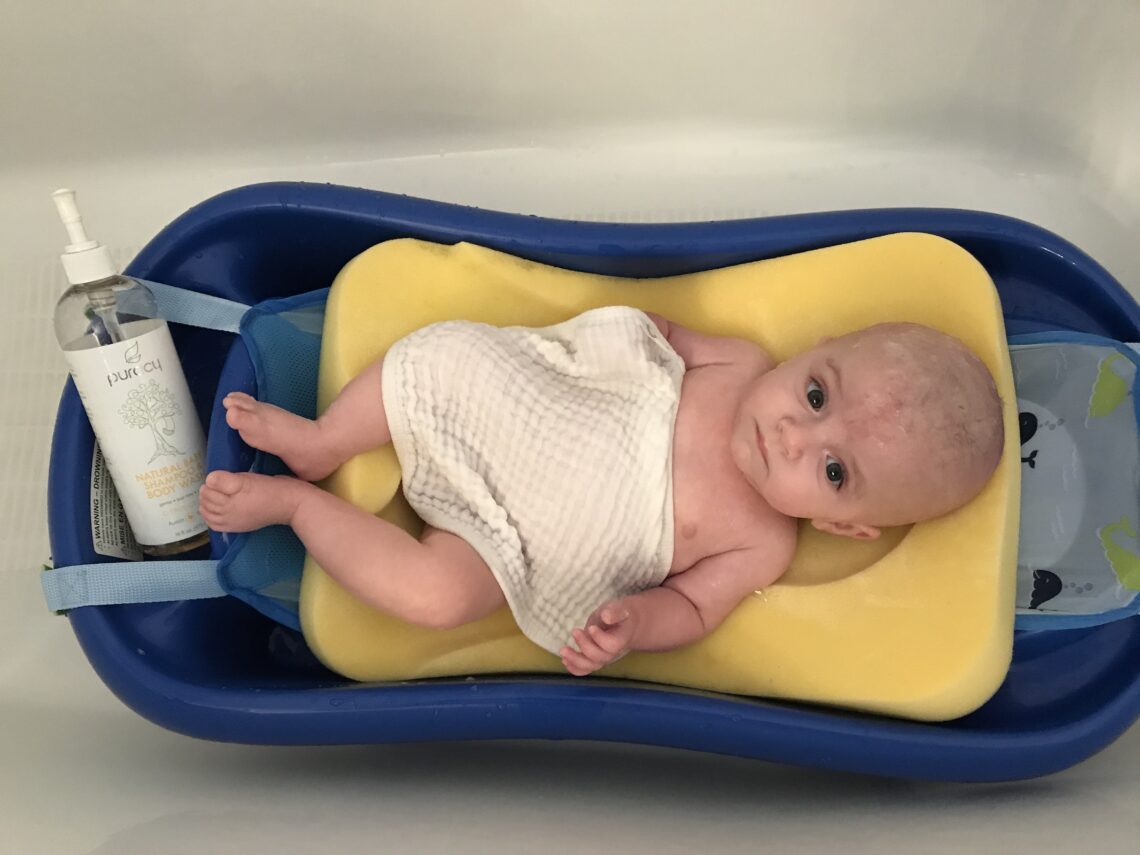 Newborn Bathtubs are NOT Worth the Splurge, Save Your Money For Other Baby Necessities
This blog post may include affiliate links that may earn me a small commission at no cost to my readers. I am an Amazon Affiliate Partner and use Amazon product links throughout which may earn me a small commission on qualifying reader purchases. All opinions on my blog are my own and honest, I want my blog to provide information and help my readers become informed consumers, parents and caregivers.
A newborn bathtub is one of those things that your baby will grow out of super fast but it's definitely a must have. When we brought Oliver home, he was just above 3 lbs so he didn't even need a bathtub because the NICU gave us a little "bus tubs" to bathe him in (mostly just sponge bathe him). So we used those for about two to three weeks until he outgrew them. I wish I had a photo of that "tub" and Oliver being bathed in it because it would show just how tiny he was.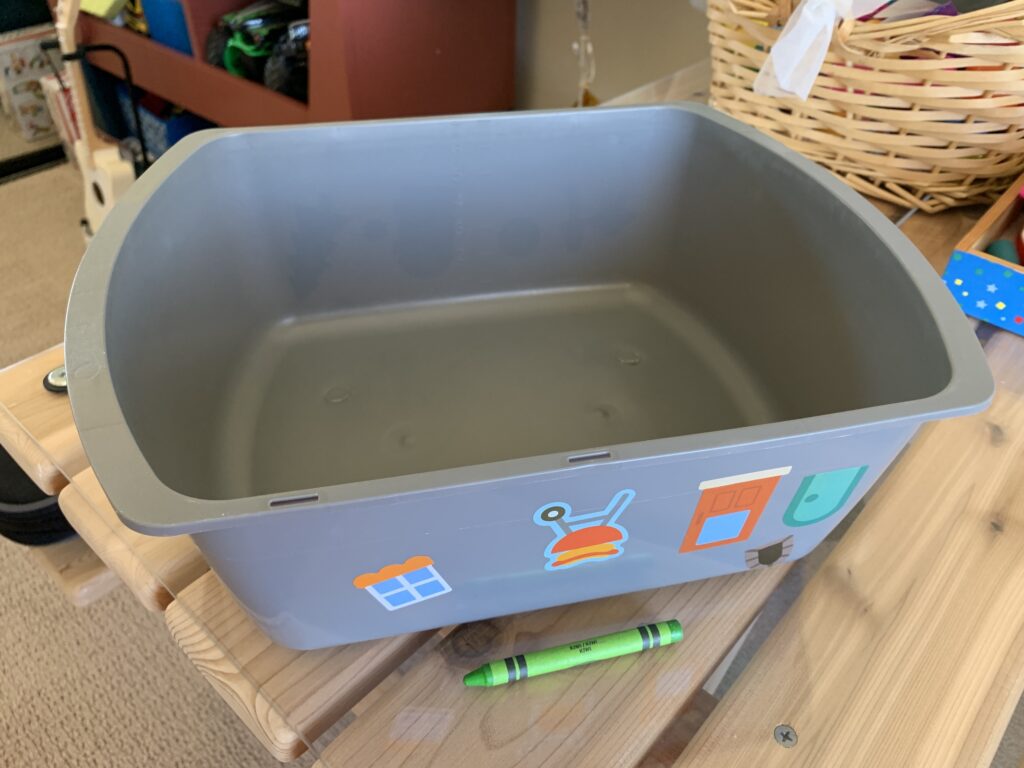 We currently use them as storage for Oliver's toys. Similar items are available on Amazon (they're called "bus boxes" like those used for dirty dishes at restaurants).
There are so many options for infant bath tubs at all price points. Being an expert baby gear researcher and analyzer (LOL), I researched every infant tub for weeks and settled on the First Years Sure Comfort Deluxe Baby Bath Tub. My intense methods for researching before I buy is one of the reasons I started this blog. I feel like I've learned all I need to learn about items so you don't have to waste YOUR precious time.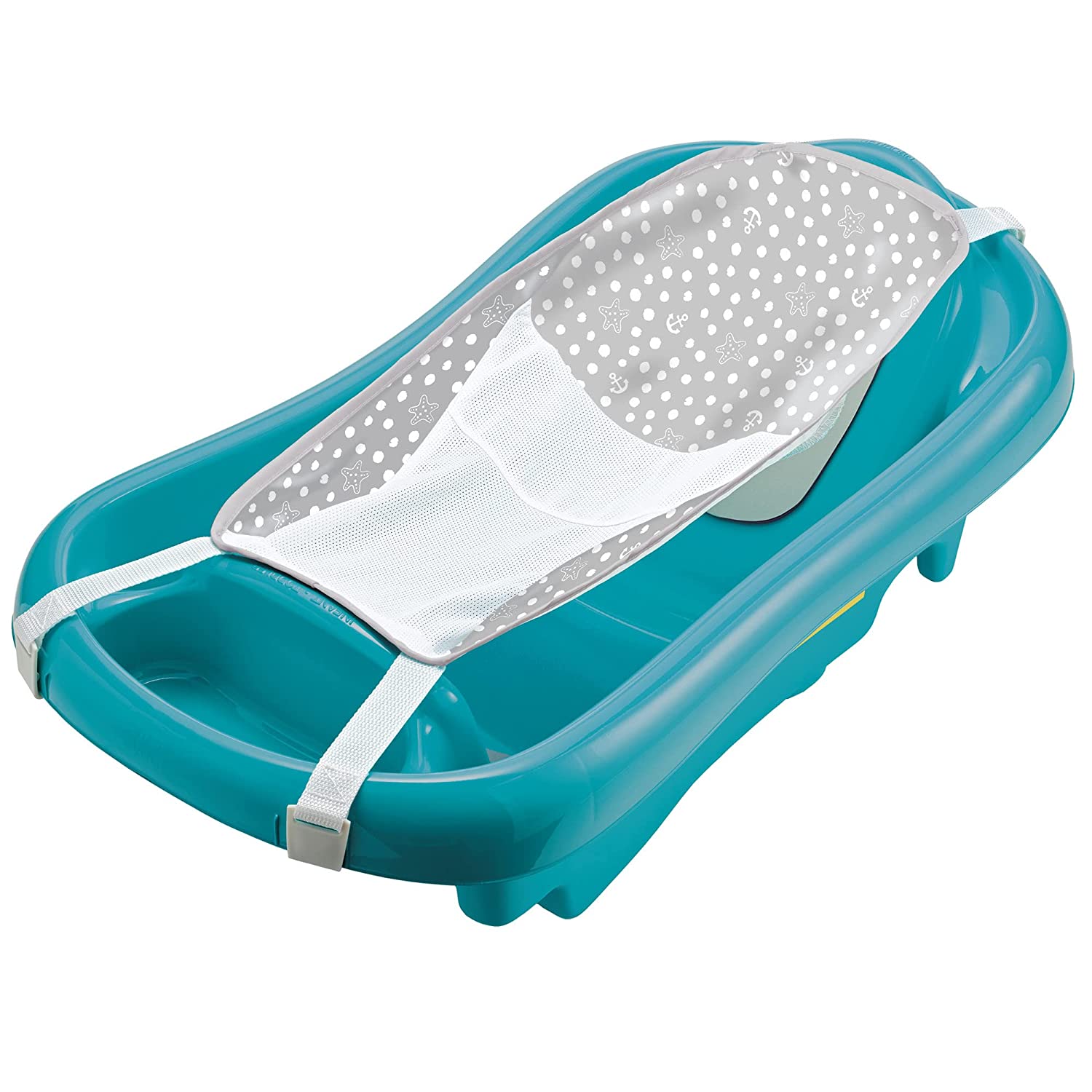 The retail for this tub brand new is anywhere between $20 to about $35 (not including shipping and / or tax). These are sold all over the place anywhere from Amazon, to Walmart, to Target and others. These are also super popular on second hand websites such as Ebay, Mercari, or Poshmark and can be bought for a lot less (I saw one that looked like new for $5 with FREE shipping on Mercari).
Rakuten, which is a cashback browser plug-in offers cashback on a lot of these websites so make sure you install the Rakuten "R" plug in to earn cash back (it's FREE).
When purchasing an infant tub the first question to ask is where will you be bathing your newborn? Will it be in the kitchen sink, bathroom sink, bathtub, shower stall or stand alone? Will you need something compact to take on vacations or to grandma's house?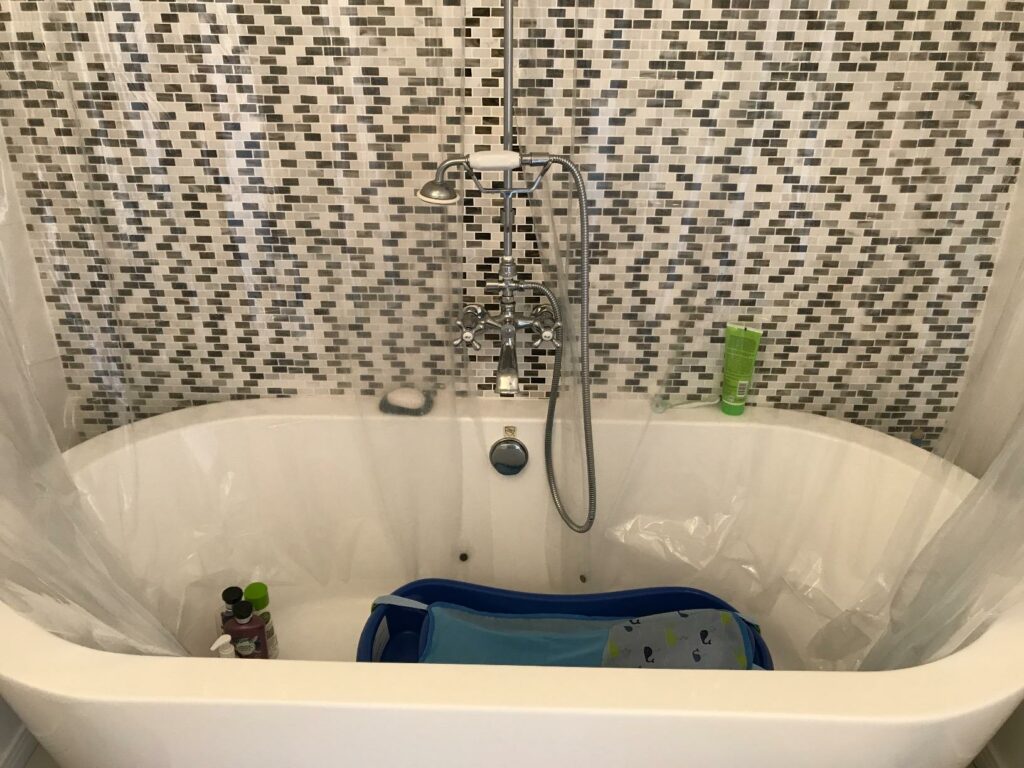 When a baby is under 6 months old it is important that the infant tub has contouring inside, similar to that of an infant car carrier, so the baby can lay in an upright position. A mildew resistant foam liner is great for tiny ones as well as the little mesh slings / hammocks. The hammock style will keep the baby cradled in place so you can wash them quickly.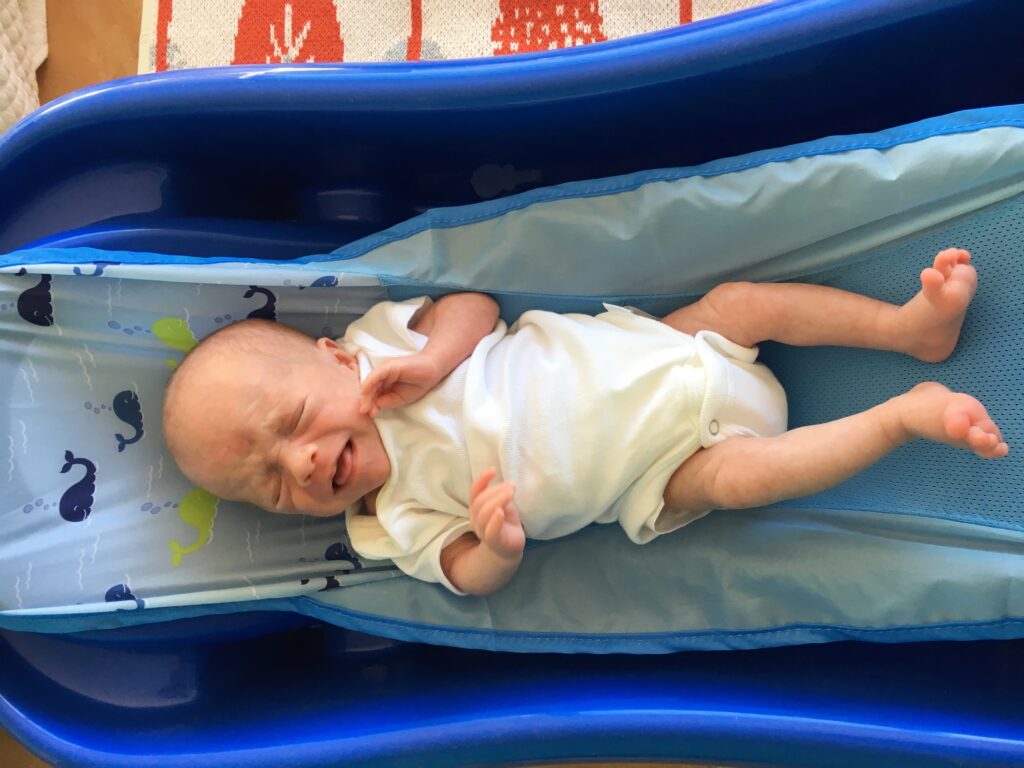 Bath time with a newborn can be a bit chaotic at first so it's best to get the job done quickly. I remember Oliver's first few baths, he did NOT enjoy them. As the babies get a little older bath time becomes easier and more fun.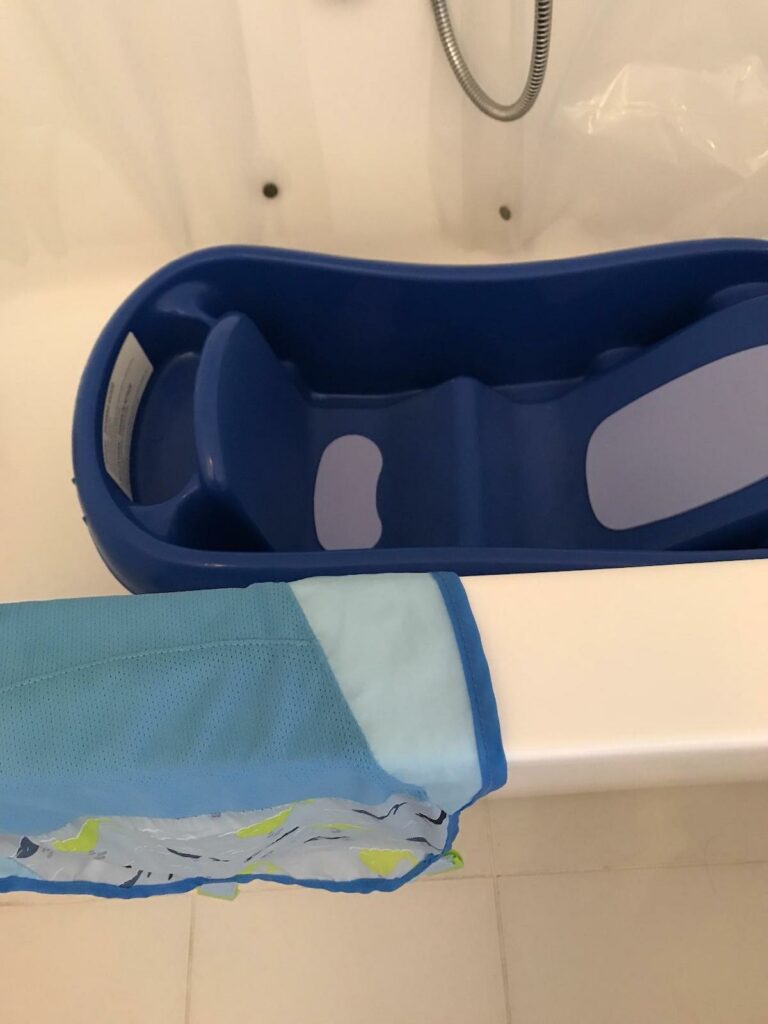 The First Years Sure Comfort bathtub sling / hammock design is more ideal than others. Look for slings that do not have poles that can be rough on an infants' gentle skin if they kick or move around. To avoid upgrading to different versions of the tub, it's best to choose a convertible model with a removable sling / hammock like the 1st Years Sure Comfort tub. This tub measures about 29.75 x 15 x 9.25 inches and weighs about 2.85 lbs.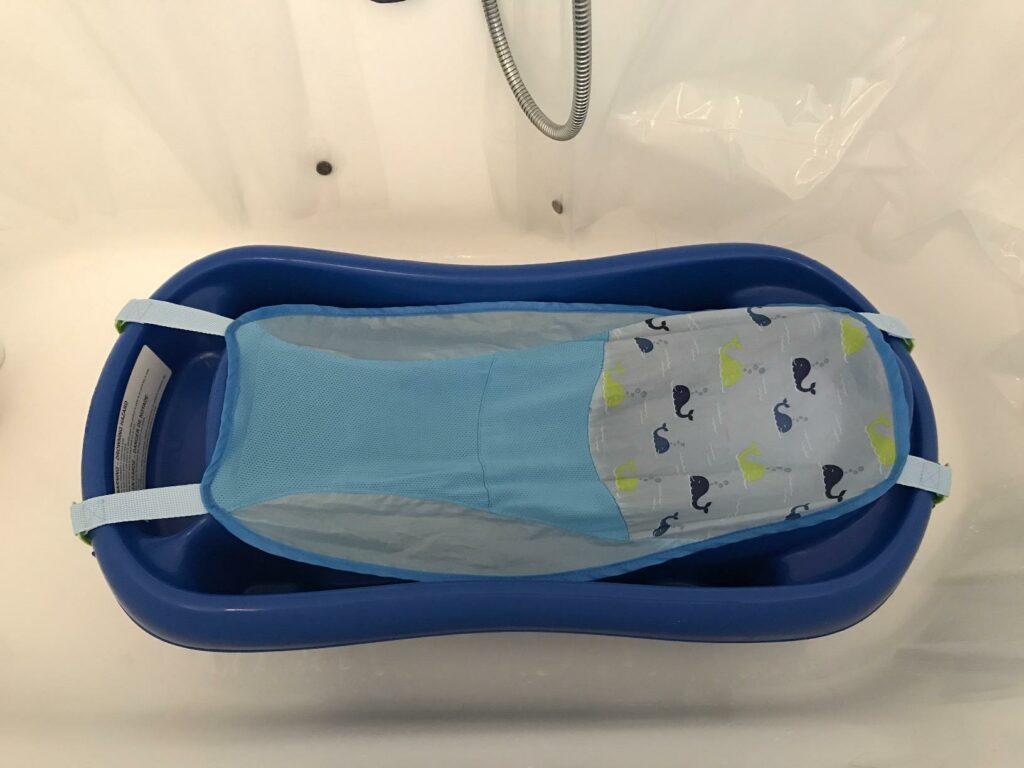 When Oliver got a little bigger and bath time wasn't just in and out, we took the hammock off and to avoid laying him in the hard plastic tub we put a towel on the bottom. That worked in terms of comfort for Oliver but taking the soaking wet towel out and wringing it, running to the washer/dryer as it dripped water all over the house became a hassle for mommy and daddy so I decided to invest in a sponge to put on the bottom of the tub. That was a game changer for us and for Oliver.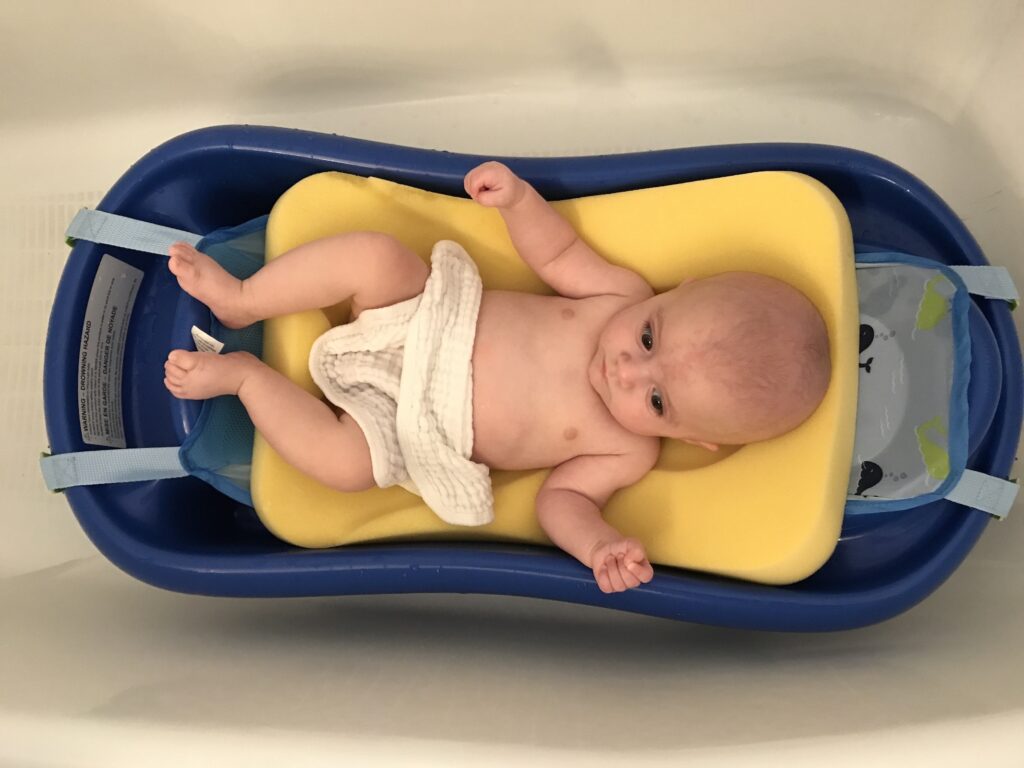 Most of the sponges have a little contour of a baby which improves comfort. Look for a sponge that's thicker than 2 inches. Sponges are also WAY easier to wring out and can be hung up to dry or laid flat on a drying rack. A quick tip is you can get a little hanger with a clip on it and hang the sponge on your shower rod or any hook.
Once your baby is strong and old enough to sit up by themselves The First Years Sure Comfort tub can be used by itself, without the sponge or hammock. That's when bath time definitely gets more fun and playful. From newborn hammock, to infant sponge, to baby sitting up in the tub by themselves takes literally NO time so definitely look for convertible tubs that will grow with your little one and don't break the bank.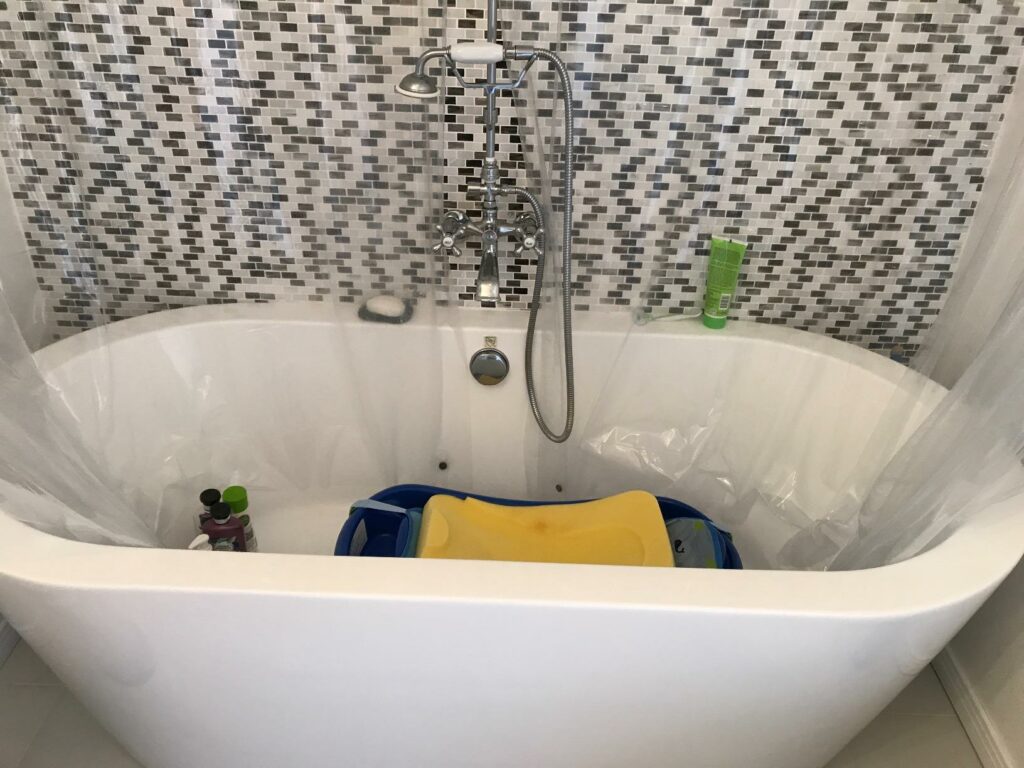 Short on space or want a baby tub that travels with you? A collapsible or foldable infant tub could be right for you but those are typically for very small babies (newborn to 9 months old). This one can even transform into toy storage when no longer in use.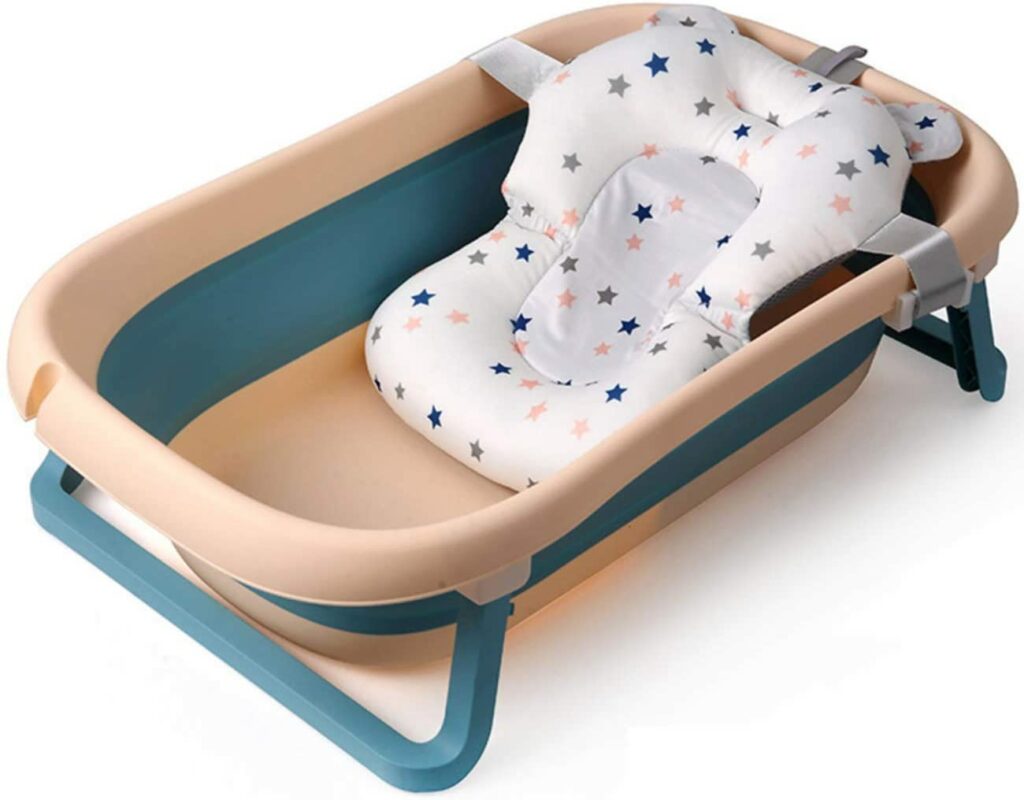 It is super important to rinse the tub and all the accessories and toys thoroughly after each use and let everything dry fully to prevent mildew and soap scum residue if they're being folded up and stored away.
Some of the infant tubs I looked at were SO elaborate, some come with shower nozzles and whirlpool jets, scales and thermometers and heating mechanisms too. The options are endless! BUT it's best to keep it simple. Just a little tub with nothing in it. Use a plastic cup of water to rinse and keep your baby warm is all you need. Although I did invest in the Skip Hop Waterfall Rinser Moby Cup which helped a lot and made Oliver super happy. Oliver still uses this rinser as a bath toy, beach toy, or water-play toy. So I have to say it was money well spent.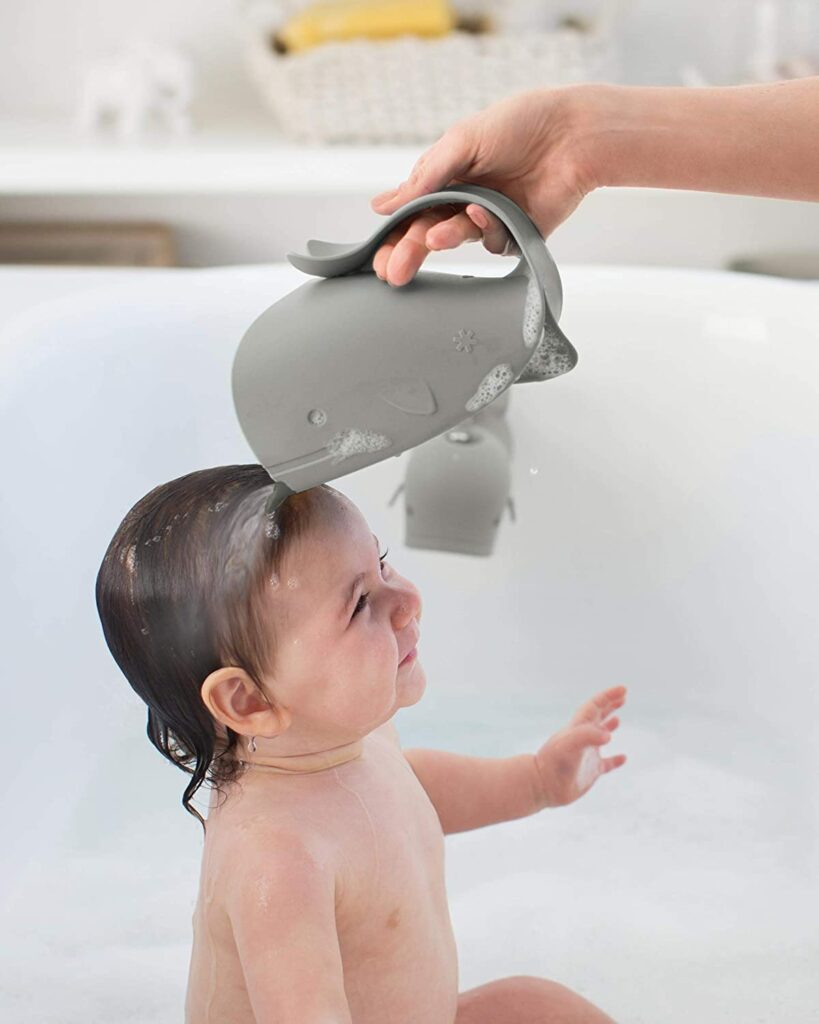 Avoid buying tubs with a shower head hose and nozzle that directly attaches to the tub, this can pose a burn hazard. If you do love that idea always test the water away from the baby.
The other thing I would suggest avoiding is baby bathtubs with stands that lift the baby up so us overworked, tired parents or caregivers don't have to bend down as far. The safest place for your little one is on solid ground whether in a bathtub, infant tub or in the sink. Sorry parents! When I bathed Oliver I usually kneeled down beside the tub to wash him (looking back I wish I had these kneeling pads) or I used to sit on the edge of the tub to play (but to be honest that's not the safest place for a tired mommy).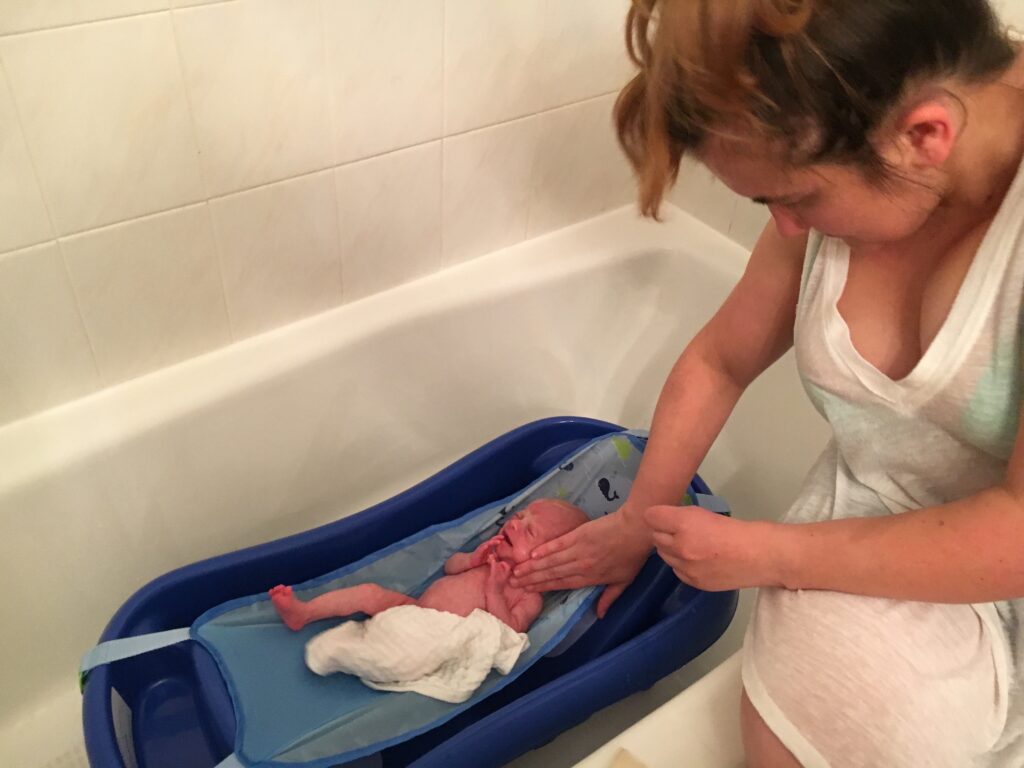 Now that Oliver is 5 and uses the adult tub I have this little step stool he uses for the sink and I sit on that which is actually not too bad but I'm only five feet tall.
I highly recommend The First Years Sure Comfort Deluxe Baby Tub because it can grow with your baby, it's easy to use, rinse, wash and dry and it's affordable whether you buy it brand new or opt to buy it second hand. It is also one of the best selling, if not THE best selling infant tubs tried and true and loved for many many years. Since it's one of those baby items you NEED but won't use for years to come, save yourself some money and just opt for a simple affordable option.
Below is Oliver taking his first bath WITHOUT the First Years Sure Comfort Deluxe baby tub at the age of 8-9 months. Even though the First Years tub can be used from infant to toddler, we found that bathing Oliver in our tub was easier and more fun for him (mostly because he wanted to play with his water toys and move and splash around). But of course, make sure your little one is still supervised at this stage and can confidently sit up. This Green Toys Submarine bath toy is STILL a favorite of his and he's 5 years old now.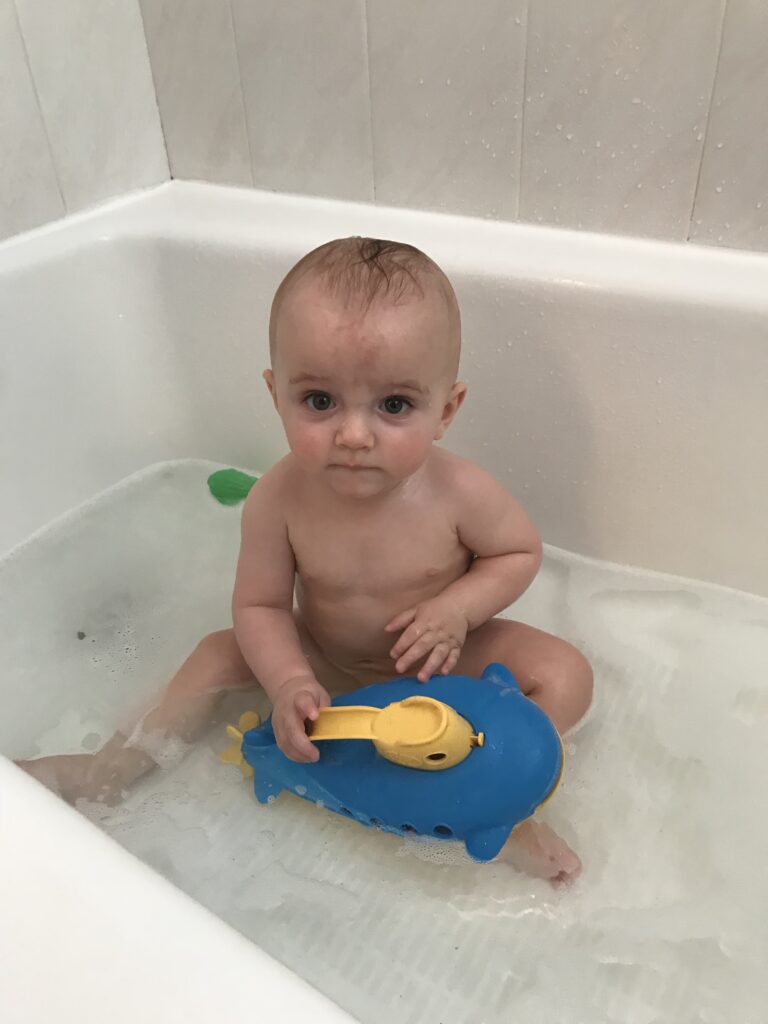 Read on for some other options for baby bath tubs. I do not have experience with these but have researched them and knowing what I know now after having an infant, I can recommend (or not) some of these.
The Blooming Bath Lotus – soft flower petal sink bathtub. This one I seriously considered getting but the sink at our Malibu house at the time was in terrible shape, old and gross but if you have a nice large sink, this looks amazing! The price is a little higher and remember, this one is for Newborns up to 6 months old. But it looks so cozy and comfy bathing in a flower, doesn't it? But at the end of the day I wasn't sure if it was practical or comfortable or just cute and perfect for those Instagram Influencer photos.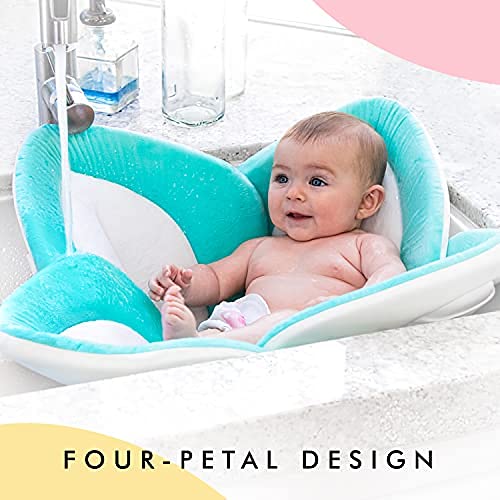 The Stokke Flexi Collapsible bathtub is definitely a splurge but I also considered it as Stokke is one of our favorite brands, we love EVERYTHING they come up with but for the cost, I believe you can find something similar for less. Just couldn't justify it at the time. But if you love the brand and have the means, this one looks fabulous.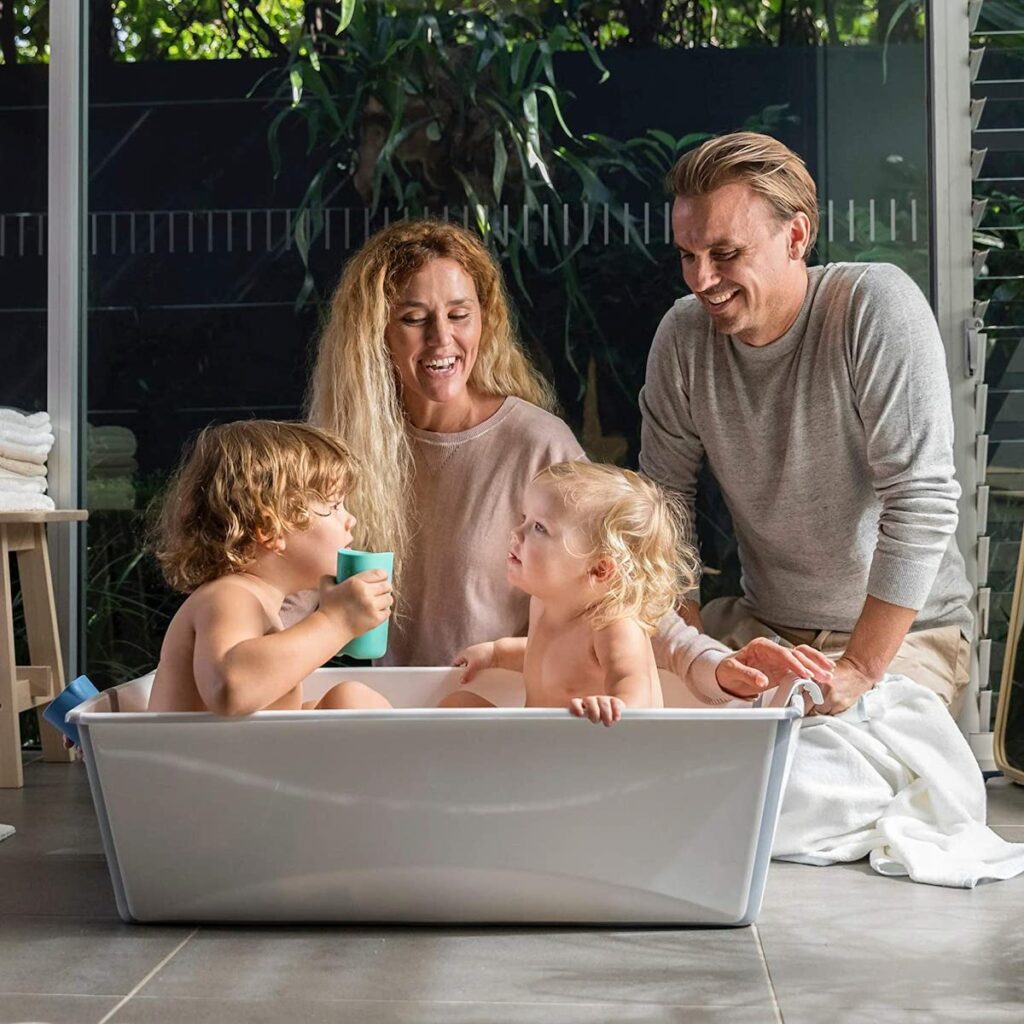 Lastly, this perforated baby bath from Angelcare was another top contender but at the end of the day I decided I didn't like that it had holes in it. I prefered Oliver to have some water to lay in instead of having the water constantly drain and Oliver LOVED the water. But I'm thinking if your little one doesn't like to be in water, this one would be a wonderful option.
Now for the ones that are not so great in my opinion. Some are just unsafe and some are just way too much tub for your little one.
This Summer Lil Luxuries Spa and Shower Bathtub looks so luxurious but I am just not sure it's necessary. The hose / shower feature seems nice but there is a risk of burning so its something the caregiver has to monitor carefully.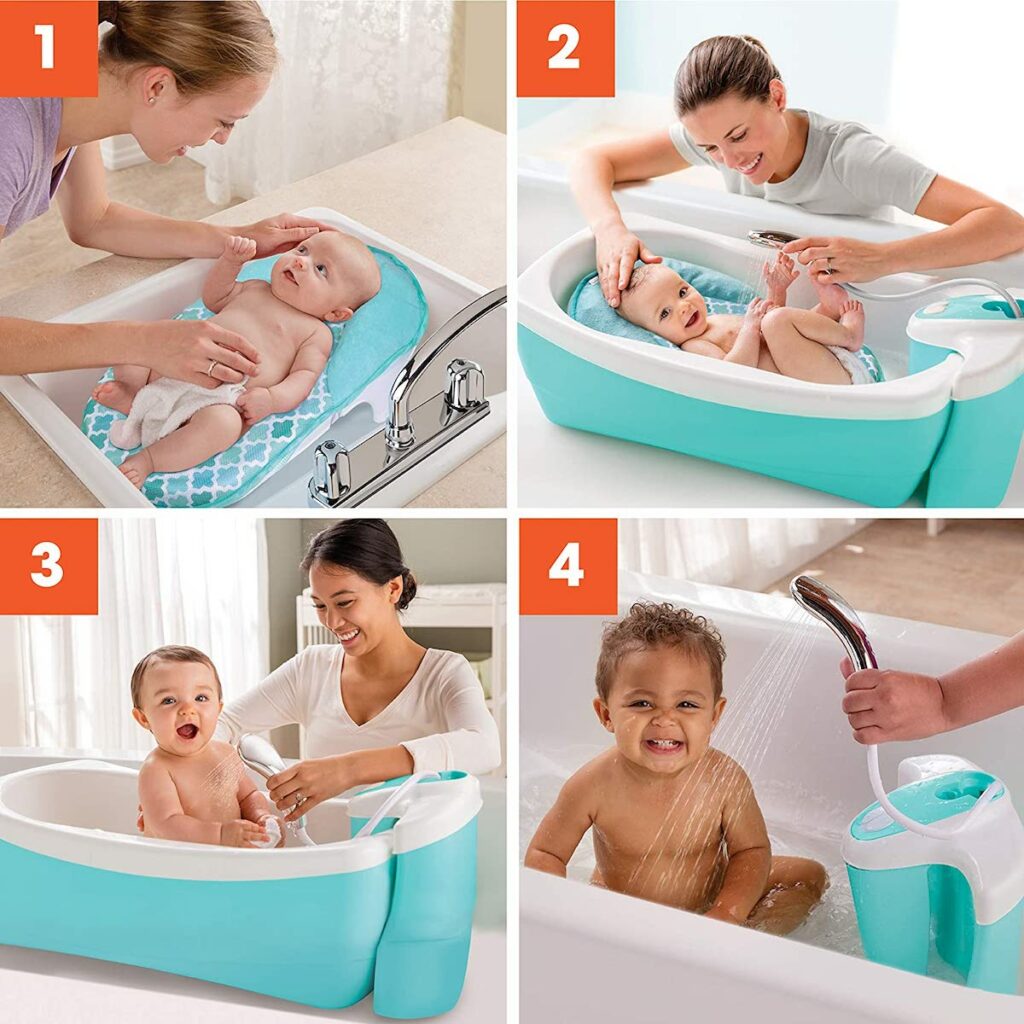 I wrote about elevated tubs above, these can be unstable and unsafe so I would definitely avoid this tub or ones like it. Even though it might save your back!
Inflatable bathtubs that fit inside the regular bathtub seem like an amazing idea but for tiny newborns or infants they can be dangerous and can collapse easily. Avoid those altogether.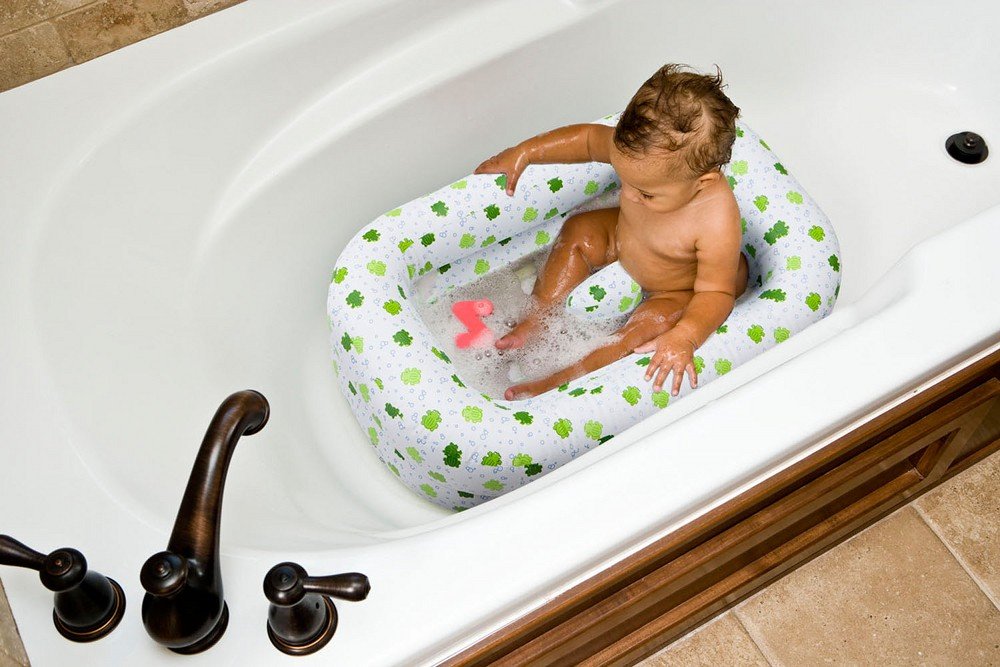 There are some products on the market that seem like great additions to the bathtime routine but they are unsafe or can be unsafe if not used correctly. Some of the items I listed below: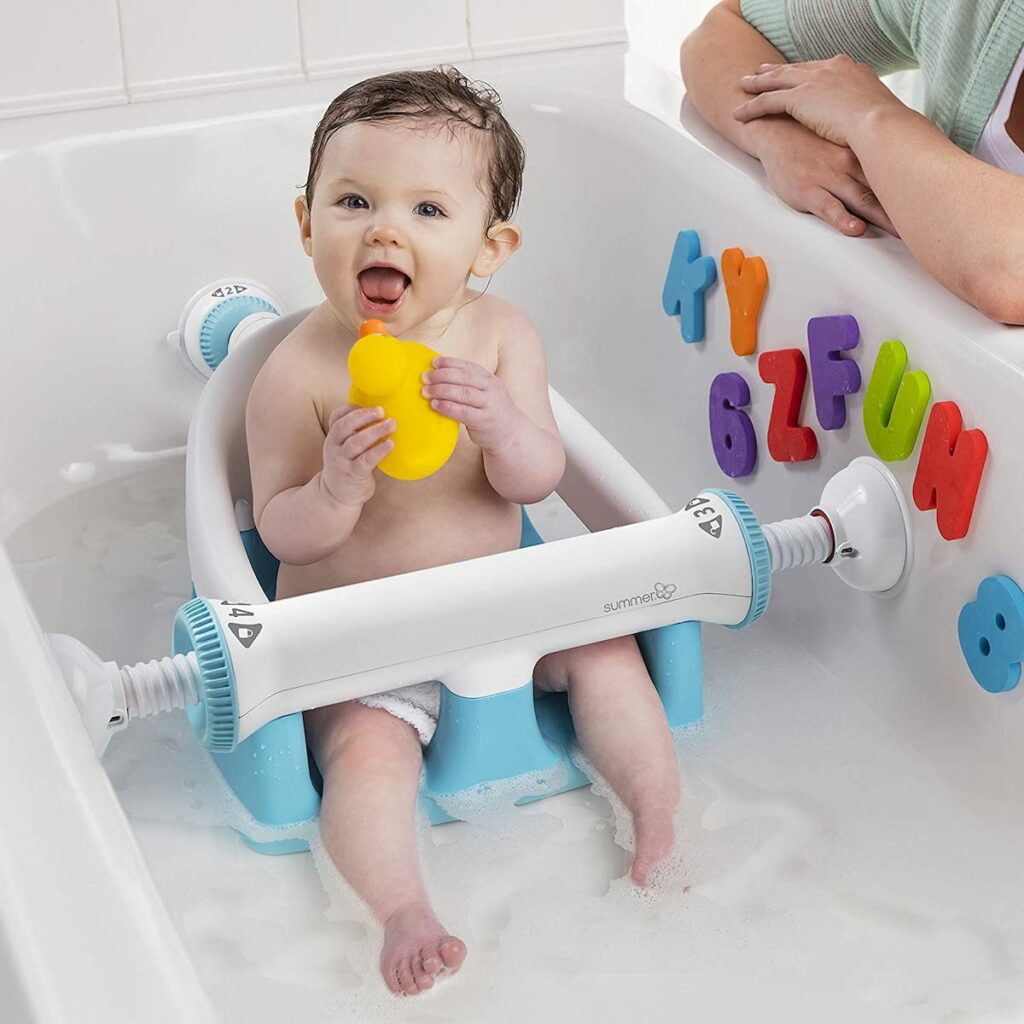 Infant Bath Seats are some of the most dangerous items which are to blame for infant deaths and injuries every year. They give a false sense of security for the parent / caregiver and can result in the seats tipping over or the child slipping / falling out. The chairs with the suction cups at the sides or on the bottom seem like a good option because they won't tip but the suction cups can pop off and be dangerous especially if the baby isn't fully supervised (which happens to us all, we run out for "just a second" to get more shampoo, a towel or a bath toy). There are many new laws / regulations to make bath seats safer but so far there isn't a good option on the market according to the Consumer Product Safety Commission (CPSC). A lot of the infant bath seats have been recalled. So great caution should be used if you decide on having a bath seat for your infant, do you research thoroughly.
Infant bathtubs with attached shower nozzles with hoses. It is very convenient and seems like an amazing idea but can pose a danger if a sudden change in temperature occurs. So never point a shower nozzle directly at any part of your infant and always be vigilant about testing the water temperature.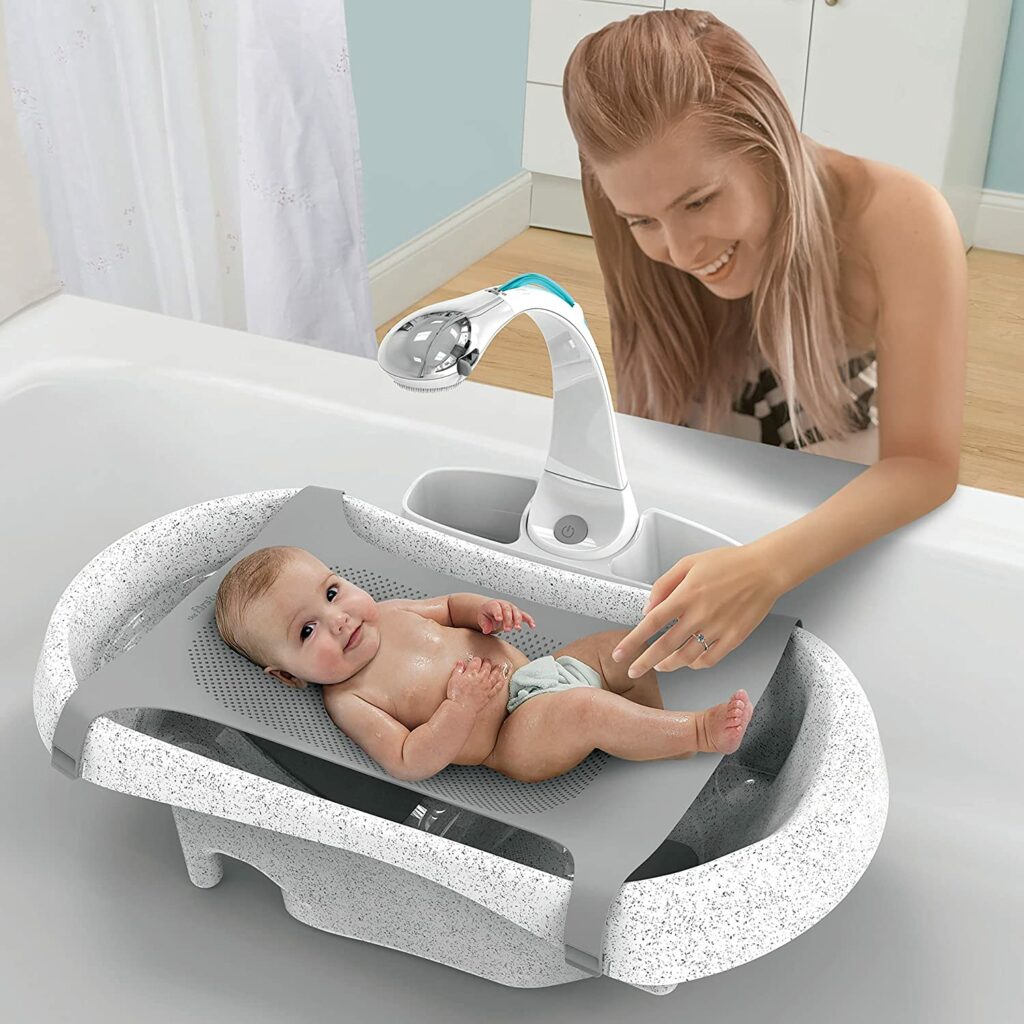 I think that we adults don't see danger in many of these items and some of them may not seem obvious. For example when I was researching for this post I read about bath buckets with wide openings can pose a drowning danger for newborns I would have never thought of that so always empty the bucket and leave it out of reach. I honestly would have never thought that would be a danger but remember a newborn can't really move by themselves to lift up from as little as 2 inches of water.
Below are some of the items I enthusiastically recommend and have a lot of experience in using during bath time with Oliver when he was a 3 lb premature NICU graduate to about nine months old.
Mildew resistant baby bathtub liner sponge. MUST HAVE ITEM. This made a big difference for me and my husband during bath time because previously we were using a towel which when soaked was heavy, difficult to wring and dry. Oliver could also lay more upright with the sponge whereas with a towel at the bottom he wasn't elevated as much.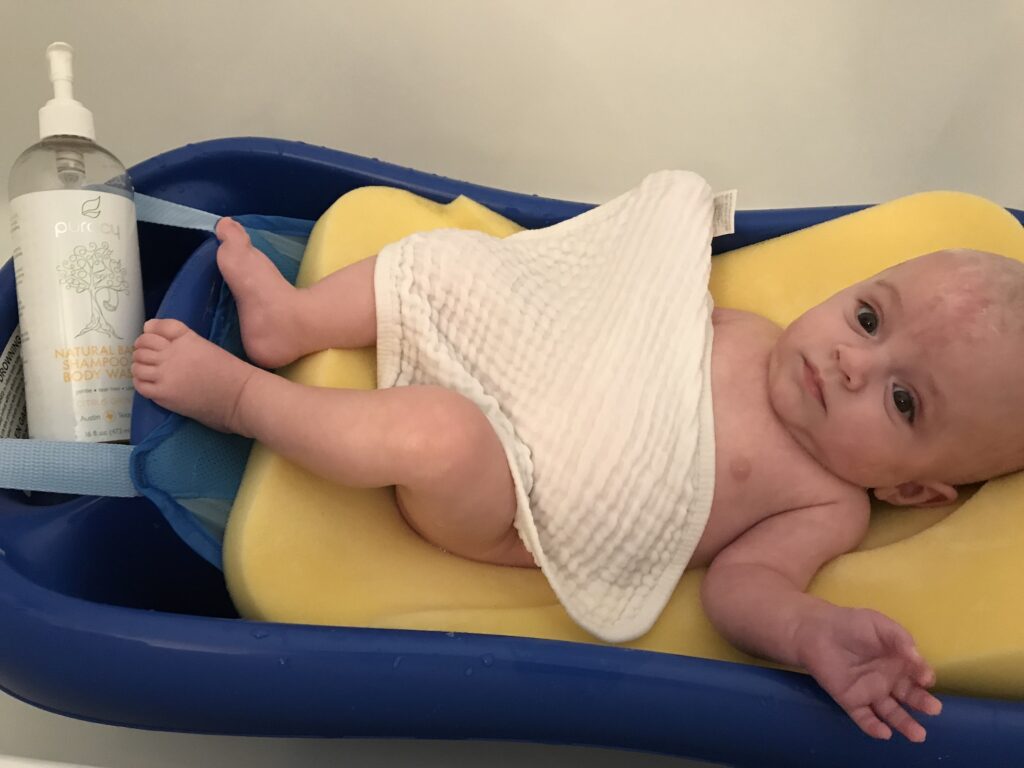 Moby waterfall baby rinsing cup. A NICE TO HAVE. More gentle stream of water when rinsing or adding warmer water to your little ones bath. Definitely Oliver enjoyed this little cup and we used it for years in water play and on beach days.
When Oliver was super tiny we used a Natural Sea Sponge – the "Silk" version which is much smaller and super gentle.
STILL USING TODAY: We used the Original Natural Sea Sponge once he was about four months old. It was a nice relaxing and calming process to just use the sponge and massage soap on baby Oliver. It is ever so slightly abrasive which gives a little relaxing "scratching" that I realize sounds kind of awful but it truly is VERY gentle. Sponges are a bit tricky so make sure you keep them out of little hands as babies love to bite and chew and can potentially swallow pieces of the sponge. Also sponges need to air dry and they can harbor germs, so it's kind of a tradeoff. Replace the sponge often, and this option is biodegradable so I didn't feel bad about putting it in my composter. The sponge worked for us but I was careful to make sure it was dry and that baby's little mouth stayed off the sponge. The natural sea sponges are VERY porous and VERY absorbent so they dry quicker and hold a lot of water that can be used to wash away soap more efficiently.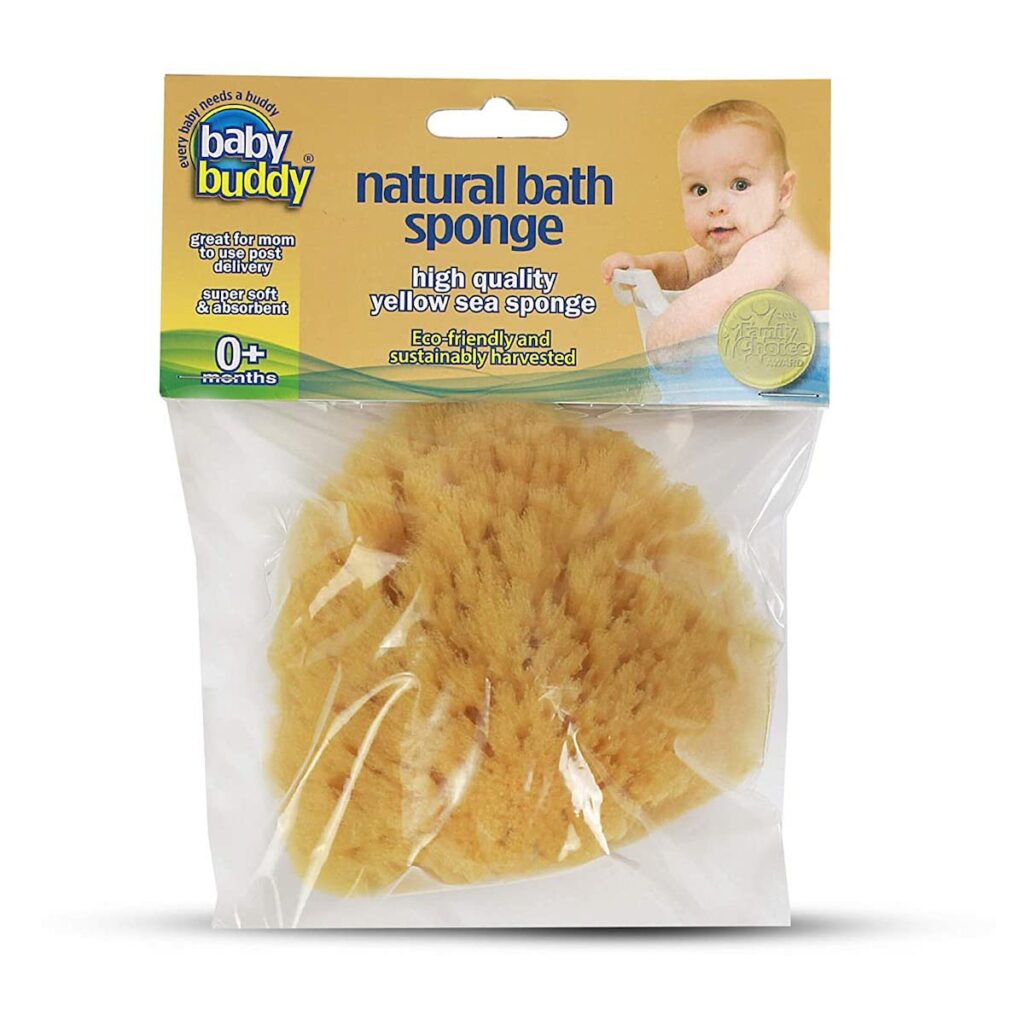 If you are not a fan of sponges; washcloths are the perfect alternative. They are safe to chew on and can be washed and dried keeping them clean and germ free. There are some amazing options for baby washcloths. We bought muslin wash cloths but didn't really use them as we really liked the natural sponge a lot better. The muslin wash cloths were a little too big for him we did use them mostly to cover him in warm water if he was getting cold while in the tub. We also used them as "Pee Pee Teepees" if you have a boy, you know exactly what I'm talking about.
After bath time I opted for a unbleached organic cotton baby bath towel, unfortunately I wasn't able to find anything similar but opt in for simple, soft towel whether its a baby size or adult size. I would go with something without any decorations (or those decorative borders) that may be rough on the skin. I really like the cotton towels but another option is bamboo or muslin which are gaining popularity.
After Oliver was dried off we wrapped him in a hooded, muslin blanket / robe.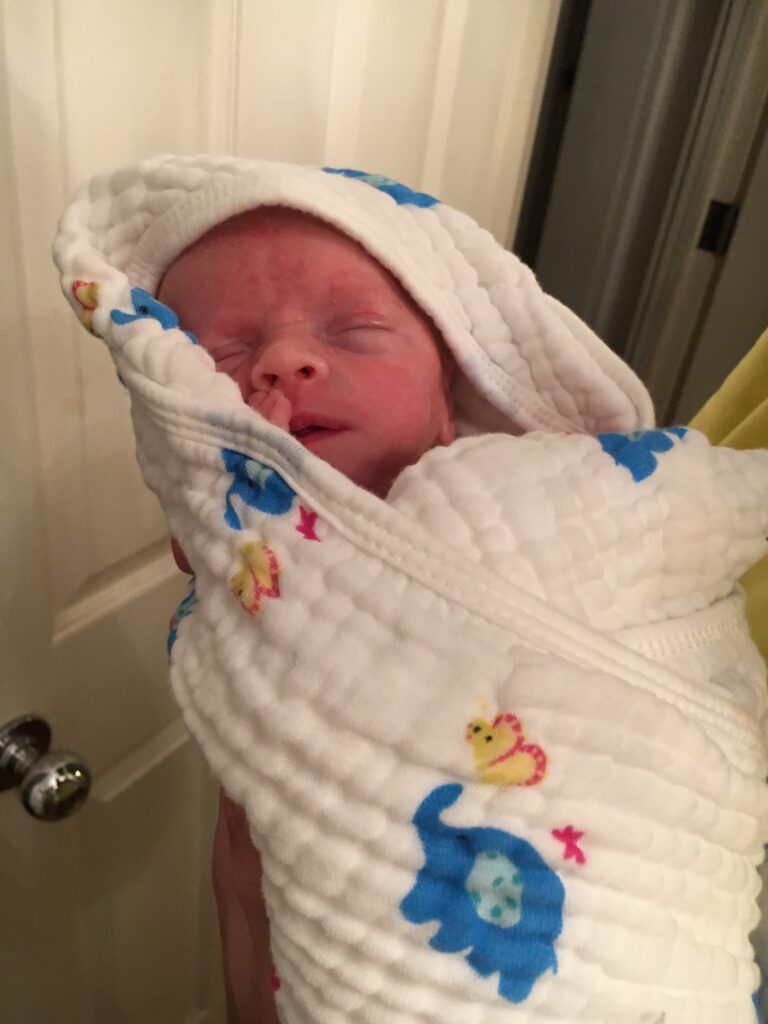 Lastly, the shampoos / body washes we used were mostly Puracy and sometimes California Baby. Those two worked the best but we also liked Weleda and Aveeno.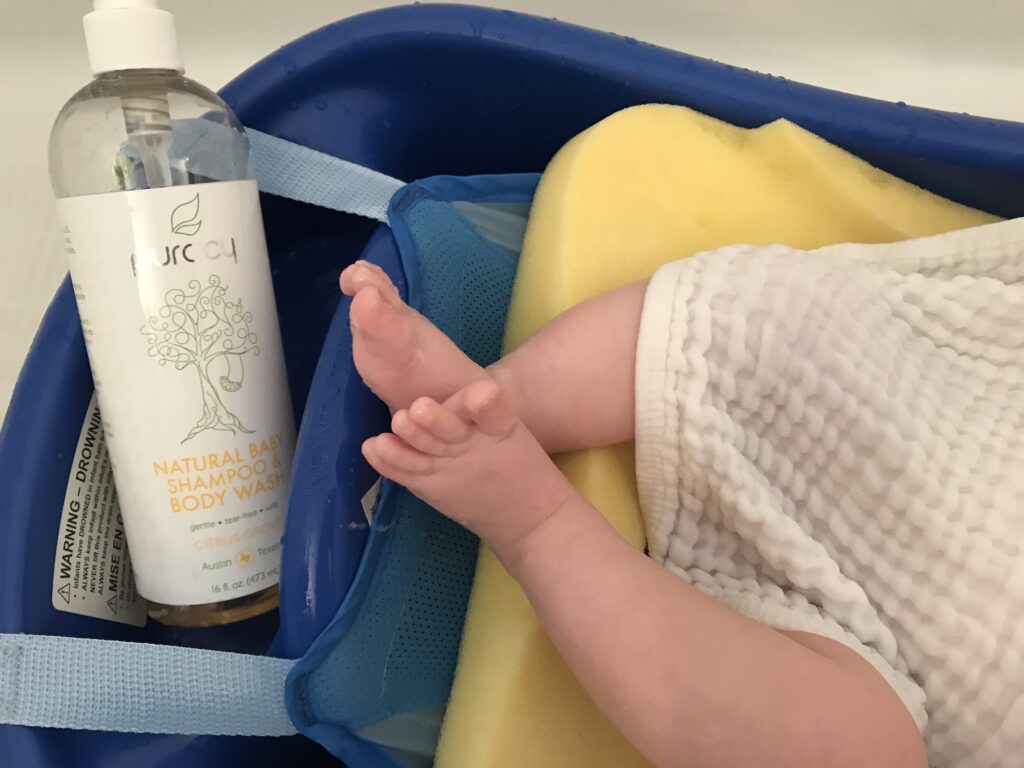 The two that just didn't work for Oliver were Honest and Burt's Bees. The Honest one even gave me a rash when I tried to use it and I don't consider myself as someone with sensitive skin. It may take a few tries to find something that works for your little one and the market is flooded with a lot of options from small to big companies and at various price points.
Not sold on The First Years Comfort Tub? Here are some similar alternatives:
Skip Hop Moby Baby Bath Tub, 3-Stage Smart Sling Tub
Fisher-Price 4-in-1 Sling 'N Seat Convertible Baby to Toddler Bathtub with Support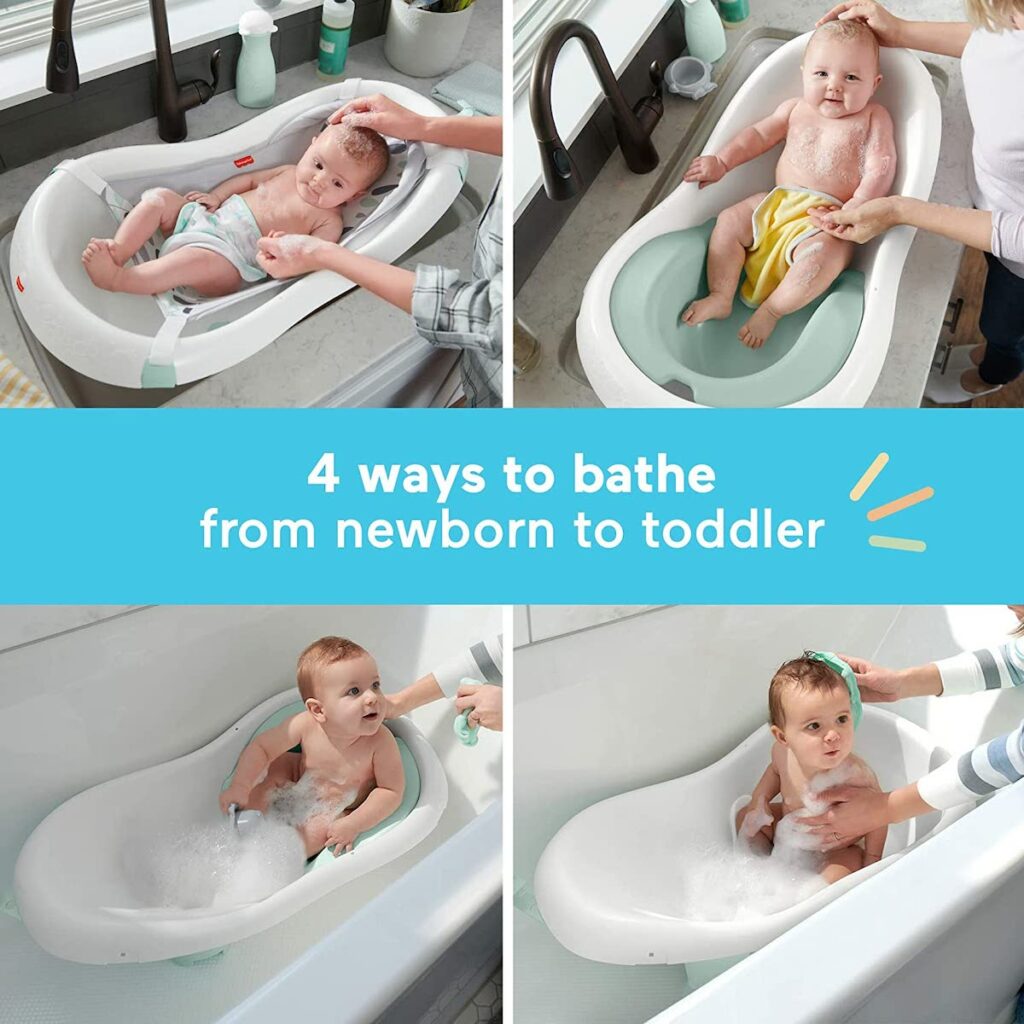 Summer Splish 'n Splash Newborn to Toddler Tub – 3-Stage Tub for Newborns, Infants, and Toddlers – Includes Fabric Newborn Sling, Cushioned Support, Parent Assist Tray, and a Drain Plug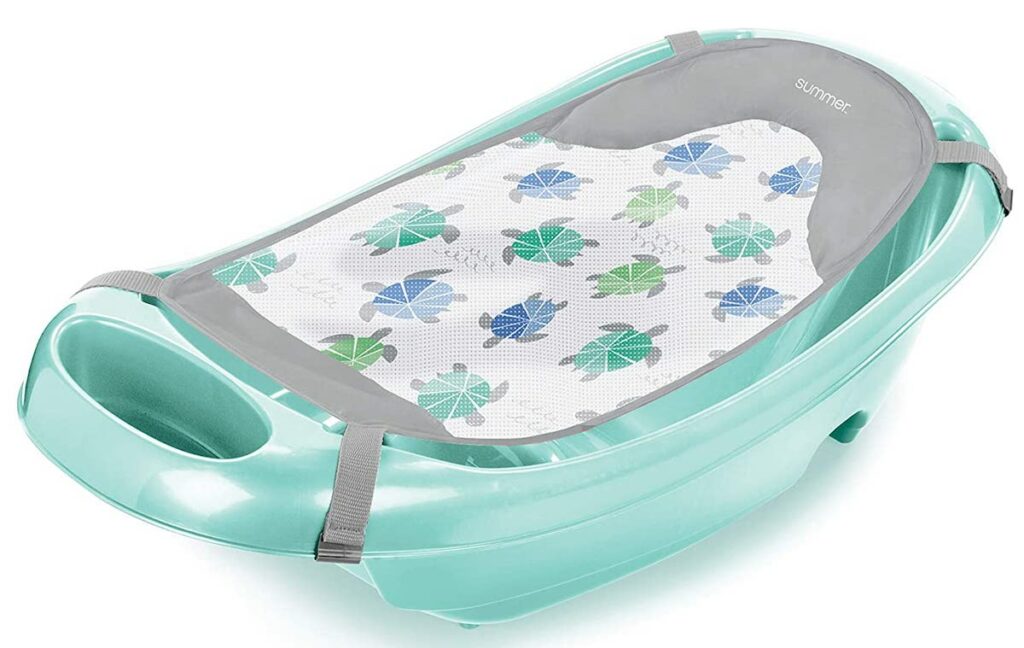 Fisher-Price 4-in-1 Sling 'n Seat Tub in Multicolor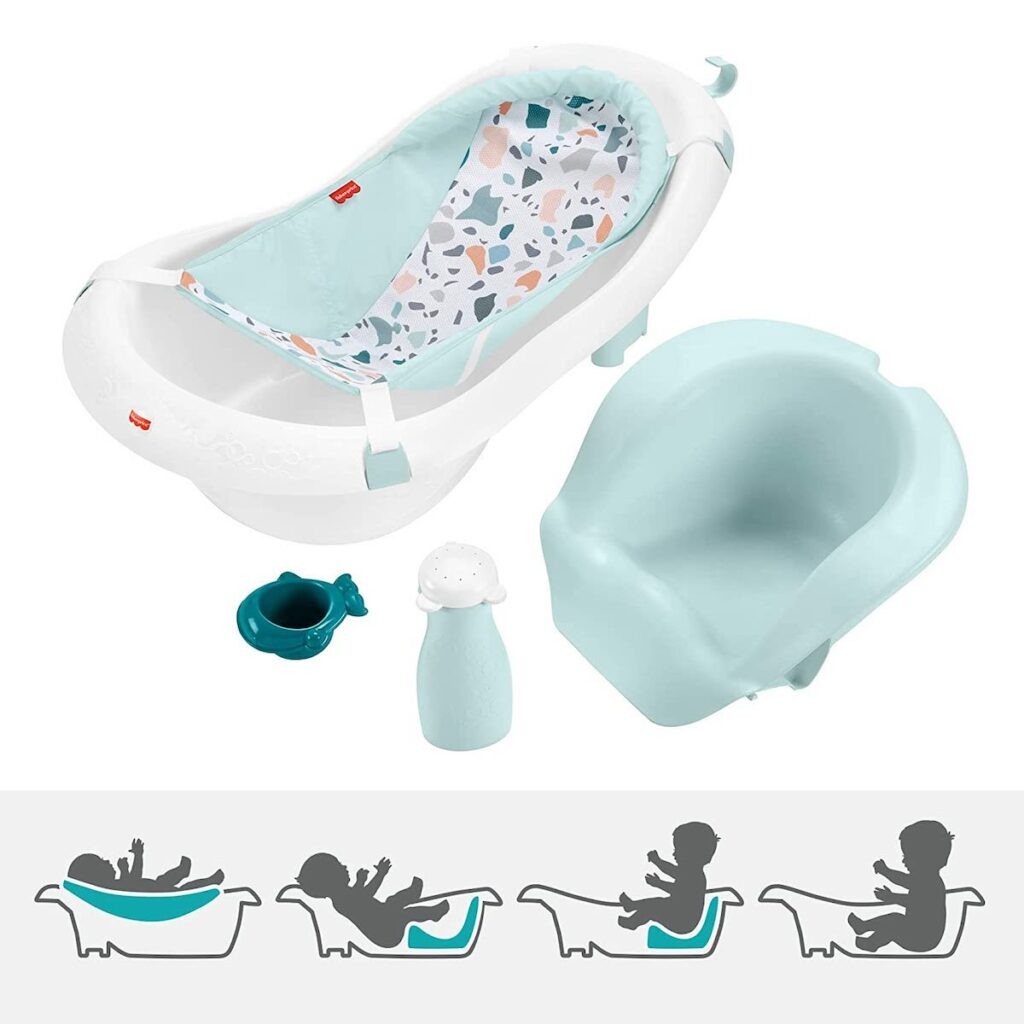 Summer Gentle Support Multi-Stage Tub – For Ages 0-24 Months – Includes Soft Support, Two Bath Toys, A Hook for Storage and Dying, and a Drain Plug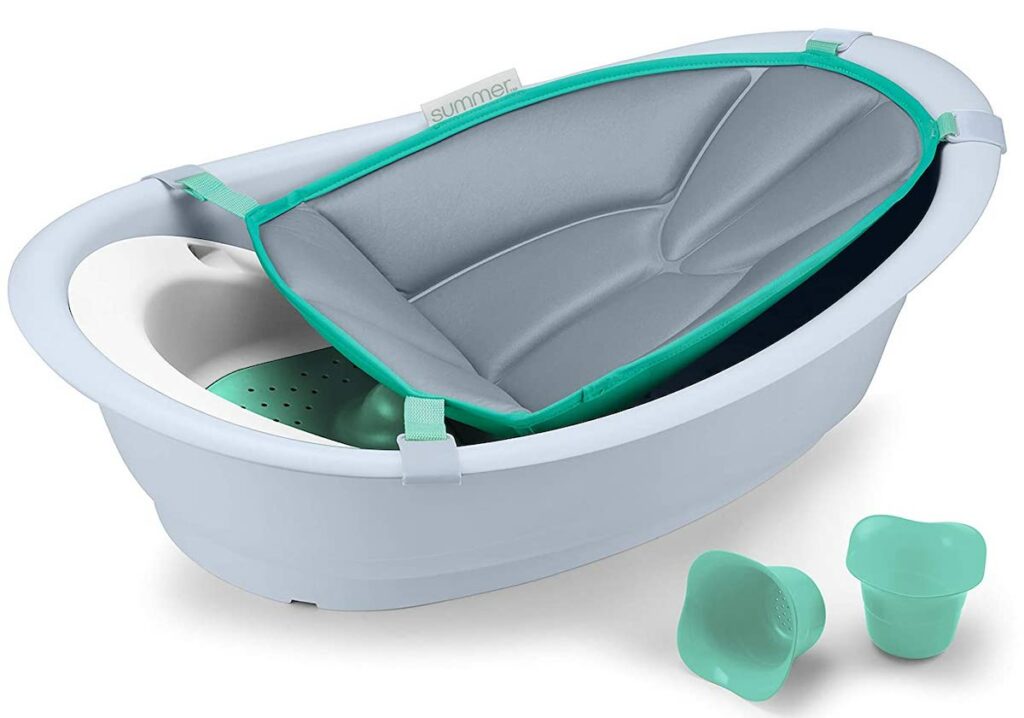 Always leave your baby supervised in the bath even if you think it will take a second to run and grab a towel or something, be very mindful that an accident can happen within nano seconds. Make sure you have all the items needed before putting the little one in the tub. Be mindful of the water temperature, it should be warm not hot and remember to watch for scalding hot or just plain hard/sharp metal fixtures and keep your little one away from those. One cool feature of the First Years Sure Comfort tub is that there is a drain at the bottom that has a color changing plug which changes color if the water is too hot.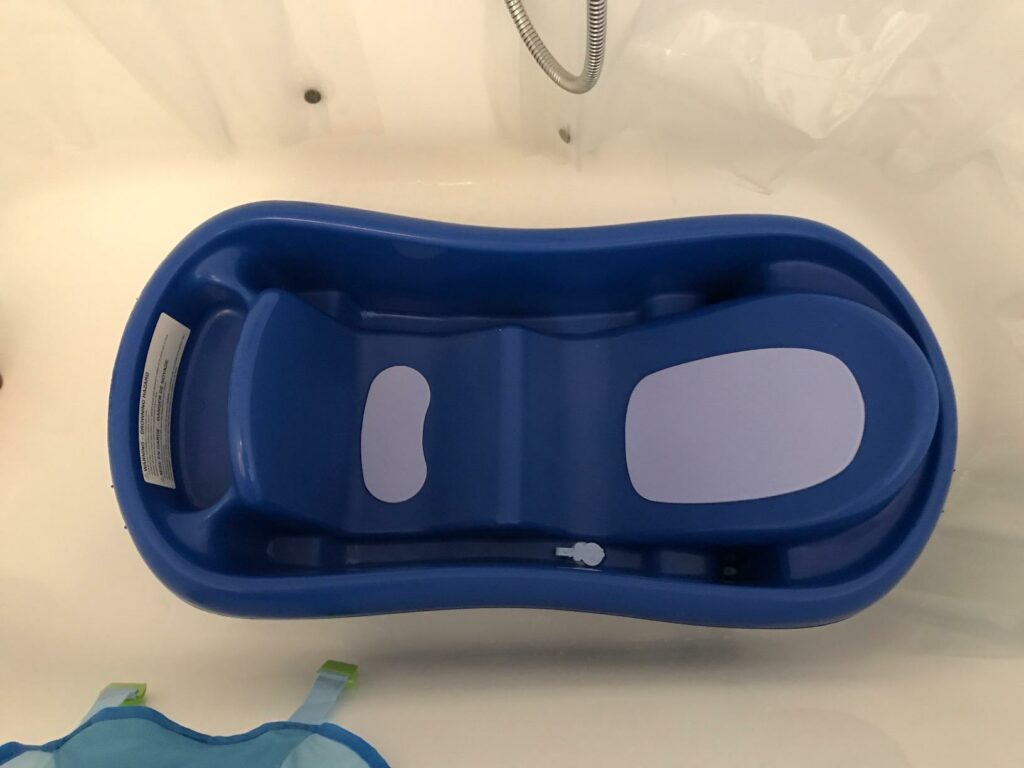 Remind any other caregivers, grandparents of all these safety measures.
Okay sorry to be doom and gloom but bath time is serious business! The most important thing is to use bath time as fun play time and as bonding time with your newborn. Because in no time at all your little infant will grow up. I still remember Oliver's very first bath at home from the NICU, not sure who was more nervous or scared – me or him!