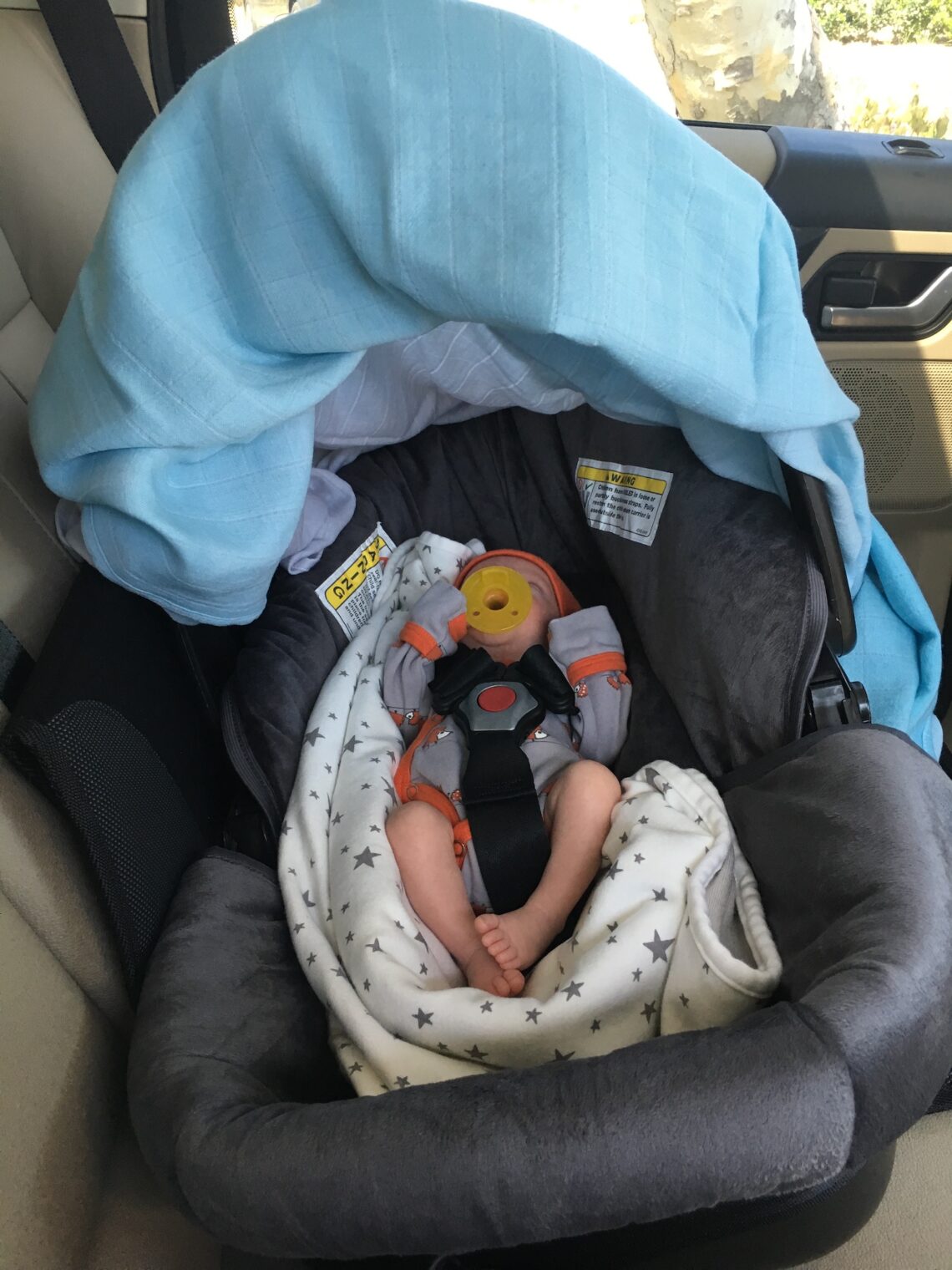 Failed the NICU Car Seat Test? Try an Infant Car Bed Instead
This blog post may include affiliate links that may earn me a small commission at no cost to my readers. I am an Amazon Affiliate Partner and use Amazon product links throughout which may earn me a small commission on qualifying reader purchases. All opinions on my blog are my own and honest, I want my blog to provide information and help my readers become informed consumers, parents and caregivers.
Car seat test day in the NICU can be both exciting and scary when all you want to do is take your little preemie home. For us, it took 3 tries and 3 different car seats before Oliver passed! We were so shocked that he passed and we could take him home THAT day that we didn't even come prepared! We drove our tiny 2 door Volvo C30 that day because we were sure that Oliver wouldn't be strong enough to pass the car seat test but he DID IT! And just like that we had a little NICU Graduate!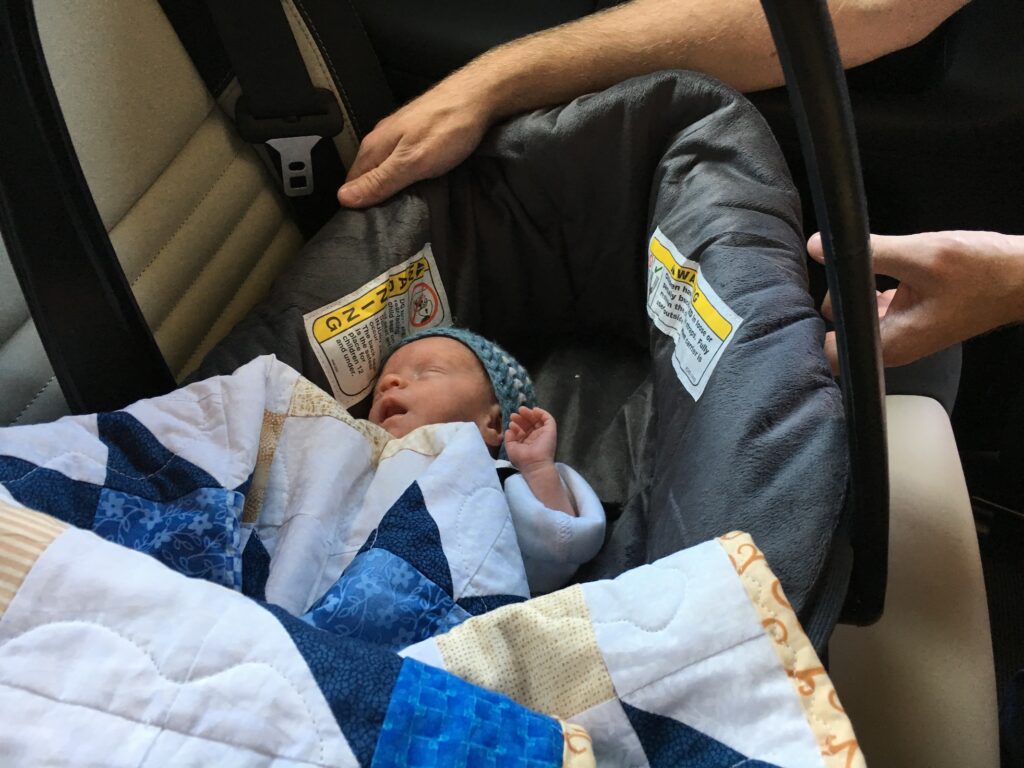 The 2 car seats we tried before opting for the car bed were:
Chicco KeyFit Infant Car Seat This was pretty new on the market when we used it, I believe since then they have upgraded it to be even better. It is one of the most popular infant car seats on the market. It is not a convertible style so it will not grow with your child as much as other car seats.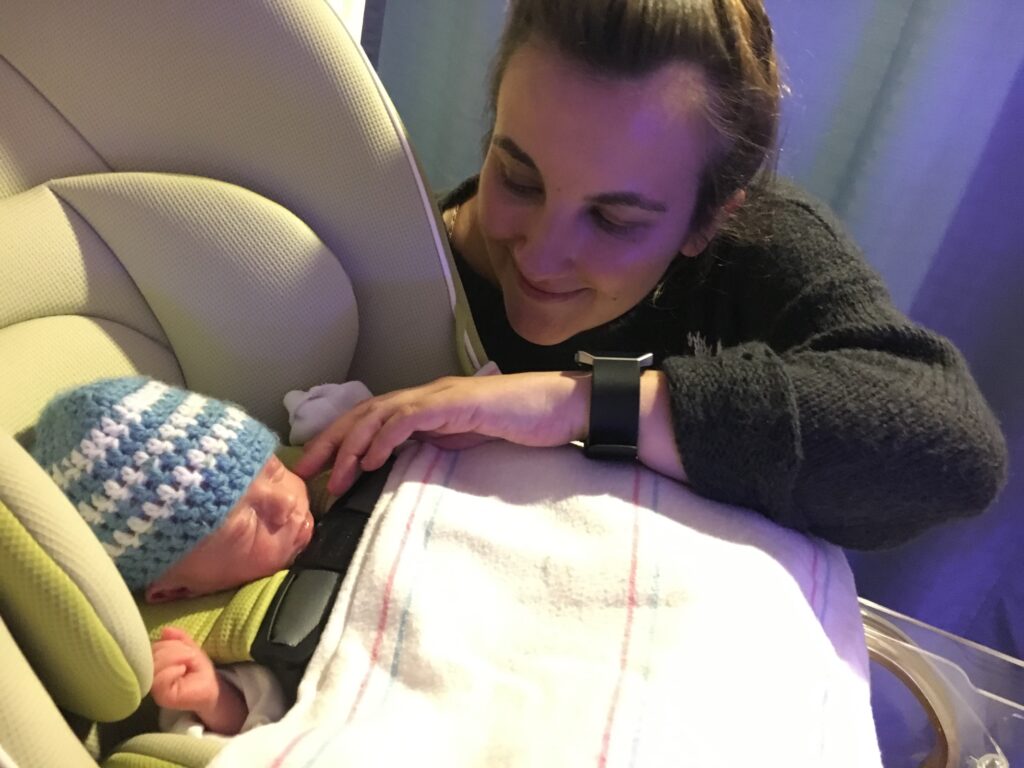 Combi Coccoro Streamlined Lightweight Convertible Car Seat in Key Lime (this one was so lightweight and really felt like high quality, wish it worked out – I still would recommend it if your baby is a bit larger than 4 lbs).
Nothing wrong with them at all they just didn't work with how tiny he was and his inability to hold his little head up. We were inexperienced 1st time parents and absolutely no experience with car seats or car seat weight/size limits in regards to premature babies so we just purchased the highly reviewed, quality ones thinking they would work. But with Oliver being born at 30 weeks, super duper tiny, those "average" car seats just did not work.
The Chicco KeyFit didn't work AT ALL it was way too large. The runner up to the winning car bed was the Combi Coccoro Car Seat, Oliver lasted quite a long time in it before his breathing was interrupted and he had to be removed. That car seat was really nice and SHOULD have worked because Oliver was 3 lbs (which was the minimum required weight) at that time, but as you can see when Oliver was in it, it was just slightly too big, SO CLOSE!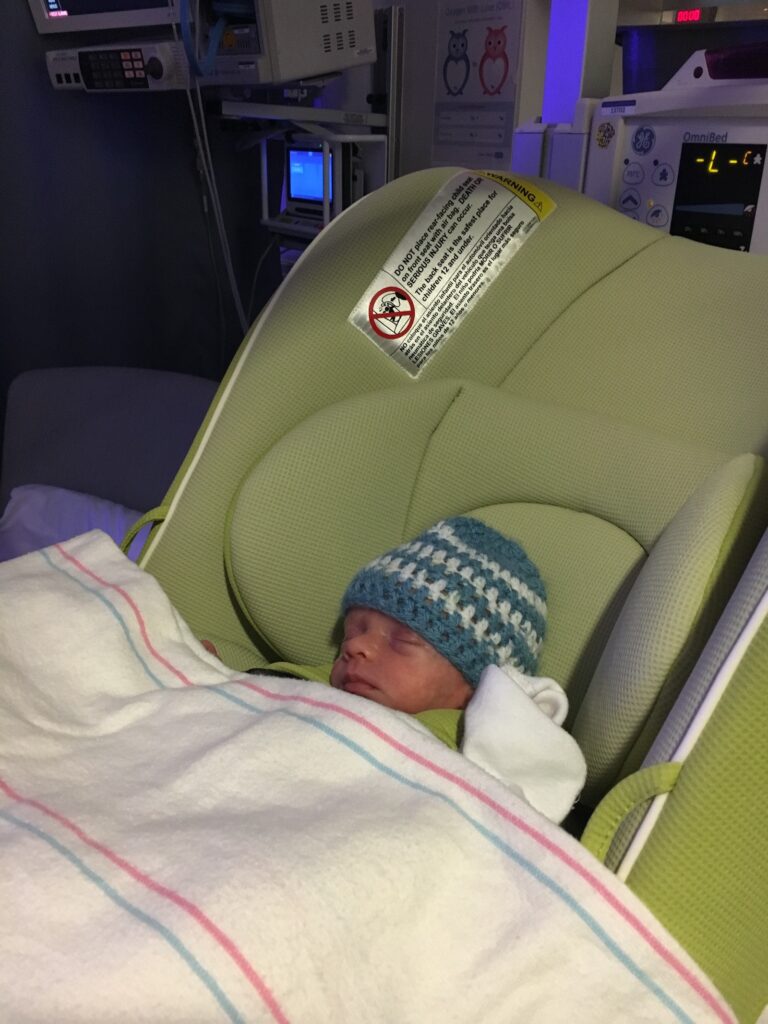 We also purchased an insert to make the car seat fit a smaller baby but were quickly educated at the hospital NICU that inserts are an absolute no-no. Inserts are not tested when car seat manufacturers safety test car seats so they cannot be guaranteed to protect your little one. Some car seats come with extra cushions, those have been tested and are okay to use. We were so green when we started this journey but were fortunate that we had a strong support system at the UCLA Mattel Children's Hospital in Los Angeles.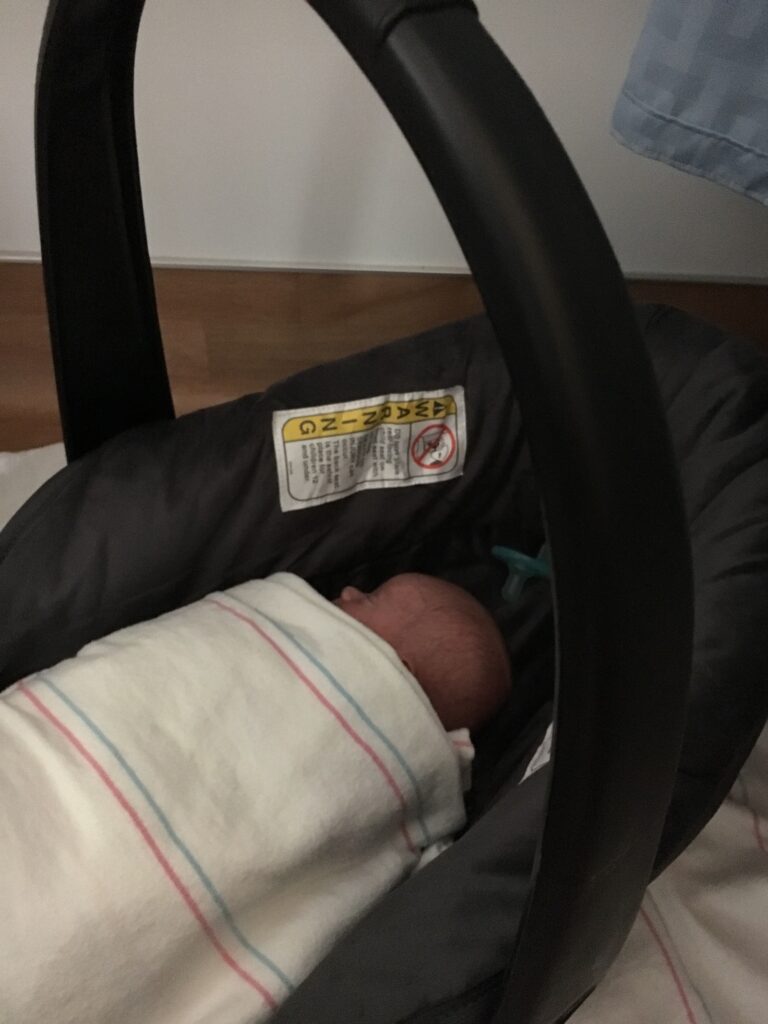 The car "seat" that worked was actually an Infant Car BED. Specifically the Cosco Dreamride SE Latch Preemie Infant Car Bed and Carrier (if it's sold out on Amazon, try purchasing it at Wal-Mart by clicking here or buy it from Target.com by clicking here).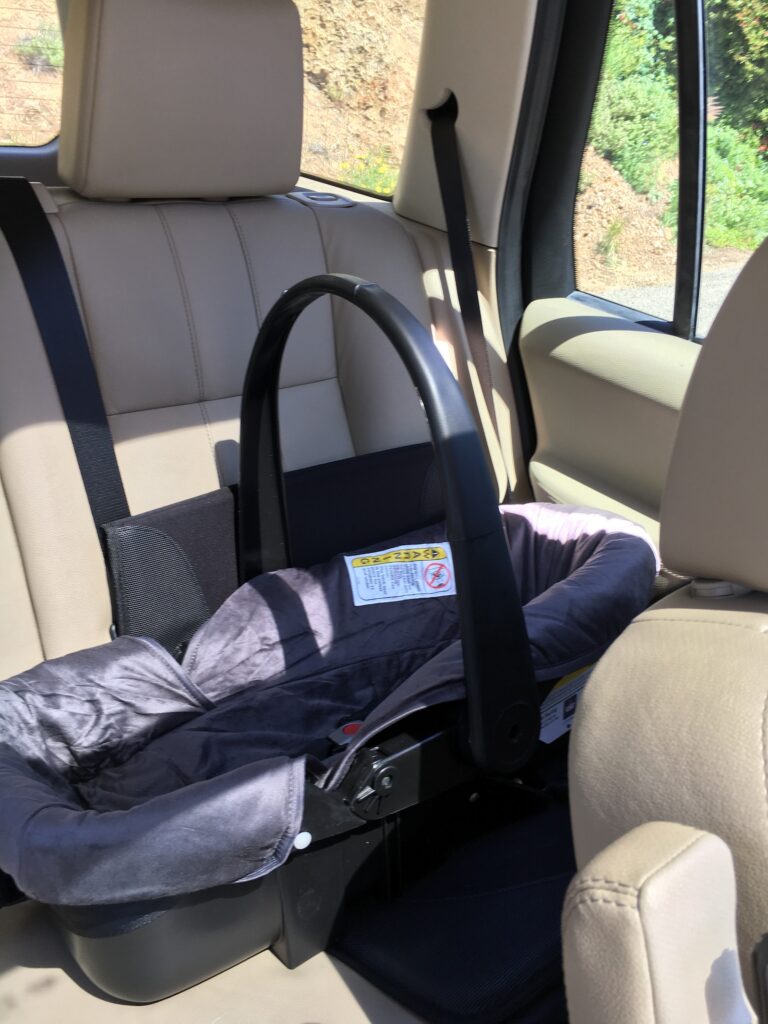 Before that time I had no idea that car beds even existed. But they are a wonderful tool for very small premature babies or babies with special needs. Most of them are expensive but we were fortunate enough to get this one for a very reasonable price. If Amazon is sold out of this car bed, try purchasing it here at Wal-Mart or at Target by clicking here.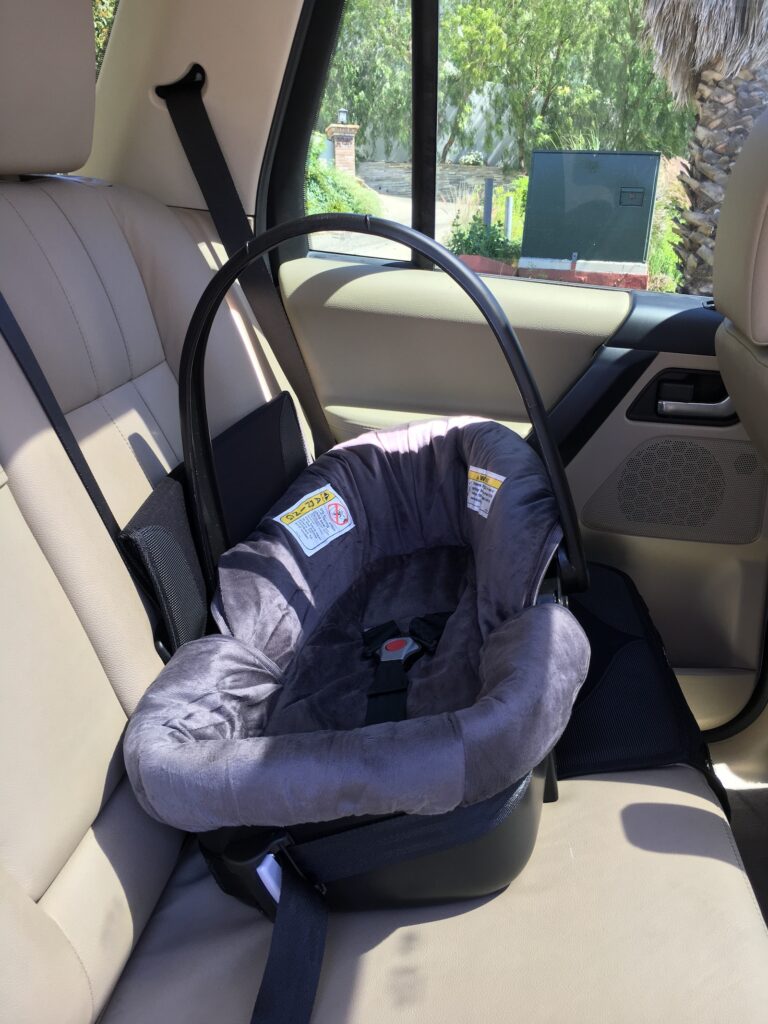 But since then it has become almost impossible to get it which is a shame as it would be so beneficial to parents of preemies and special needs newborns. After 2 failed car seat tests one of the nurses suggested we look into car beds but she did tell us that they were hard to find and very pricey (since then they are even harder to find and cost a lot more).
During the car seat test I think my husband and i forgot to breathe for the 120 minutes! We just sat and listened to all the monitoring equipment beeping and buzzing hoping no alarms were going to go off. We needed to do almost 2 hours of the testing as at that time the NICU was in Los Angeles and we lived in Malibu so with LA traffic being potentially at a standstill, we had to test for worst case scenario.
To make sure Oliver was correctly placed in the infant car bed the nurses showed us how to use a blanket to swaddle him. The trick is that you do not want anything in the way between the baby's body and the harness. So buckle up your little one THEN put any swaddle blankets around them after.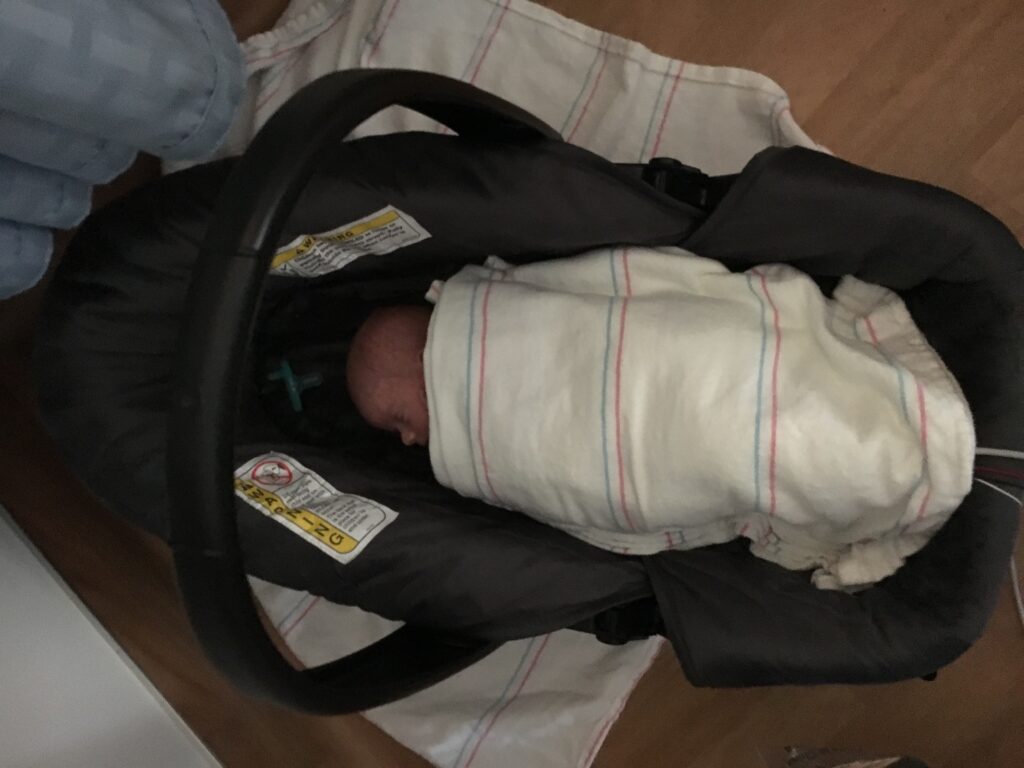 So out of nowhere Oliver finally passed his NICU car seat test! The wonderful NICU nurses all came in and the check out process began after happy tears and cheers subsided. We were utterly not prepared and getting the car bed correctly installed was quite the acrobatic feat for Brian and one of the NICU nurses. We drove our SUV every day but this day we thought we would save some gas and drove our tiny, 2 door Volvo. That's just how life works! But we were over the moon!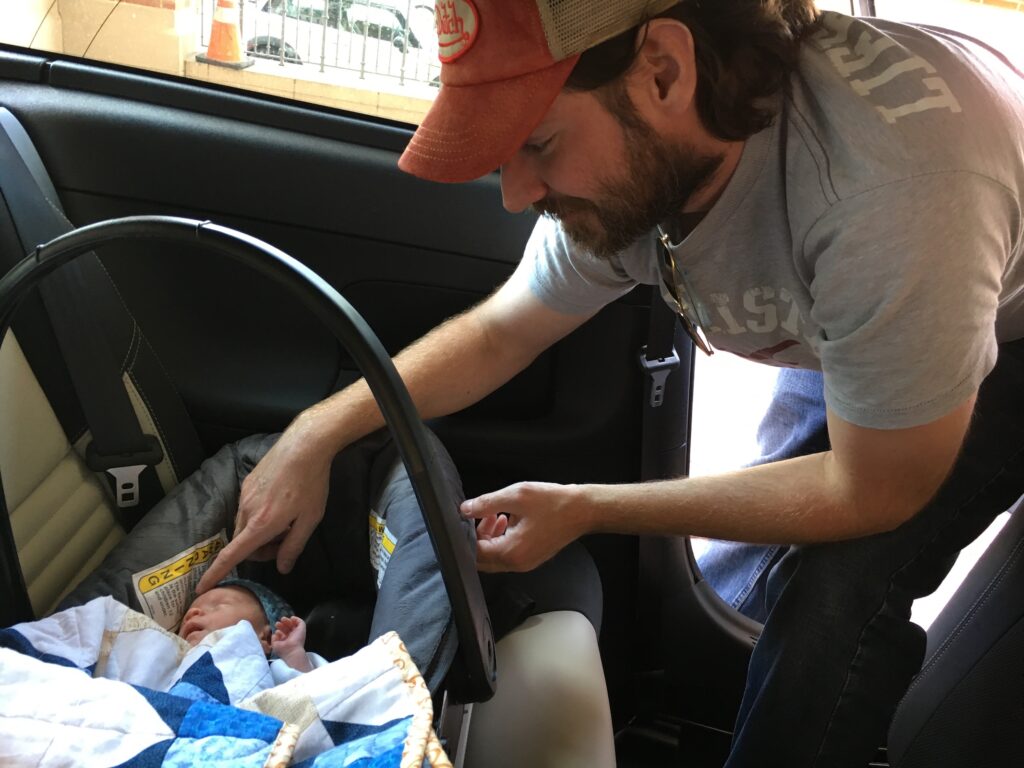 Benefits of a car bed versus a car seat include being able to transport a premature, low weight or special needs newborn. Most car beds allow babies to be safely transported either on their backs or tummies if required. A newborn's fragile, developing organs benefit from the child laying down instead of being slumped upright in a car seat. Therefore a car bed may benefit ANY newborn in pure comfort. Remember, when an infant is in a car bed, an adult needs to sit with them at all times.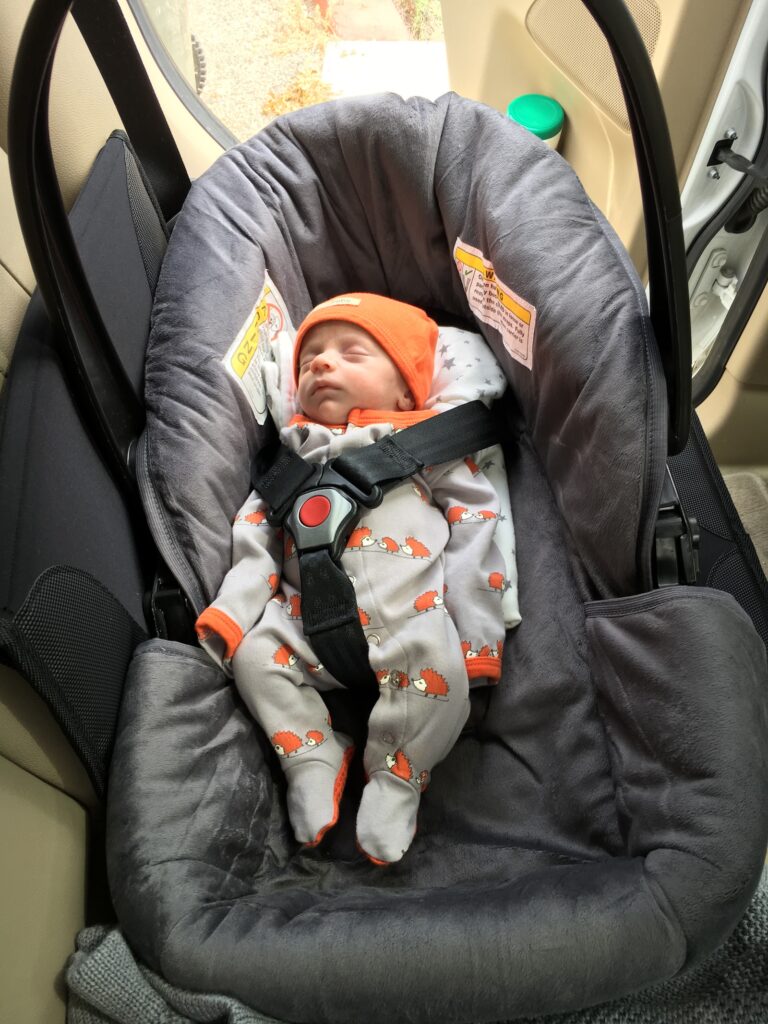 Quick Tip: Make sure to purchase a car seat protector to protect your car's seats as they will get scratched up, imprinted with an outline of the infant car seat and can even rip holes in fabric, leather-like and leather seats. This is the car seat protector we use, we've had the same one for 5 years now and it's still holding up great. It is sturdy and very highly rated. It is slightly more expensive than other options but it will hold up for years.
During sunny days I used the Aden & Anais merino wool muslin swaddle to throw over the top handle of the car bed as a little canopy.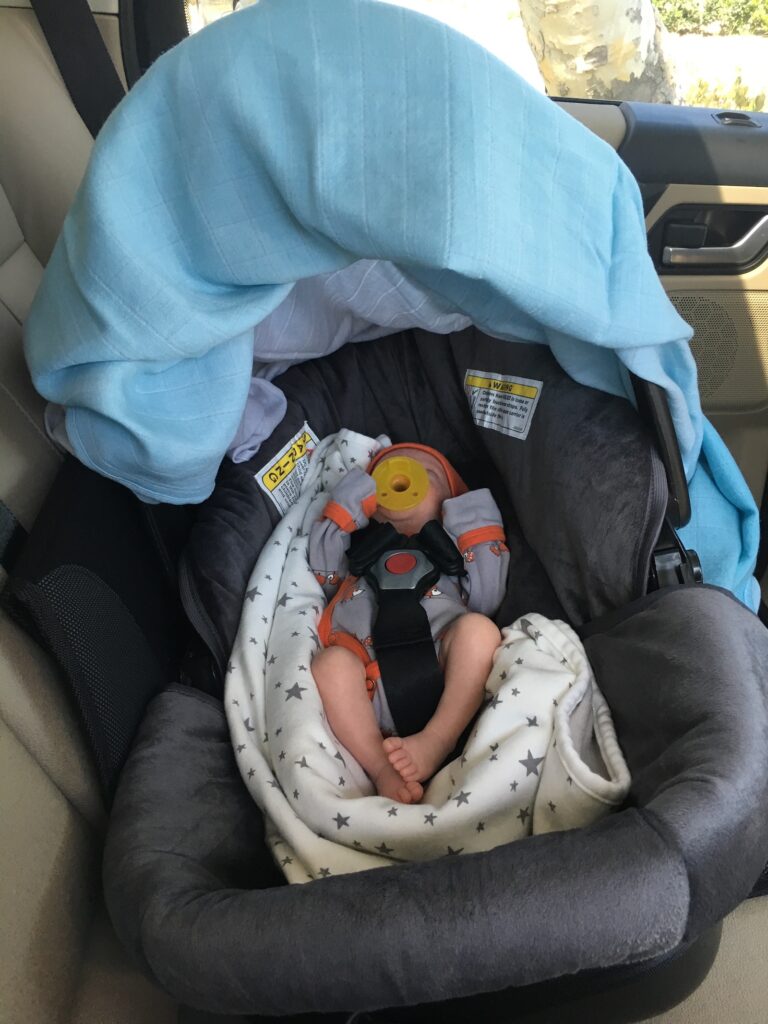 During colder days I used the Woolino merino wool blanket over the secured harness or under as a cushion. I also was a huge fan of the Disana merino wool receiving baby blanket (in orange to match our Bob stroller LOL).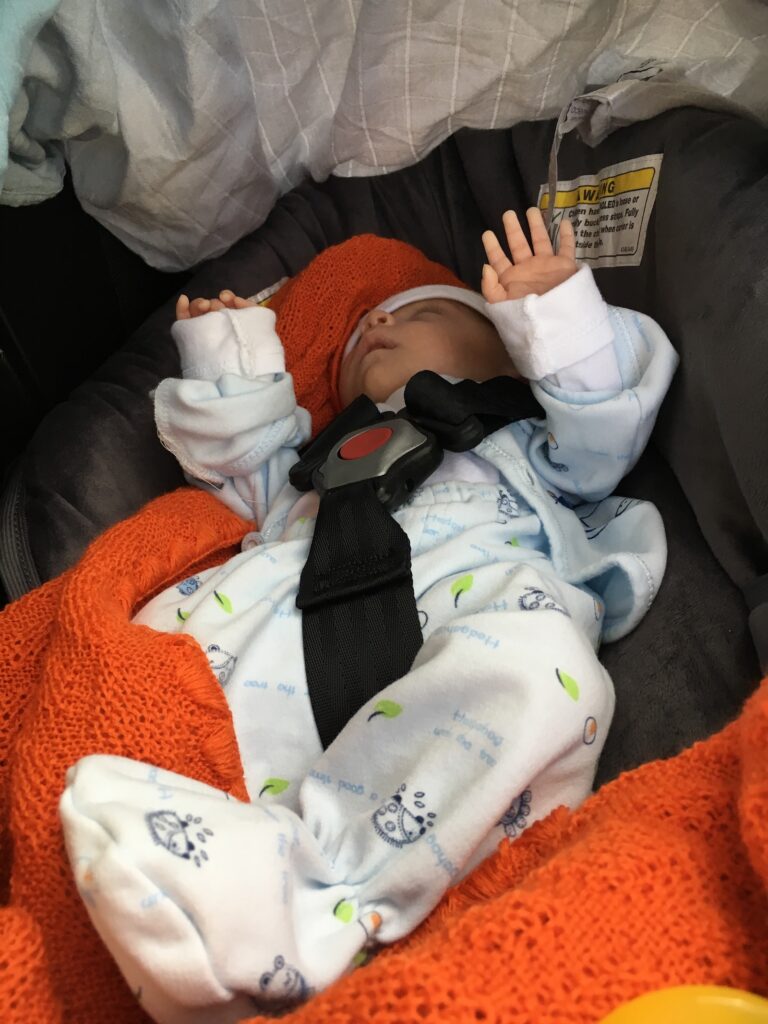 As a quick side note: Oliver being super tiny we had to get some "Preemie/Newborn" size clothing and we absolutely LOVED L'ovedBaby as they came in ultra tiny sizing and they ran slightly small which was just perfect for the tiny 3LB Oliver!
All in all I am so grateful for having the option of a car bed. I just wanted to share this quick experience for anyone else who may be struggling with the NICU Car Seat Test or seeking comfortable options for transporting a super tiny preemie or special needs newborn. I know how devastating it can feel when all we want to do is pass the Car Seat test and get our little munchkins home safely.
I tried to find some options for purchasing but it was a little hard I suggest using the keywords "infant car bed" searching on google , amazon , Ebay, or speaking with someone at the hospital NICU to see what can be done.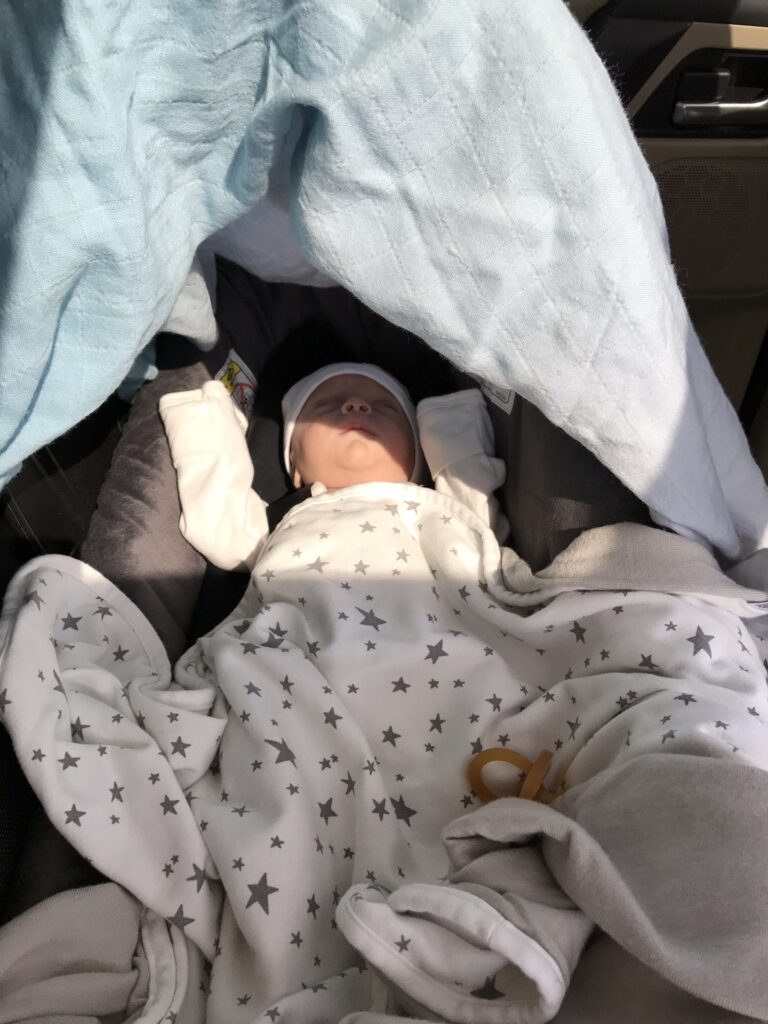 If your child is special needs, you may be able to get a special needs bed / car seat using your insurance provider.