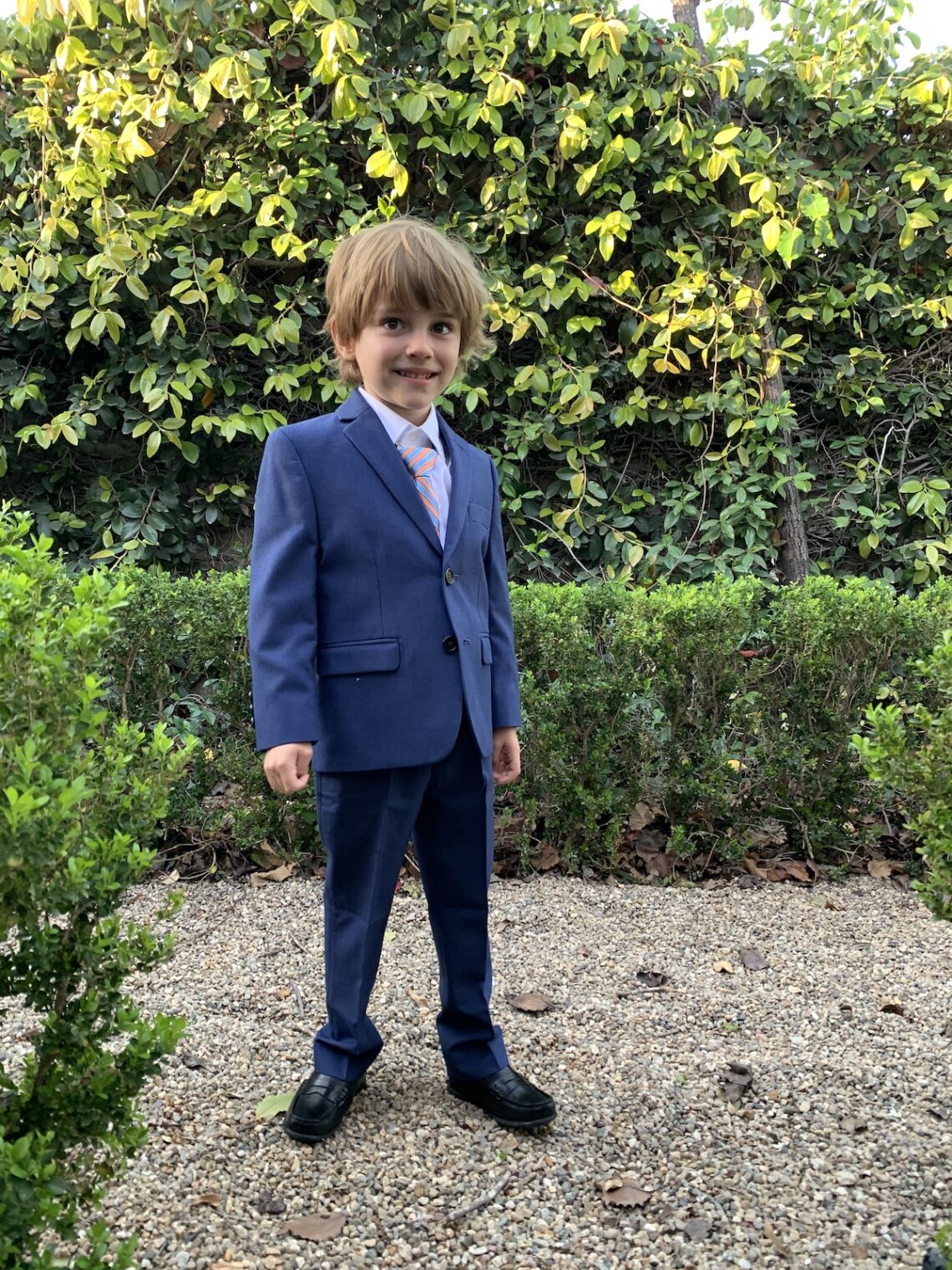 Best Semi-Formal Suit Separates For 4 or 5 Year Old
This blog post may include affiliate links that may earn me a small commission at no cost to my readers. I am an Amazon Affiliate Partner and use Amazon product links throughout which may earn me a small commission on qualifying reader purchases. All opinions on my blog are my own and honest, I want my blog to provide information and help my readers become informed consumers, parents and caregivers.
There's something so adorable about little kids dressing up that when Oliver's Pre-K requested them to dress in semi-formal attire for their school photo, I couldn't help myself and purchased a TON of options. The best semi formal suit separates for 4 to 5 year old kids are detailed below. For reference Oliver at the time of this post just turned 5 (he was 5 and 22 days to be exact). He is very slender and on the shorter side. He is a true size 5 in little kids (sometimes I guess called 5T).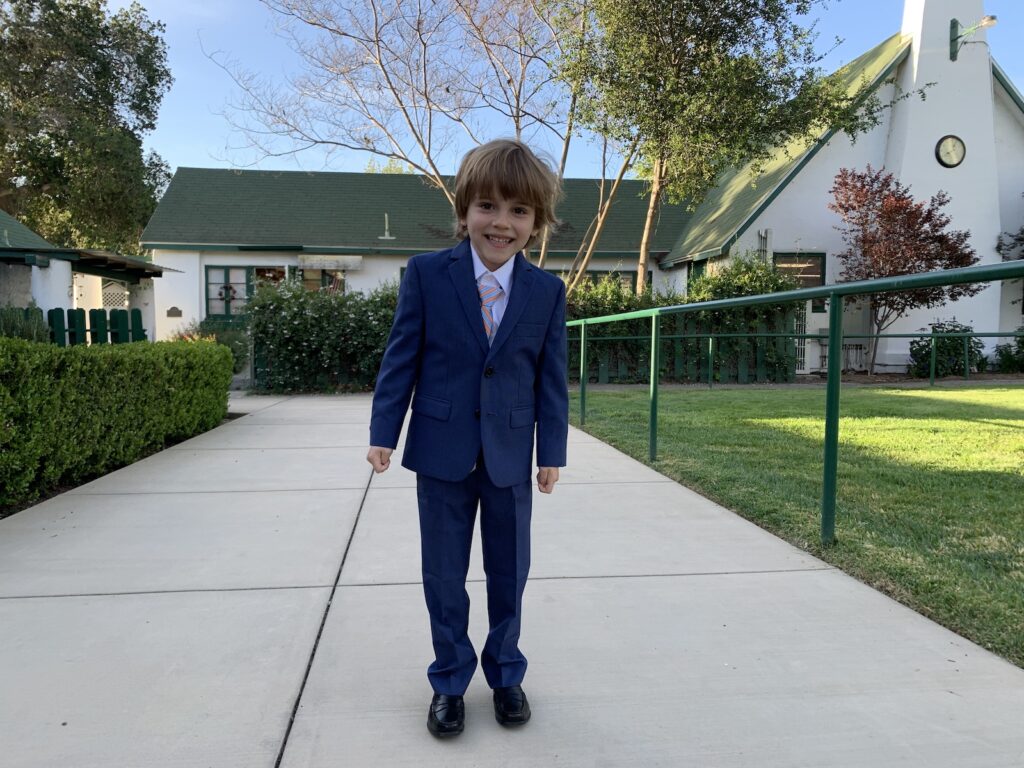 I looked at several colors and settled on this blue. The burgundy seemed too cartoony, the black was just dreary, the grey was too boring and the light colors like cream just seem like a bad idea for a 4 to 5 year old kid. Furthermore, Oliver's private school which is on the traditional side, requested that the children not wear light colors, wild patterns and non-traditional colors and styles.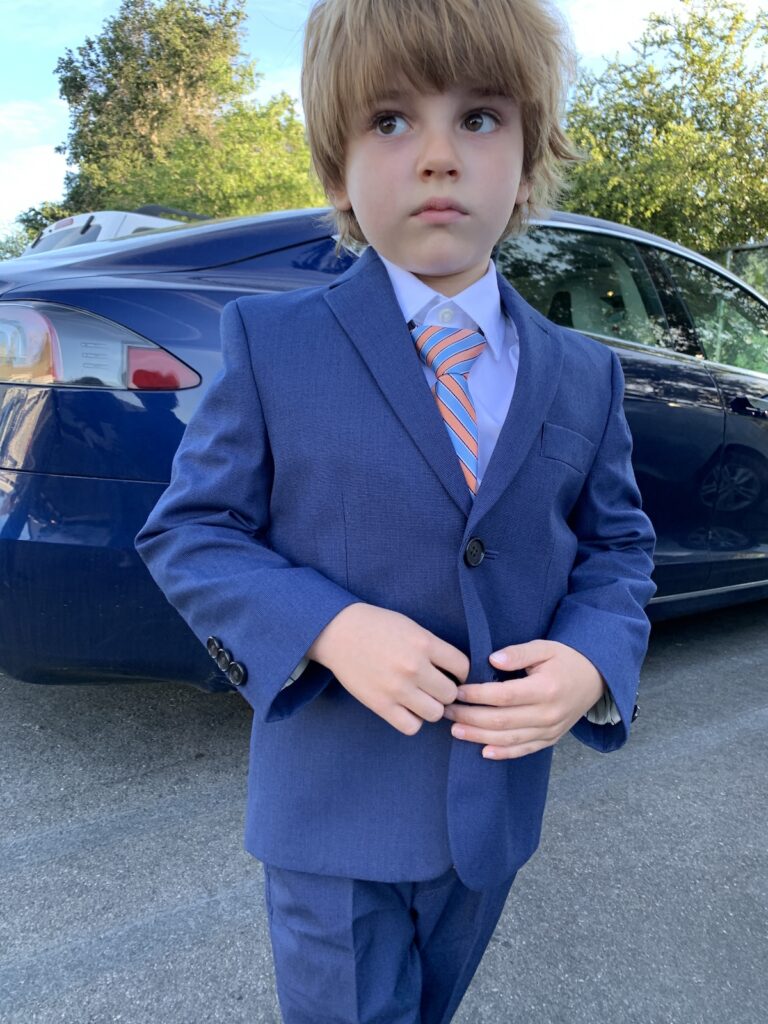 It's been a while since I shopped on Macy's website or in store but their selection online was amazing and they had the sizes and colors I needed in stock, ready to ship fast. I didn't want anything TOO pricey but I also didn't want anything that felt very "polyestery". I really loved the Lauren by Ralph Lauren Wool Kids separates because you can mix and match the suit jacket and pant sizing and colors. I purchased the little kids size 4 and 5 in both the jacket and pant and ended up going with the 5 for both as the pants have little loops and buttons to adjust the waist and the length was absolutely perfect for Oliver. The 4 did not work as the jacket was too snug in the waist and shoulders and the pants were too short.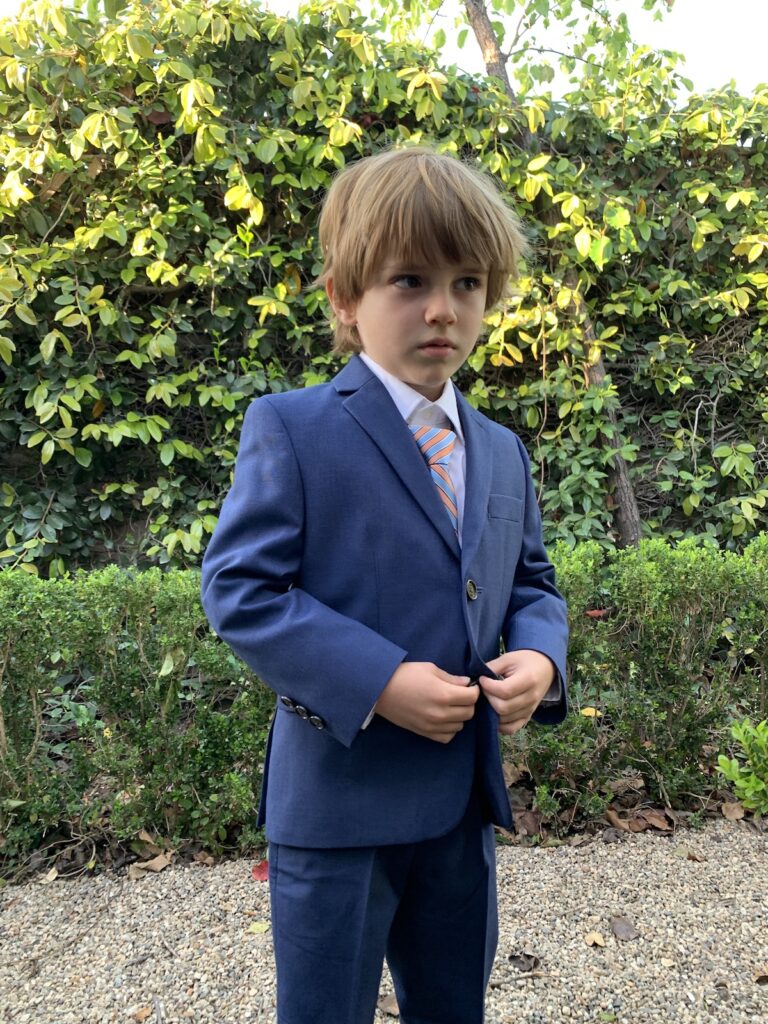 The "Blue" color is just perfect. It's not a navy blue, it's a pretty unique darker true blue. The jacket at the time of this post retailed for $190.00. The pants retailed for $85. Unfortunately because the event was coming up I ended up paying full price and didn't have the luxury to shop around. I did, however use Rakuten to get some cash back (I believe at the time it was 4%). So remember to install the "R" on your browser to get cash back at no cost to you! Follow my link to get started.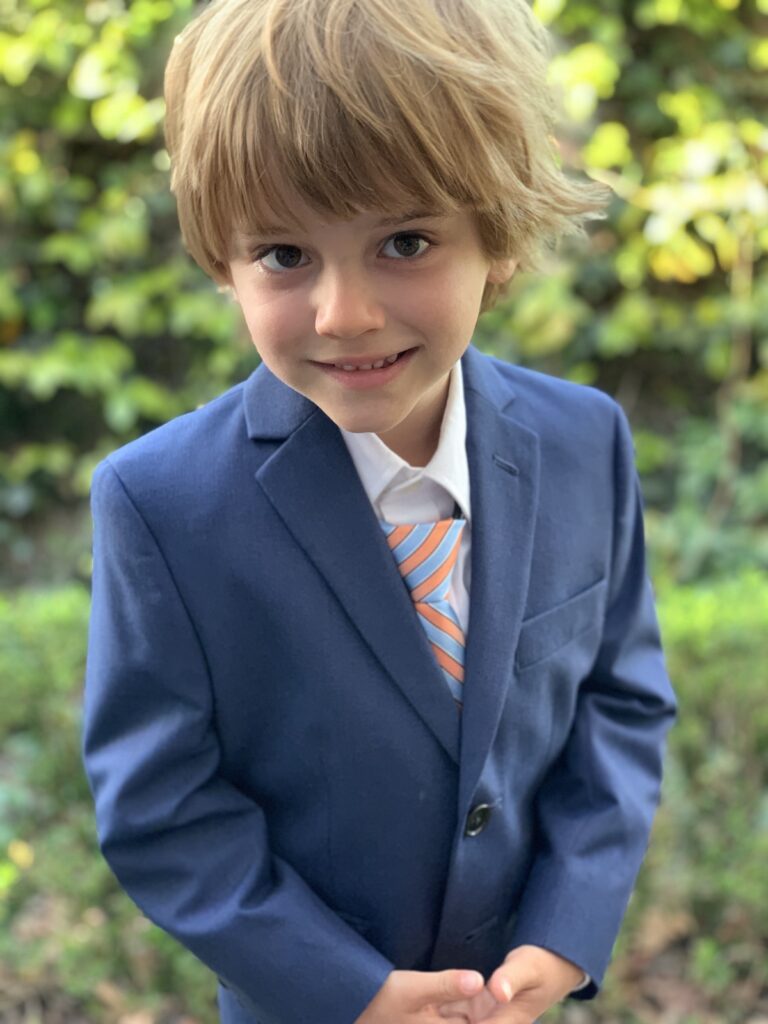 The quality and fit do warrant a higher price point for sure! This suit both feels expensive but also fits impeccably and doesn't have that swish swoosh of polyester.
Lauren by Ralph Lauren Little Boys Wool Suit Jacket
The "Little Boys" sizing goes from 4T up to a size 7. After that there is a Big Boys size option that goes from 8 to 20 which should cover most kids up to 16 years old. This suit is a "Classic" style but it is definitely best suited for a slim child. Oliver is a very slender 5 year old and the jacket was JUST right. As much as I love saving money, a suit is one of those items the kids can't grow into as it needs to fit perfectly. Most definitely size up if your child is taller than average or if they are a bit on the chunky side.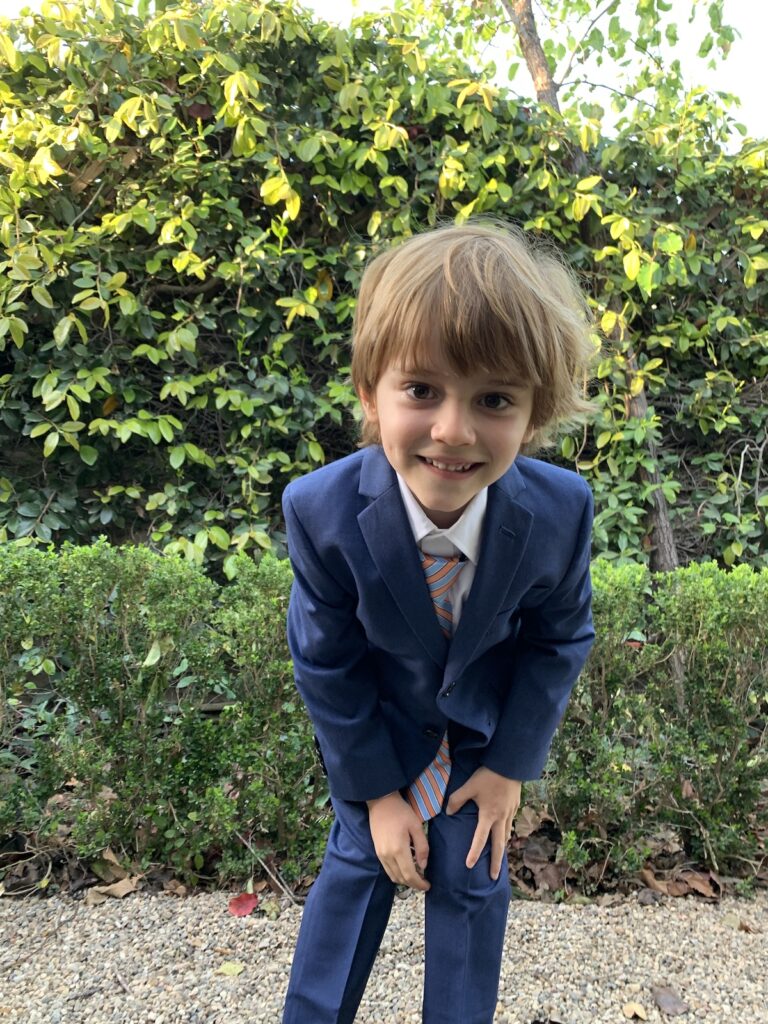 The wool fabric is not itchy or heavy, it's quite lightweight and smooth. The lining is nice and matches the outside of the suit coloring on the bodice. The lining in the arms is striped with an ivory background. The jacket truly "moved" with my 5 year old as he goofed around. Not stiff, not stuffy at all. But of course that does mean a more expensive price point which this was. I wish the Internet would have "feel-a-vision" so you could feel the fabric because it's really surprisingly luxurious for a little kid suit!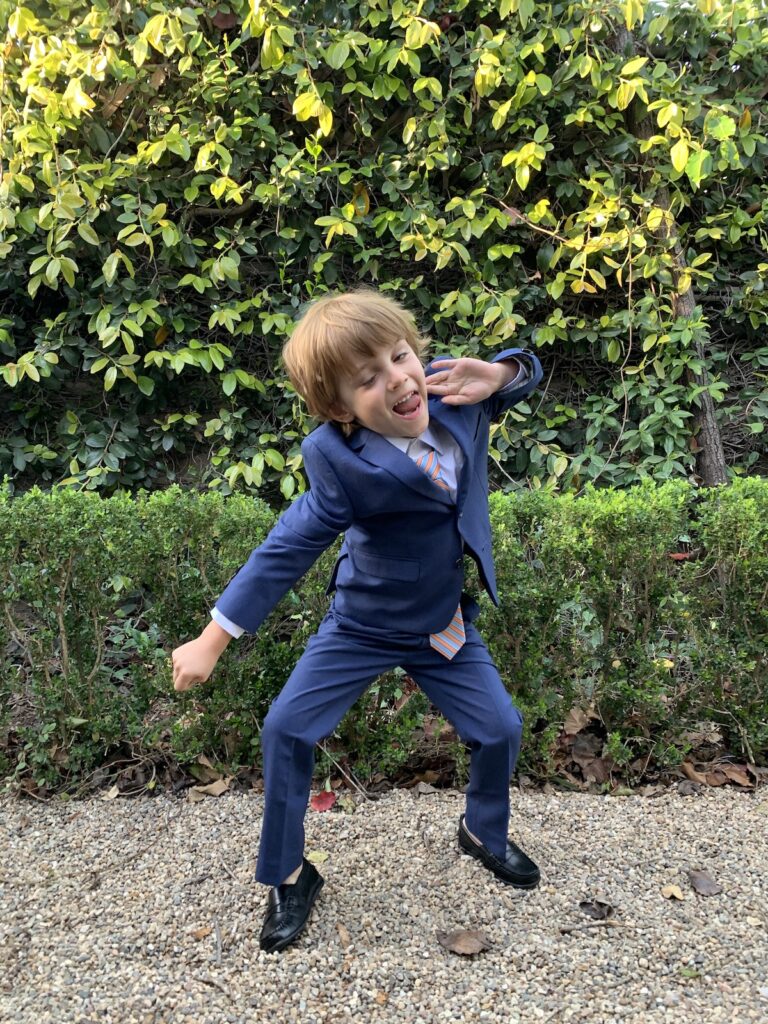 The other features include traditional, semi-formal notched lapels. 2 button closure with dark navy buttons to match the suit. If you're looking for contrasting buttons, try looking at Sport Coats. Pocket at the chest for a pocket square and flap pockets at the front sides. The rear has a single vent. The sleeves have 3 slightly overlapping kissing buttons which match the color of the front buttons.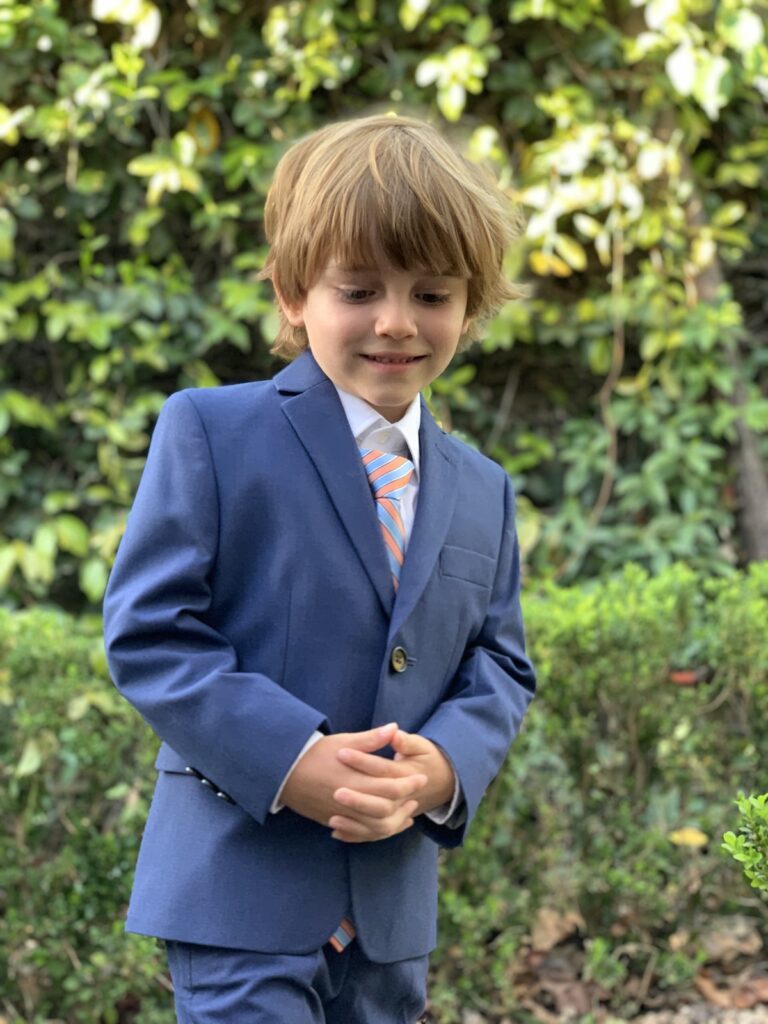 The jacket features a Continental (or sometimes called an Updated American) shoulder. The Updated American shoulder style is popular with American Designers including Ralph Lauren, Tom Ford, Hugo Boss, Michael Andrews and others. This type of shoulder is lightly padded for a more natural look and it follows a straight line from the collar to the shoulder. This shoulder style is most common as it is not structured yet provides a dressy look for most occasions without drawing attention to an overwhelming jacket structure.
Lauren by Ralph Lauren Little Boys Wool Dress Pants
The "Little Boys" and "Big Boys" sizing is identical to the suit jackets but you can mix and match the 2 separates. These dress pants are a "Classic" style but they are definitely cut more for a slim child. Oliver is a very slender 5 year old and the pants were slightly large in the waist but just the right inseam. There is definitely room to grow in the adjustable waist but the length was perfect. Definitely size up if your child is on the tall side but the waist is pretty generous and fully adjustable. For reference, at the time of this post, Oliver just turned 5 (22 days before) and was about 42″ tall with longer legs and average torso and his weight was approximately 40 lbs.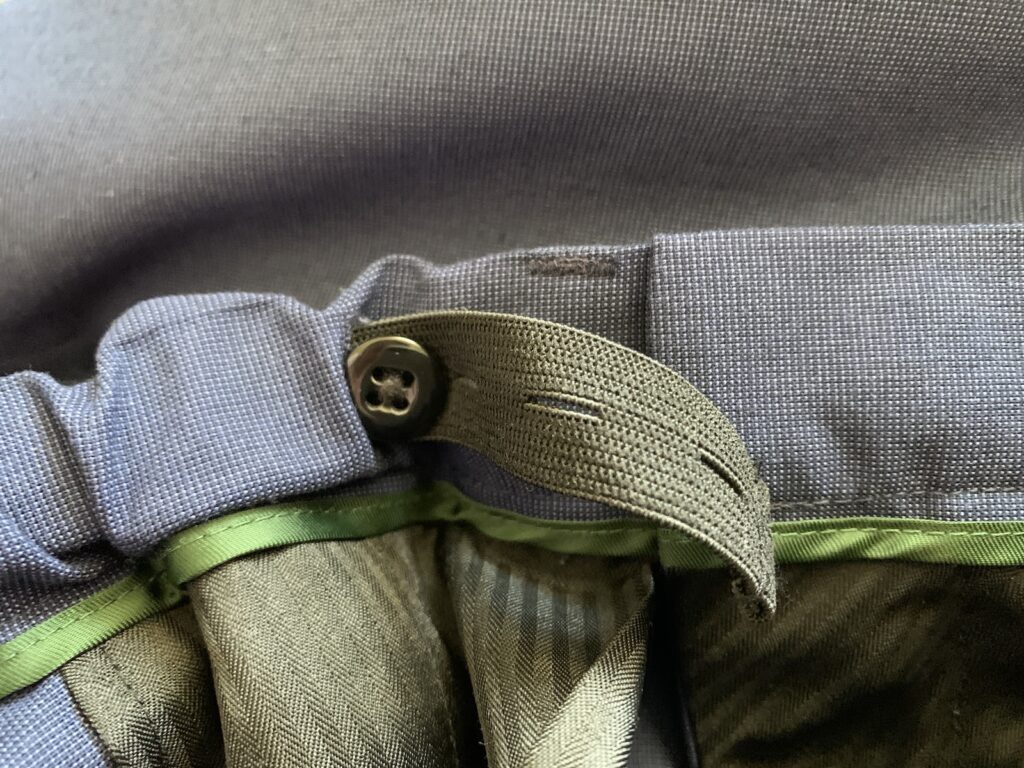 The pants have slight stretch to them but most importantly the waist on these is fully adjustable with interior buttons and elastic tabs. The front closes with a zipper and button. The legs fit rather slim and there is a nice crease on the front to keep the pants looking dressy and to keep them hung up correctly. The pants are unlined wool. The wool is smooth, lightweight and not itchy. There is no cuff at the leg openings. There are belt loops to support a belt. Small, slit, quarter pockets at the front hip and welt pockets at the back.
Remember suit pants are supposed to sit high on the waist bone much higher than jeans and should be able to be worn without a belt. The back should be fitted but not stretched or tight (no one wants a split seam when they sit at a fancy party). A clear sign the pants are ill fitting is when the pockets bow out. Opt for a larger size if that happens. As for the length, for a small child 2 looks are recommended. The "No-Break" which is what Oliver went for, means the pants just barely graze the back of the loafer and there is no dent in the front of the trousers – this is suited for a no socks look – which Oliver ROCKED. The "Half-Break" is the most popular because it's best suited for almost everyone is where the back of the trouser falls just below the top of the shoe and the front has a slight dent in the fabric. Either look is guaranteed to be a success as long as the back is not dragging on the ground fraying the bottoms – we've all had THAT experience and it's not classy at all.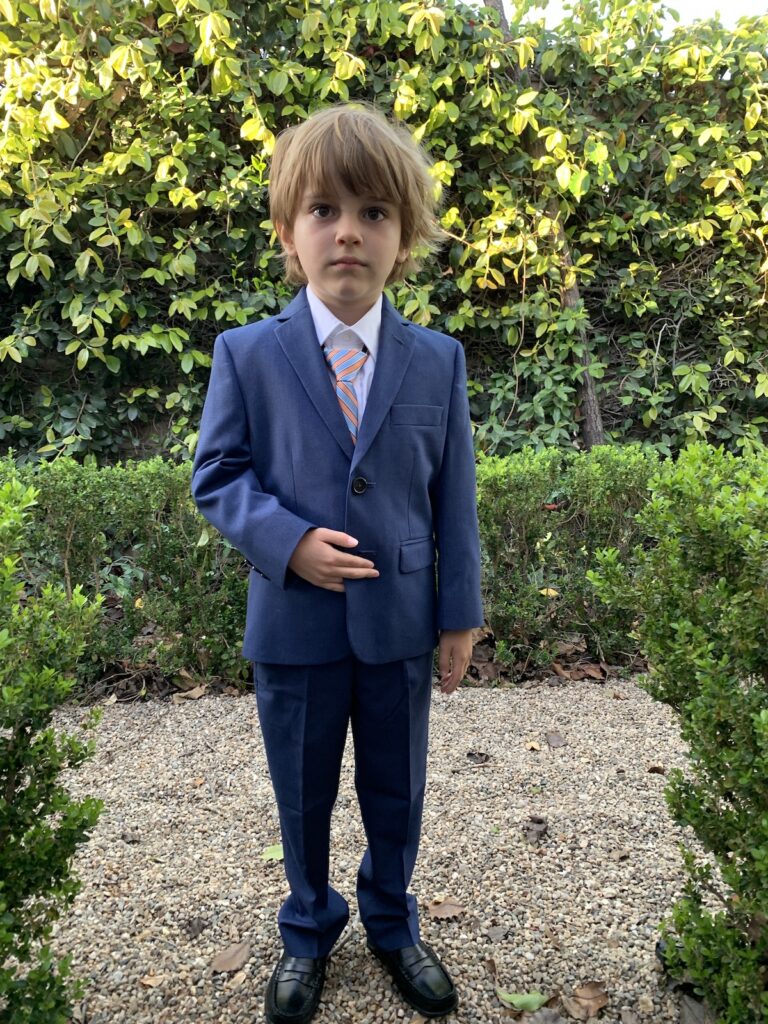 The pants are unlined but have a slight weight to them. There is a slight hint of stretch for a nice, classic fit. This fabric is revered amongst fans of Ralph Lauren formal-dress attire and it is considered the most comfortable and breathable within the less expensive Lauren collection. Which was great for us as the day Oliver had to dress up for his special event was a squaltering 98 degrees (WOWser).
Lauren By Ralph Lauren Little Boys Wool Suit Jacket and Pant Set Final Thoughts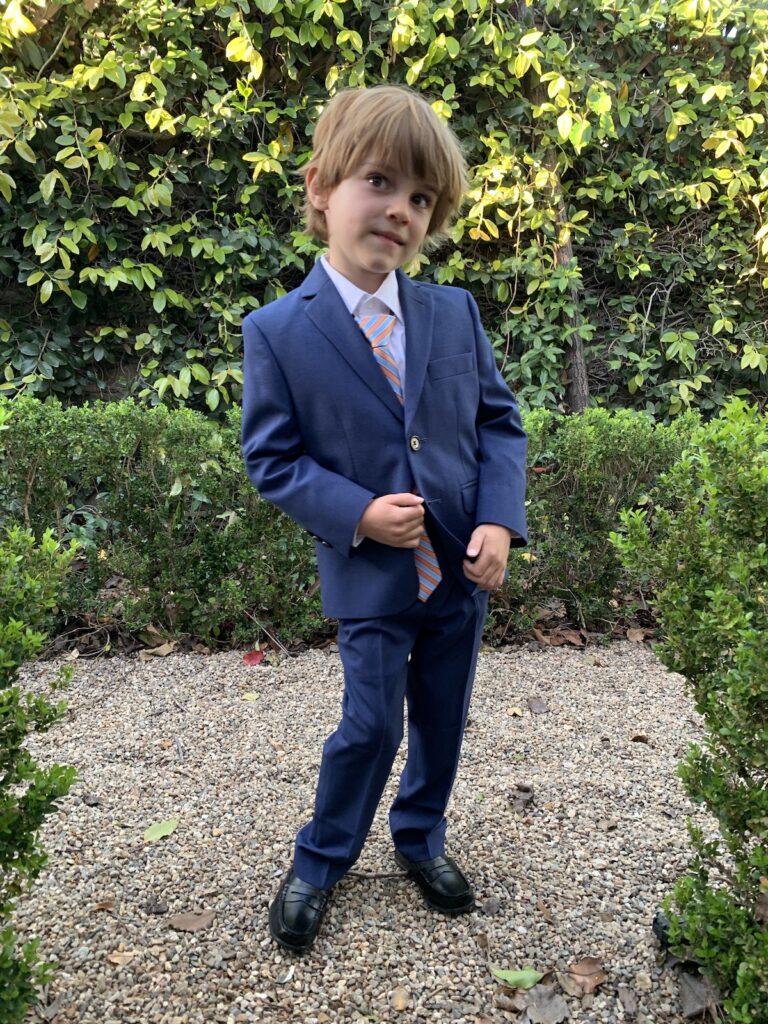 Both the jacket and pants are dry clean only. Both pieces are made in Vietnam. Vietnam is known for good suit making around the world (not the best but well made, above average, affordable quality). So this set, for the price, being made in Vietnam is a pretty good deal.
Oliver not only looked amazing in his suit, the suit also fit him perfectly and moved with him. It allowed him to be fancy yet still be able to goof off and be a silly 5 year old.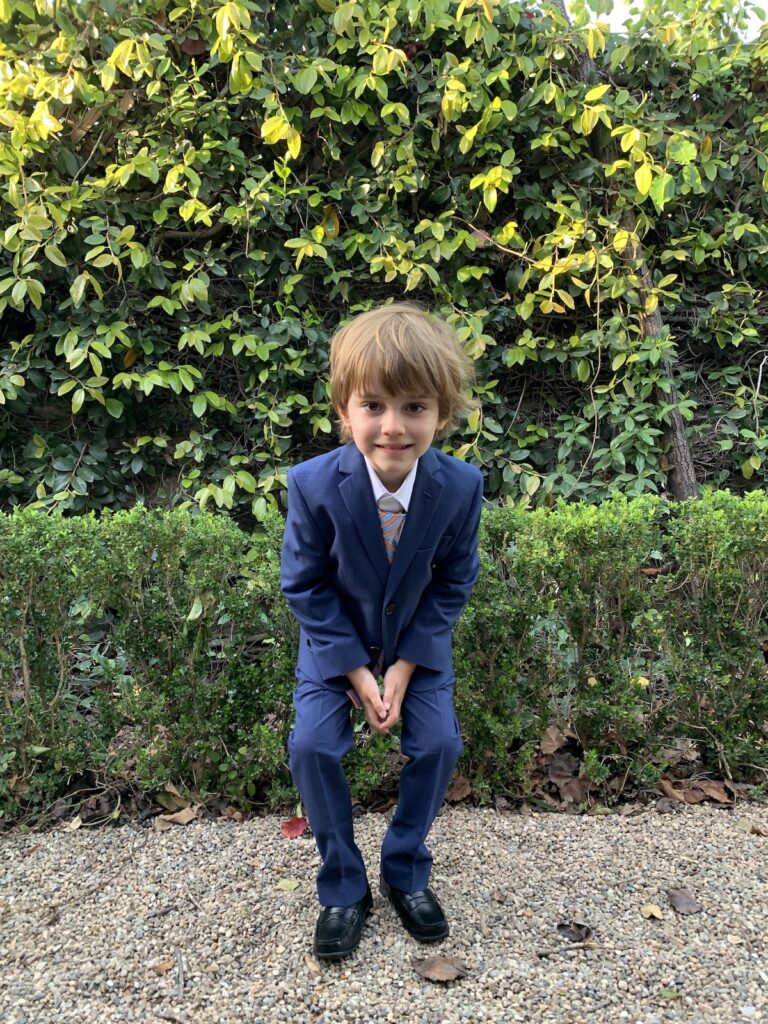 I paid full price for the suit. $180 for the jacket and $95 for the bottoms (excluding tax) in 2022 on the Macy's website. Not counting my cashback from Rakuten. Macy's offers FREE shipping on purchases over $25 (with shipping perks for their members).
Just about three weeks later Macy's had their annual Lowest Prices of the Spring Season Sale and later the Friends & Family Sale! Which typically happen mid-March and mid-April. These suits went on sale by quite a lot! So if you know your little one will need to snazz it up for an event, be on the lookout for this sale, it's really worth it! You can really save a ton and I don't mean like 15-20%, I'm talking about 40-50%, no joke!
Complete the Look
Below are items to complete the look that Oliver wore. All these items were purchased on the Macy's website.
Florsheim Jasper Driver Jr Penny Loafer: These penny loafers were just the cutest thing ever! Oliver wanted a sock-less look so I opted for a classic, black leather loafer from Florsheim. This style is called the Toddler Boy Jasper Driver Jr and it is stylish, lightweight and comfortable. They also have this exact shoe in a variety of sizes from Toddler, to Little Boy to Big Boy and a very similar style for Daddy to wear as well. Florsheim has a beautiful variety of kids dress shoes to choose from if this isn't the right style or color.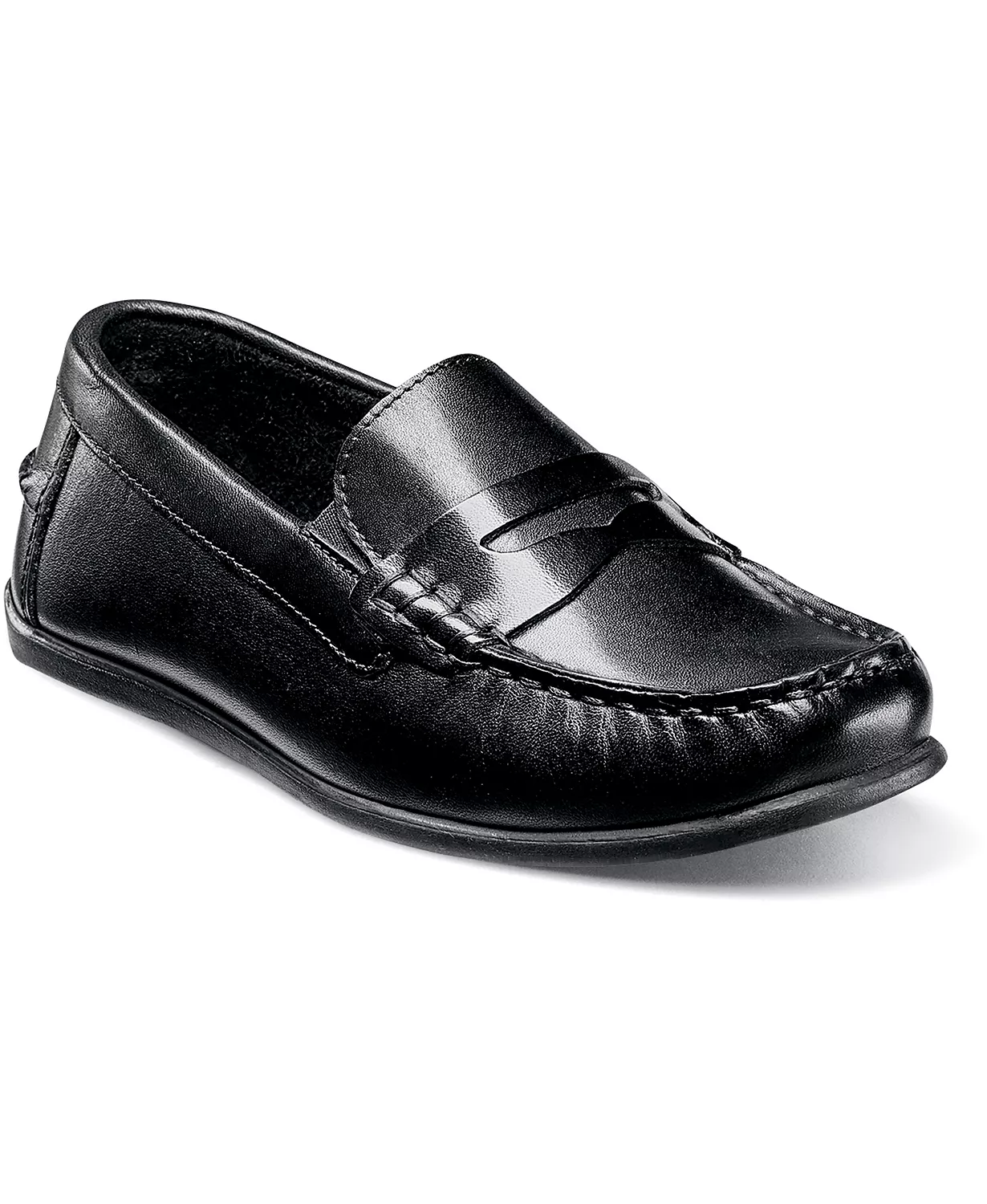 The dress shirt Oliver is wearing is from Ralph Lauren like the suit but you could go with ANY, less expensive option.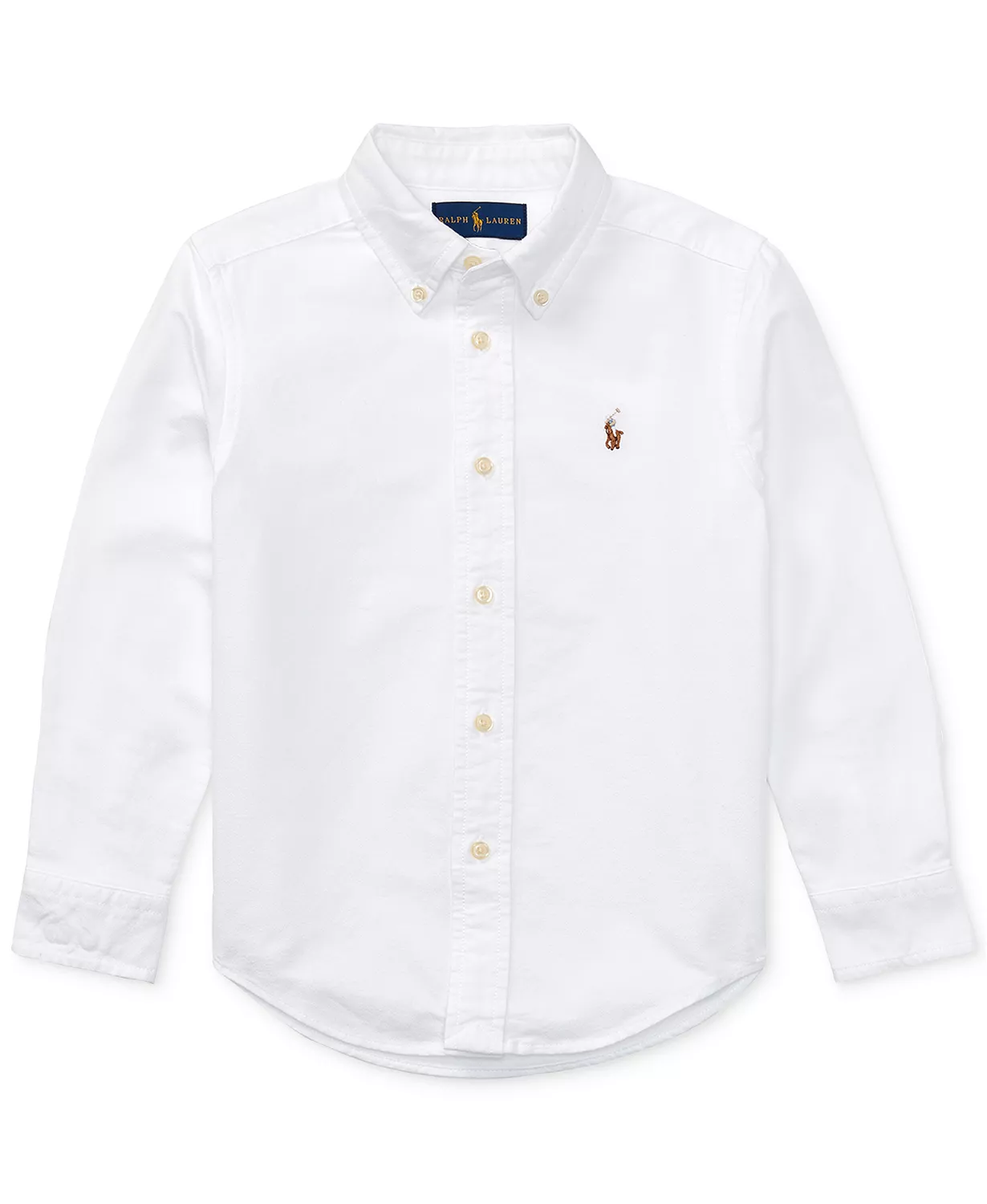 Believe it or not finding a tie for a toddler proved to pretty tough! Most of the available ones were for older, taller kids and we didn't want Oliver's tie to hang down to his knees! I came across something I never saw before: suit ties with "zippers". This takes the guesswork out of tying a tie! Which for a bouncy 4 or 5 year old may be just the right solution, you know how fast they get "bored". The zipper feature on the tie is pure genius! Just slip it over your little ones head and when you cinch it, it falls into place with a hidden zipper. They can even do it themselves. One of those "why didn't I think of that" inventions.
This particular tie was from Tommy Hilfiger but shop around because there are even silk versions for a decent price (like this $24 one from Nordstrom).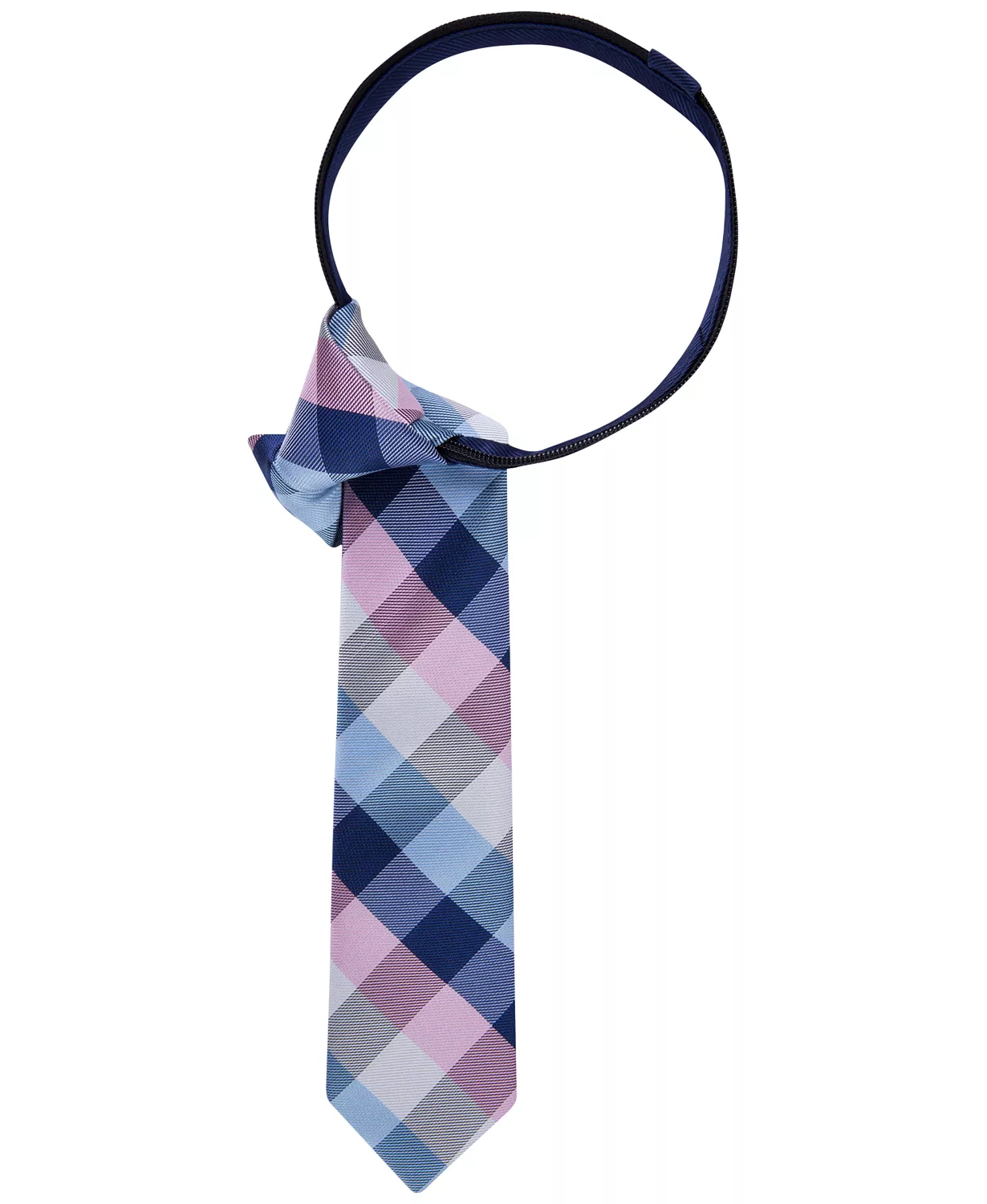 Oliver did not wear socks with his look but I ended up purchasing the set shown below just in case. I was really drawn to the playful patterns of the little teddy bears. These socks are on the thinner side (poly/spandex blend), great for dress shoes. And it's always great to show off your personality with some fun socks especially when you're all business on the top.