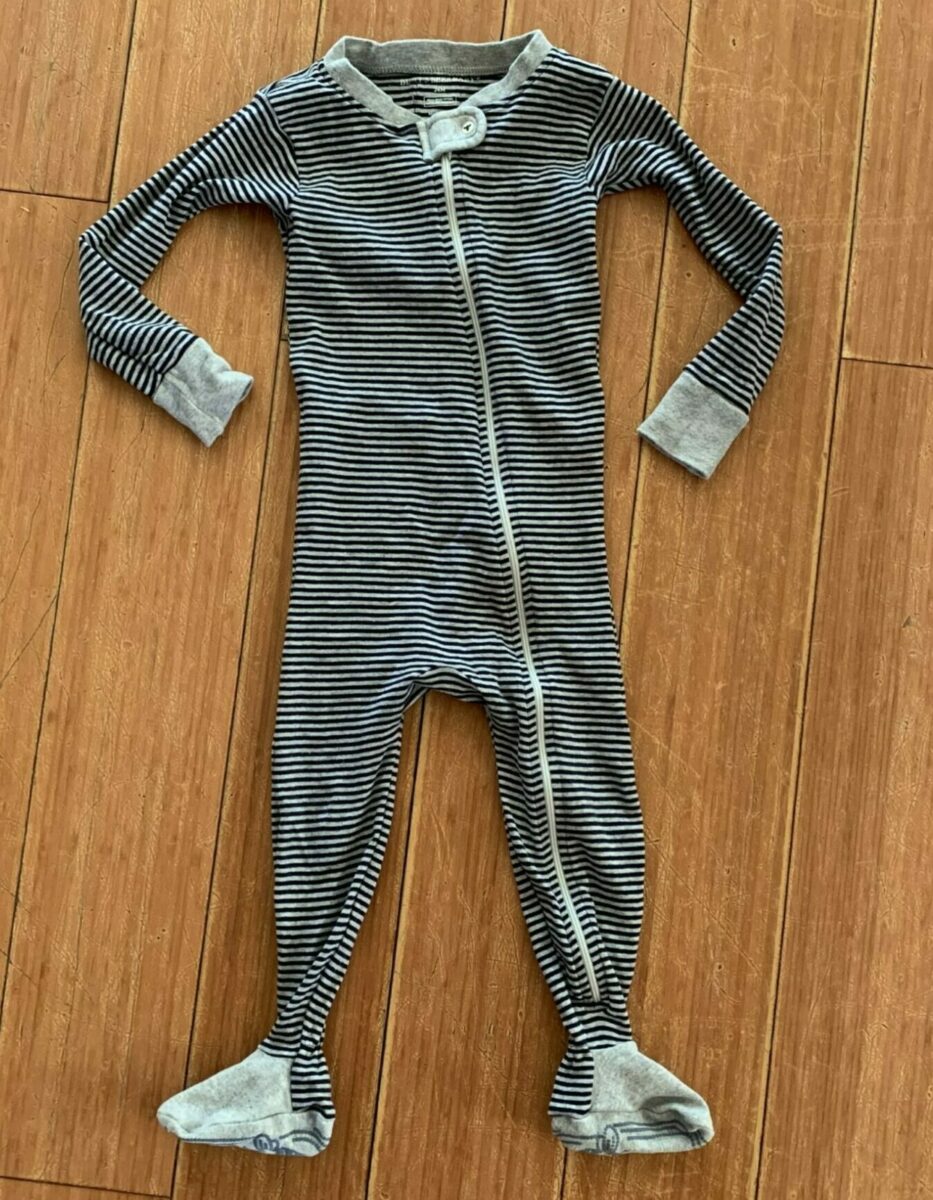 Why are Burt's Bees Footed PJs So Awesome?
This blog post may include affiliate links that may earn me a small commission at no cost to my readers. I am an Amazon Affiliate Partner and use Amazon product links throughout which may earn me a small commission on qualifying reader purchases. All opinions on my blog are my own and honest, I want my blog to provide information and help my readers become informed consumers, parents and caregivers.
The classic baby pajama from Mama favorite Burt's Bees. What makes this a classic? Well lets get started.
Besides being from one of the most trusted brands for babies, this footed pajama onesie is made out of award-winning organic cotton. So, you might ask, what awards did these perfect PJs win? Well, from 2016 to 2019 these babies won the "Snuggliest PJs" Cribsie Awards. Burt's Bees is made from GOTS certified organic cotton. Ringspun and combed with shorter fibers removed for soft and breathable 100% organic cotton PJs.
There are literally COUNTLESS prints of these sleep and play onesies but this rugby stripe is definitely a neutral and a favorite. The grey and navy colors are unisex but probably geared towards baby boys more.
The fit is super snug for sleeping tight without letting the bed bugs bite. As stated on the Burt's Bees website: "Snug fit to show off those chunky thighs!"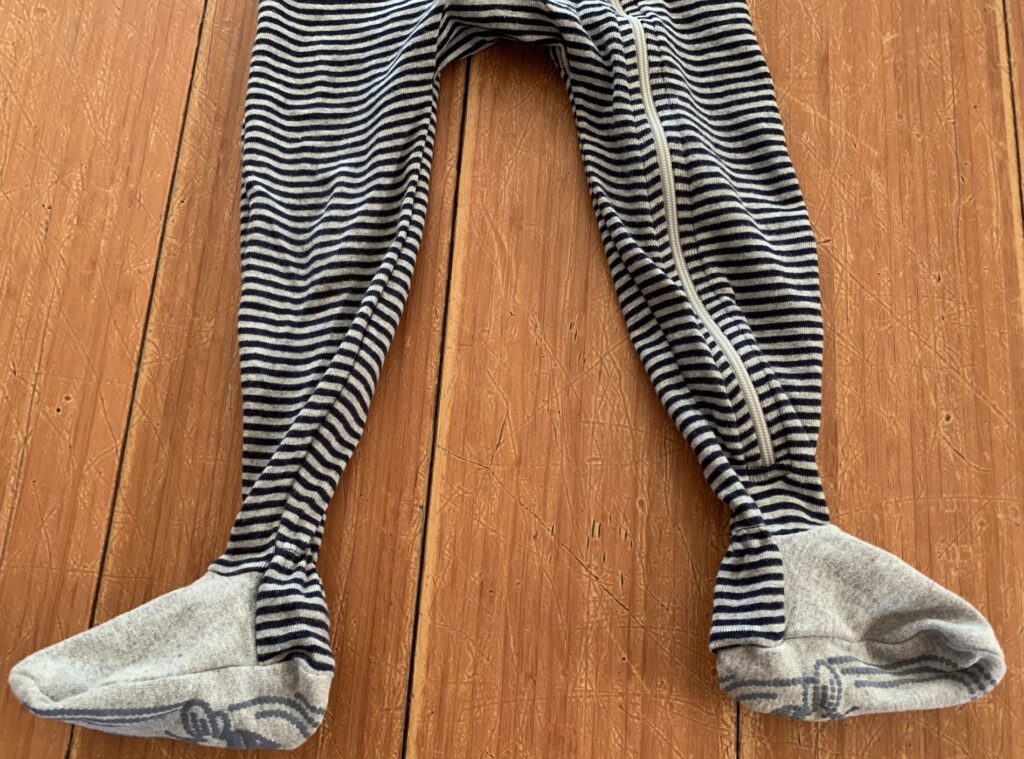 Elastic at the ankles to keep the footies in place through the night or during play time. Non-slip "bee-grip" for extra stability as they learn to walk or are already running since it is included on all the sizes. Diagonal zip front for easy on and off and diaper changes.
Stretchy and soft band around the wrists for extra comfort that won't ride up.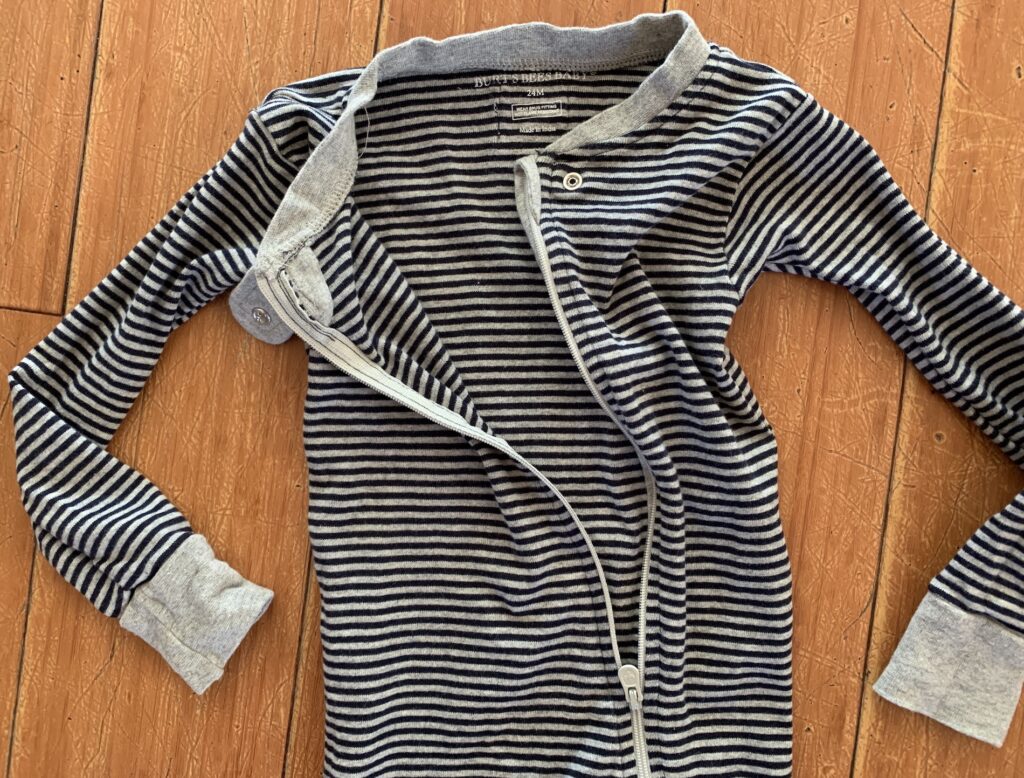 Zipper guard with snap button at the neckline to keep the zipper safely away from baby's delicate skin. Plus, that snap tab at zippers keep those curious little ones from unzipping those zippers (speaking from personal experience here).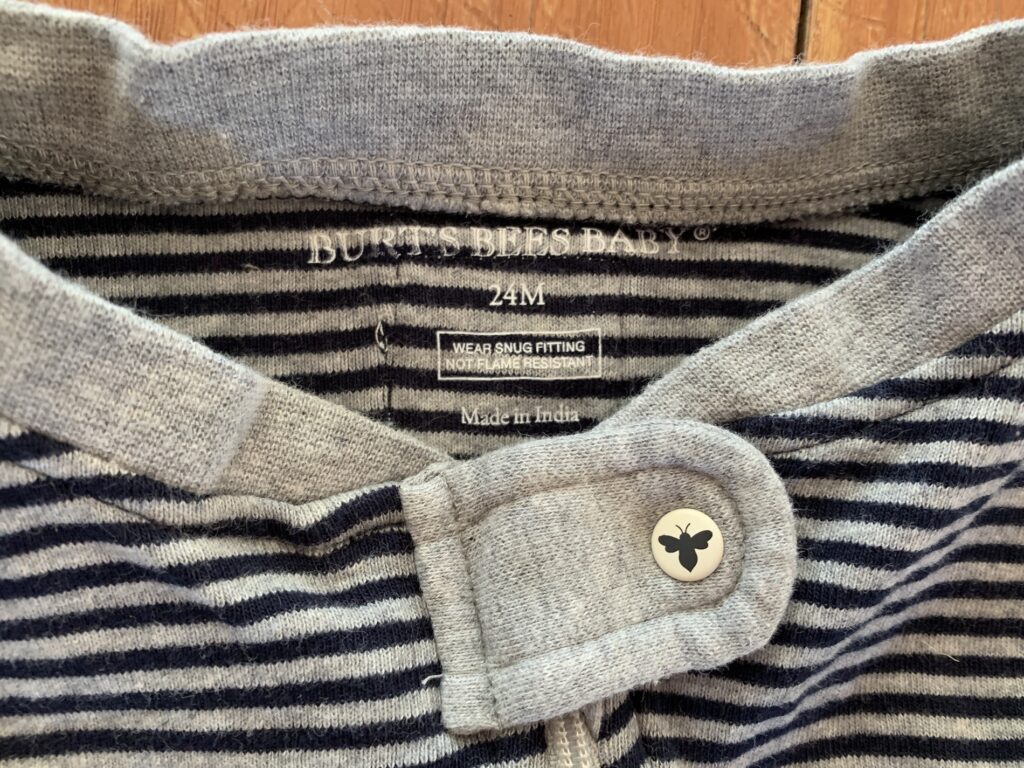 This piece is yarn-dyed which means the yarn is dyed before being woven for ultimate vibrant coloring of the stripes or other patterns. Because the yarn is dyed before woven versus being dyed after woven in large sheets the process is very time intensive but it does warrant a more fade resistant fabric. Which is great for baby items because we all know babies clothes need washing A LOT!
Made in India in socially and environmentally responsible factories. Burt's Bees prides itself in its GOTS certification. Since Burt's Bees began back in 1984 (making beeswax candles) they have always been committed to fair working conditions and natural ingredients so after launching their organic baby clothing in 2012 their commitment continued.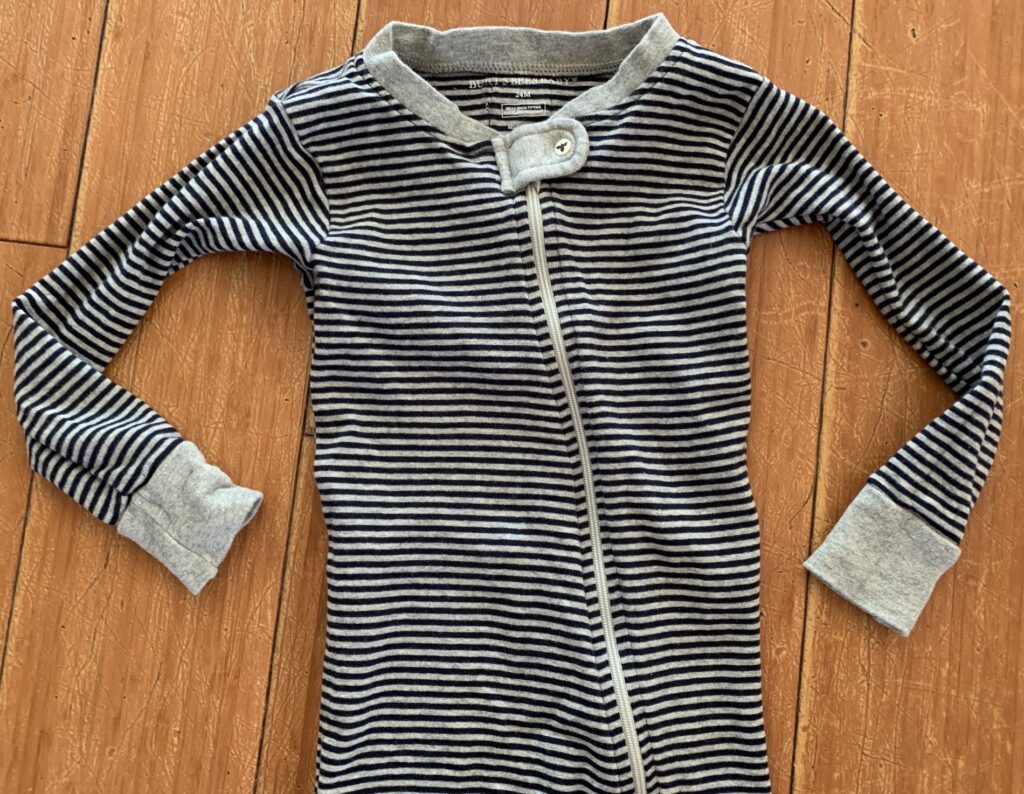 Burt's Bees Baby is rightfully one of the most trusted clothing brands by parents. This particular footed pajama being a best seller is absolutely understandable; 100% luxurious organic cotton, snug fit with easy on / off zipper and the price point, for the quality, is quite reasonable. Purchasing these second hand is quite easy too and most are in perfect condition and hardly used (new parents tend to over buy clothing for their bundles of joy so many times second hand items are just like new for a fraction of the price). Some reputable places to purchase second hand items are Ebay, Poshmark, Mercari, Kidizen and ThredUP.
So, now that you've fallen in love or re-fallen in love with these ultimate footed PJs, make sure to use RAKUTEN when purchasing for extra cash back. Click on the link to find out about the ultimate way to shop (it's free and it gives you cash back – win/win).